Did you ever have a time in your life where you ate so much of one particular food item that you can't stand the smell, taste or look of that item any longer? For me, it is the peanut butter cookie. I know you are thinking, "How could you not like peanut butter cookies?" I have one very good reason...my father! My father is a wonderful man that I truly enjoy spending time with, but when he becomes fixated on a certain food item, it tends to make an appearance many, many times! A good example is peanut butter cookies. He decided that homemade peanut butter cookies would be a thoughtful and delicious addition to our school lunches… and they were… for the first week. After a month of peanut butter cookies making a daily appearance, we began to tire of them. At two months, we kindly asked him to please refrain from putting them in the lunches (I'm pretty sure it wasn't so eloquently asked, but I think he finally got the point). We were wrong. The peanut butter cookies continued to make an appearance, but this time they were topped with a Hershey kiss. This did not improve upon them! Thankfully, he finally grew tired of them himself, and one glorious day, they were no longer gracing the top of our lunches, halleluja! This was over 25 years ago and, until recently, I would not make any peanut butter cookies, often blaming food allergies for their lack of appearance in our home.
This post was posted in Cookies, Recipes and was tagged with Peanut Butter
25 Feb
Posted in Cookies, Recipes by Sarah | 0 comments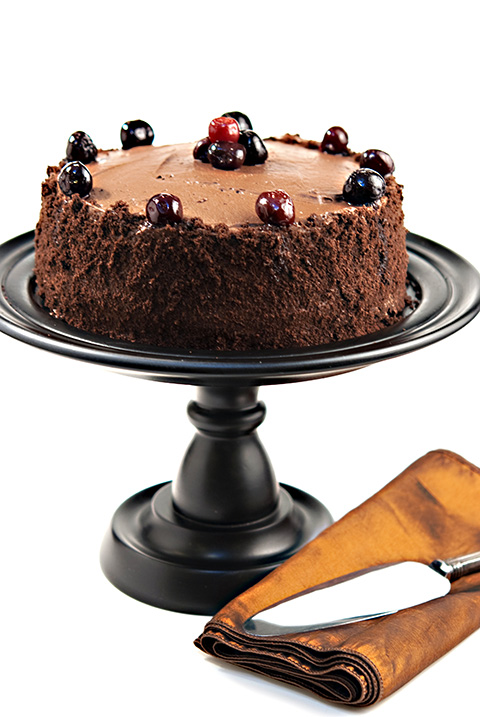 Chocolate cake makes me weak in the knees. It's not just, "That dessert looks good. I think I will throw all inclinations of eating healthy today out the window," but, "I want to sit down and eat a giant slice cold from the fridge at six in the morning with a big glass of cold milk."
Luckily, I was able to do just that this morning! I recently posted a recipe for drunken cherries on the Beanilla blog. As I sat down to plan out my posts for the week, I remembered a previous post for drunken cherries. I grabbed them out of the fridge and pried off the lid. The most amazing aroma greeted me; hints of almond, beautiful vanilla beans from Beanilla, and cherries. I knew that those cherries were crying out to be paired with rich chocolate cake. So, I made one, and guess what? It was amazing! My son begged for a piece, my husband (who doesn't eat dessert) ate an entire slice and me, well... I had two! I know you're thinking, "You're a pastry chef. You probably eat sweets all the time".  But that is simply not the case......
This post was posted in Cookies, Recipes
19 Feb
Posted in Desserts, Recipes by Sarah | 0 comments
Profiteroles, or cream puffs as they are called here in the states, are a classic French dessert. You will most likely find them filled with a sweet whipped cream and garnished with a dusting of powdered sugar or hard caramel. My favorite is the latter version. I vividly remember going to the patisserie in Paris, and blissfully enjoying this light and filling pastry. I love the chewy texture of the Pâte à Choux (cream puff dough) the soft cream filling and the crunchy texture of the hard caramel glaze.
Pâte à Choux was one of the first desserts that I made and photographed after acquiring my first DSLR camera. It was also the first time that I realized that becoming a pastry chef may be well suited to me. Pâte à Choux may look daunting, but if you follow the steps to creating it, it is a very simple dough with extraordinary results. The dough is very elastic and sticky, but once you pipe out those little rounds and place them in the oven a little bit of magic happens. When the dough hits the hot air, the profiterole (cream puff) dough begins to rise to form a "puff", enabling you to fill them with a sweet and delicious filling of your choice. Be sure to bake them until they sound hollow when baking sheet is lightly tapped on, or they will deflate and you will ultimately have flat cream puffs (a lesson I learned once or twice).
This post was posted in Desserts, Recipes
17 Feb
Posted in Desserts, Recipes by Sarah | 0 comments
Almonds and vanilla are a match made in heaven. Tahitian vanilla beans, fresh roasted almonds and sweet cream provide a decadent base for the second part of a scrumptious recipe I guarantee you will drool over.  You may wonder what I am talking about... creamy, rich and decadent almond vanilla whipped cream. So deceptively simple to prepare, but impossible to resist.
This post was posted in Desserts, Recipes
15 Feb
Posted in Cookies, Recipes by Sarah | 0 comments
There is nothing quite as delicious as a chocolate chip cookie straight from the oven! Hot and delicious, the chocolate still melted and the center of the cookie so soft and delicious it breaks apart in your hand. My mouth waters just thinking about it!
This post was posted in Cookies, Recipes
13 Feb
Posted in Candy & Snacks, Drinks, Recipes by Sarah | 0 comments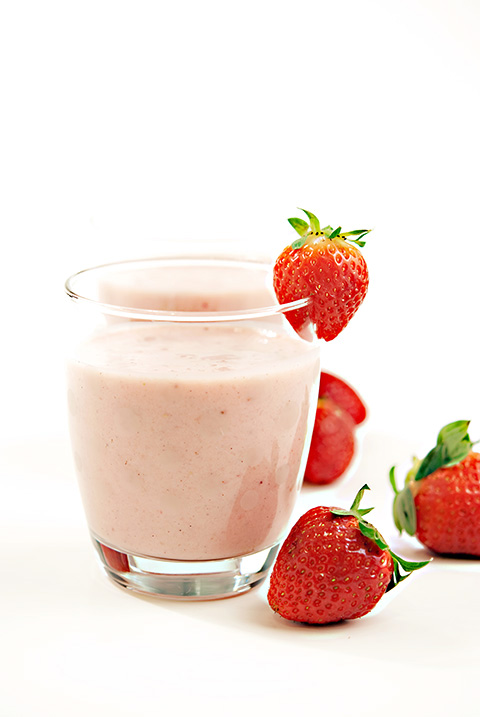 I know what you are thinking…….. Ugh, not another smoothie recipe! This smoothie recipe is not your typical smoothie. It's special just like the person I make it for. My daughter is a vegetarian, and she has been for the majority of her life. Throughout her life it has been a struggle to prepare nutritious and protein-packed meals for her (especially when she only wanted to eat cheese. Cheese smoothies are definitely not palatable!)
This post was posted in Candy & Snacks, Drinks, Recipes
10 Feb
Posted in Breakfast & Brunch, Cookies, Recipes by Sarah | 0 comments
Grab a cup of coffee (or tea), sit down with a good old fashion newspaper, and enjoy the simple pleasure that is coffee cake. In this very hectic and digitalized world it is nice, on occasion, to put it all aside and reflect on the simple pleasures. Now don't get me wrong, I couldn't live without my iPhone, computer or camera, and nor would I want to, but every once in a while the hectic, fast-paced digital world that is our lives needs a rest -- a time to breathe and think about how quickly time passes, and how we sometimes forget to appreciate the small things that can bring so much pleasure.
This post was posted in Breakfast & Brunch, Cookies, Recipes
07 Feb
Posted in Cookies, Desserts, Recipes by Sarah | 0 comments
Roses are red, violets are blue, Valentine's Day is quickly approaching, I'm ready--are you? Dinner reservations, store bought candy and jewelry are certainly appreciated and show us that you care, but nothing is sweeter than homemade cupcakes!
This post was posted in Cookies, Desserts, Recipes
05 Feb
Posted in Desserts, Recipes by Sarah | 0 comments
Do you remember the vanilla candied lemon post, and how beautiful those bright yellow lemons looked in the jar? Did you look at those vanilla candied lemons and think, "I should make those!"? Maybe you made them, and now they stare at you every time you open the fridge door. You wonder, "What in the world am I going to do with these?" I have just the solution: lucious mini-lemon cheesecakes with vanilla candied lemon slices.
This post was posted in Desserts, Recipes and was tagged with Cheesecake
02 Feb
Posted in Candy & Snacks, Recipes, Savory Recipes by Sarah | 0 comments
Super Bowl Sunday brings many families together; it is the quintessential American holiday. Nachos sit happily with pizza and potato skins on the buffet table, vegetable platters are politely accepted and then placed discretely at the back of the kitchen counter. While the other snack foods are delicious, chicken wings always seem to be the star at any Super Bowl party. Sweet and spicy, sticky and delicious barbecue wings made with Tonga vanilla beans will become a staple in your house all year long. Our Tonga vanilla beans add a rich and smoky flavor to homemade barbecue sauce, your family and friends will beg you for more!
This post was posted in Candy & Snacks, Recipes, Savory Recipes