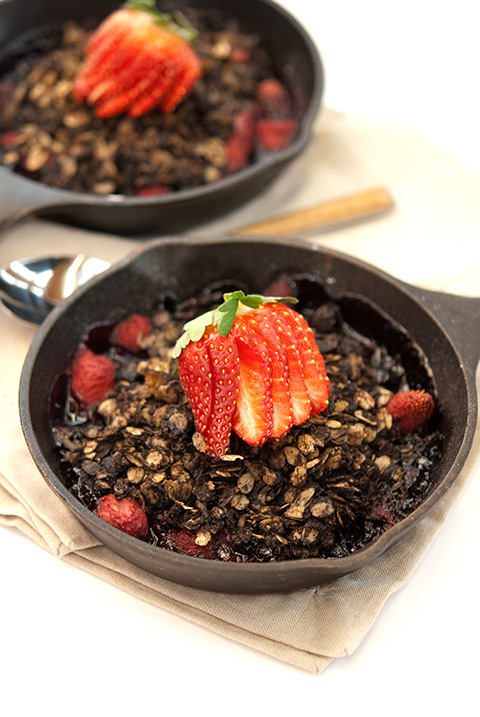 The origin of the crisp is decidedly an American invention. When it came to recipes, early settlers were often forced to use what was readily available and on hand. Early American settlers often improvised; they had limited access to ingredients or the ability to run to the store when needed. Quite often, each creation varied from the last; oats may not have been available so ground nuts were often substituted, or flour was used in its place. There are many variations of the crisp and many have different and interesting names given to them such as: grunt, cobbler, buckle, slump, pandowdy or even a sonker. Each recipe varies from region to region. The crisp or the cobbler is what many of us in the United States are familiar with. The cobbler has more of a biscuit or cake like crust while the crisp is traditionally made with oatmeal and ground nuts as a base.
Berry Chocolate crisp adds one more layer of flavor to a very simple and comforting dessert. Chocolate and Ugandan Vanilla beans! The addition of dark cocoa powder to the crisp topping adds a depth of flavor not often found in traditional crisps. Have you ever had chocolate covered strawberries? This dessert will satisfy your desire for chocolate, berries and a crisp topping all in one delicious bite!
This post was posted in Cookies & Baked Goods, Desserts, Recipes
21 Jan
Posted in Breakfast and Brunch, Cookies & Baked Goods, Recipes by Sarah | 0 comments
The Danish is a small breakfast pastry that typically contains a creamy cheese or a sweet fruit filling. Traditional Danishes are labor intensive; unless you are making them commercially in large batches, making them will take you the better part of the day to create all the components necessary for the filling and dough.
I don't know about you, but I just don't have the time to spend part of a day on one pastry! A very quick and easy solution to this problem is "puff pastry". Making puff pastry from scratch is a true art and takes a considerable amount of time and ingredients. There are just not many great commercially made puff pastries on the market today (Even the professionals utilize these pre-made shortcuts!)
This post was posted in Breakfast and Brunch, Cookies & Baked Goods, Recipes
14 Jan
Posted in Desserts, Recipes by Sarah | 0 comments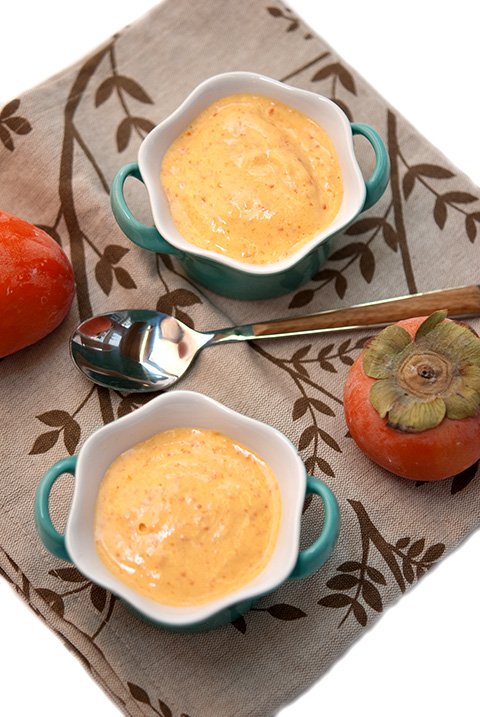 Persimmons are in season! This sweet and creamy fruit is very versatile, but can be a little intimidating a first glance. You may ask, "What is a persimmon, and how can I eat this beautiful, bright orange fruit?!"
This post was posted in Desserts, Recipes
09 Jan
Posted in Drinks & Cocktails, Recipes by Sarah | 0 comments
What was your New Year's resolution this year? Whether your goal was to lose that last 5 pounds, run a marathon, eat less, find love or spend more time with the one's you love; toast to some of your resolutions with our Vanilla Pomegranate Sparkling Cocktail.
This post was posted in Drinks & Cocktails, Recipes
05 Jan
Posted in Breakfast and Brunch, Cookies & Baked Goods, Recipes by Sarah | 0 comments
I have never met a doughnut that I didn't like. That being said, it is the New Year and we all are looking for ways to trim a few calories and dreaded fat from our diets. Traditionally, donuts are yeast or cake dough that is fried and then dredged in a sweet, creamy frosting or filled with a sugary fruit filling. Donut muffins satisfy the craving for a calorie-laden fried donut, but with fewer calories, and no frying! Simple to make with the texture of a classic cake donut, donut muffins are sure to satisfy even the diehard donut fan.
Donut muffins are the perfect way to begin your morning. Light, with a cake donut-like texture, they are easy to make the night before and hand out to tired and hungry family members as they leave for the day. Portable, baked and delicious, these muffins are a sensible replacement for the overly fried and sweet donut.
This post was posted in Breakfast and Brunch, Cookies & Baked Goods, Recipes
03 Jan
Posted in Drinks & Cocktails, Recipes by Sarah | 0 comments
Winter is beautiful in Michigan. The snow falls gently to the ground, leaving a pristine layer of white. The kids bundle up, grab their sleds and their laughter fills the air. Hot chocolate and marshmallows are the preferred choice of beverage. The first month of snow is beautiful! Then January approaches and slowly February, the snow is no longer pristine and the cold, crisp air has lost its allure. The sun hasn't shown its face in days, and we are beginning to long for green grass and warm weather. This is the perfect time of year for Limoncello. Bright, citrusy and cheery enough to ward off the winter blues.
This post was posted in Drinks & Cocktails, Recipes and was tagged with Lemons, Tahitian Vanilla