When I was little my grandmother always had a plate of freshly baked chocolate chip cookies sitting on her kitchen counter. They weren't the large cookies you see now days in bakeries. They were relatively small, perfectly round, two bite cookies. The cookies always had a soft interior, and were slightly crisp on the edges.
My grandmother would sit us down at the kitchen table, pour us a cold glass of milk (put into commemorative Snoopy glasses from a popular fast food chain), and hand us a plate of her delicious cookies. When my grandparents sold their home I remember thinking, "All I really want to have is the Snoopy glasses and my grandmother's chocolate chip cookie recipe." Unfortunately, I wasn't able to get either one, but it started my search for the chocolate chip recipe of my childhood.
This post was posted in Cookies & Baked Goods, Recipes and was tagged with Cookies, Chocolate, Vanilla Extract
04 Oct
Posted in Recipes by Sarah | 0 comments
Food allergies are on the rise in the general public, and peanuts, dairy and gluten are the top offenders. In order to stay competitive and offer consumers a product they can consume without worry, many chefs are offering dishes that are free of peanuts, dairy and gluten.
As a working pastry chef, I have tested and offered these products in many of the businesses I have worked in.  A few of my favorites include red velvet cupcakes, chocolate flourless cake (to die for) and my go-to 10 minute recipe of gluten-free rice crispy treats with callebaut chocolate.
This post was posted in Recipes
02 Oct
Posted in Breakfast and Brunch, Recipes by Sarah | 0 comments
I try to shop at local small businesses whenever I can. I enjoy the fact that I can support local while stimulating my hometown economy.  As a former small business owner, and a current employee of a local small business, I know how hard it is to survive and make a profit without loyal consumers.
I have found that most small businesses provide unique products and goods that cannot be found in the big box stores. On a recent Sunday venture, I discovered a quaint bakery that provides unique handcrafted breads and pastries. Being a pastry chef I was thrilled to see beautiful bouclé, many varieties of foccacia, scratch-made chocolate croissants and beautiful black and white cookies. I felt like a kid in a candy store with so many choices. The baker asked what I needed..."Hmmmm, I can't decide." She picked up a golden brown loaf of brioche bread. "I think you will like this," she declared. She handed me a lovely pancetta, jalapeño, Gouda brioche. Perfect for sweet-savory recipes or simply eaten toasted with butter.
This post was posted in Breakfast and Brunch, Recipes and was tagged with Vanilla Maple Syrup, Breakfast
29 Sep
Posted in Desserts, Recipes by Sarah | 0 comments
I like unique flavor combinations. Any combination of flavors that remind me of being at the beach are even better. I have always dreamed of living near the ocean and was blessed to have had that opportunity recently. I am now near water again, Lake Michigan to be exact. The lake is beautiful, the sand is a pure white color and it is very calm and peaceful out there. But, there is nothing quite like the sounds, smells and tastes of the ocean! The fish tacos, the tropical drinks, the smell of the ocean air and of course coconut suntan lotion.
You know that I am a huge fan of Beanilla's baking extracts and flavors, I love the fresh unprocessed smell and flavor. But I must admit I was a little skeptical of the coconut extract. Most grocery store brands smell like, well.... coconut suntan lotion. I love the smell, but hesitate to put it into my desserts. Beanilla coconut extract does not smell like coconut suntan lotion, quite the opposite actually. I opened the bottle and was greeted by a pleasant waft of pure coconut, the kind you experience when you crack open a fresh coconut.
This post was posted in Desserts, Recipes and was tagged with Coconut, Cake, Chocolate
26 Sep
Posted in Desserts, Recipes by Sarah | 0 comments
Sunday is family day in our family -- a time to relax and enjoy one another's company. While living in San Diego, Sundays meant we ventured out to explore places or attractions we had not enjoyed before; a new farmers market, Legoland, Disneyland, various dog parks and beaches. Living in So. California was one big adventure, however I love being back in the Midwest! The pace is slower, the people friendlier, I actually know my neighbor (and have spoken to them) and the cider is real!! I know you are probably thinking, "Has she lost it? The cider is real?!"
This post was posted in Desserts, Recipes and was tagged with Apples, Caramel
24 Sep
Posted in Recipes by Sarah | 3 comments
It's Saturday morning, and you are awaken to the smell of freshly baked cinnamon rolls wafting down the hallway. You happily jump up out of your warm bed, and head to the kitchen in search of the comforting aroma. As you approach the kitchen, your significant other greets you with a kiss and a cup of piping hot coffee.
What a pretty picture I have painted; a picture that can be yours tomorrow morning. My orange ginger rolls are a twist on the traditional, and the flavors are familiar but unique. They are gooey, soft, fragrant and delicious on a lazy weekend morning!
This post was posted in Recipes and was tagged with Orange Extract, Breakfast, Vanilla Paste
20 Sep
Posted in Drinks & Cocktails, Recipes, Vanilla Bean Recipes by Sarah | 0 comments
Sweet, creamy, vanilla-based soda is often used to describe cream soda (even though true cream soda contains cream or half and half). Cream soda is said to be created in the early 1900's to recreate the ice cream floats in soda shops at the time.
Approximately 6 days ago I posted a recipe for Vanilla Lime Infused Vodka. My vodka infusion has rested and the vanilla has infused into the vodka for about 10 days now. The result is smooth, vanilla flavored vodka with undertones of fresh lime. It is, by far, one of my favorite infusions I have created.
This post was posted in Drinks & Cocktails, Recipes, Vanilla Bean Recipes and was tagged with Drink, Cocktail, Tahitian Vanilla
18 Sep
Posted in Recipes by Sarah | 0 comments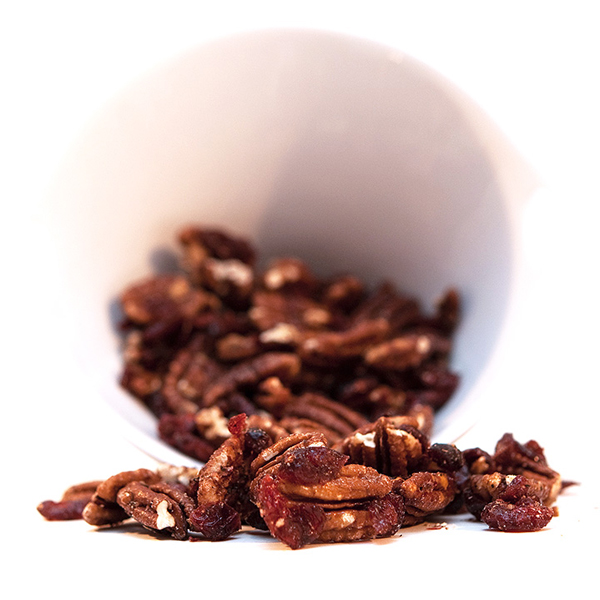 Candied nuts are a wonderful sweet treat any time of the year! I enjoy eating them straight off the baking sheet but they are equally delicious on baked goods or even fresh mixed green salads. A simple salad of mixed greens, blue cheese and French vinaigrette begs for the sweet crunchy candied pecan. In baking candied pecans can be added to fudge, used as a topping for scones or folded into homemade ice cream. The uses for the candied pecan is unlimited!
This post was posted in Recipes and was tagged with Nuts
16 Sep
Posted in Recipes by Sarah | 0 comments
Fall is upon us, and the squash crop is showing up in the grocery stores and farmers markets. I know you were expecting a dessert recipe, but I can't survive on desserts alone, contrary to popular belief!  As fall approaches, my family and I start to crave those comfort foods that make you feel warm and cozy when the temperatures start to drop.
This post was posted in Recipes and was tagged with Fall
14 Sep
Posted in Drinks & Cocktails, Recipes, Vanilla Bean Recipes by Sarah | 1 comments
Infusing flavors into vodka has gained in popularity over the past few years; I have seen flavors that range from simple to exotic. I tend to lean towards the fruity and sweet so I chose to infuse my vodka with lime peels and Beanilla Tahitian Vanilla beans. I started my infusion by splitting the Tahitian vanilla bean down the center with a sharp chef's knife, leaving the ends intact, then added fresh lime peels to the bottle. To ensure maximum flavor from the bean and lime peels, the vodka needs to sit for 1-2 weeks.
Tahitian vanilla beans are gorgeous! They are exceptionally large compared to other varieties and are brimming full of vanilla "caviar". They smell sweet and fruity with a touch of chocolate and caramel. True Tahitian vanilla beans from Tahiti are prized for their aroma, size and abundance of vanilla seeds in each pod. Lucky for you, Beanilla is one of the few retail sites that sell true Tahitian vanilla beans from Tahiti!
Upon receiving the Tahitian vanilla bean, I held onto it for about a week before I decided what I wanted create with it. The bean is so special and has such a beautiful aroma and flavor profile that I really did not want to overpower it. Vodka is the perfect vehicle for the flavor of this bean. A good quality vodka has very little flavor and should be smooth and not astringent. This will allow the Tahitian vanilla bean to shine.
Once the vodka has infused, I will photograph the finished product and create a drink especially for you! Stay tuned!!!
This post was posted in Drinks & Cocktails, Recipes, Vanilla Bean Recipes and was tagged with Drink, Cocktail, Vanilla Bean Recipes