Chocolate, cherries, oatmeal, coconut, smoked almonds; all delicious ingredients on their own. Combine and bake all of these individual ingredients with a touch of butter, a bit of locally produced fresh honey and something magical happens! Store bought granola is delicious but nothing can compare to freshly baked granola.
We all know that homemade granola is the perfect addition to our morning routine, but why does it just have to be limited to a breakfast staple? Bittersweet chocolate, melted and spread into a thin layer then sprinkled with a handful of homemade granola is the perfect mid afternoon pick me up snack. Portable and packed with protein, chocolate cherry granola bark will keep you going through the toughest part of your day.
This post was posted in Candy, Snacks & Treats, Chocolate, Recipes
06 Mar
Posted in Mini Desserts, Parfaits & Trifles, Recipes by Sarah | 0 comments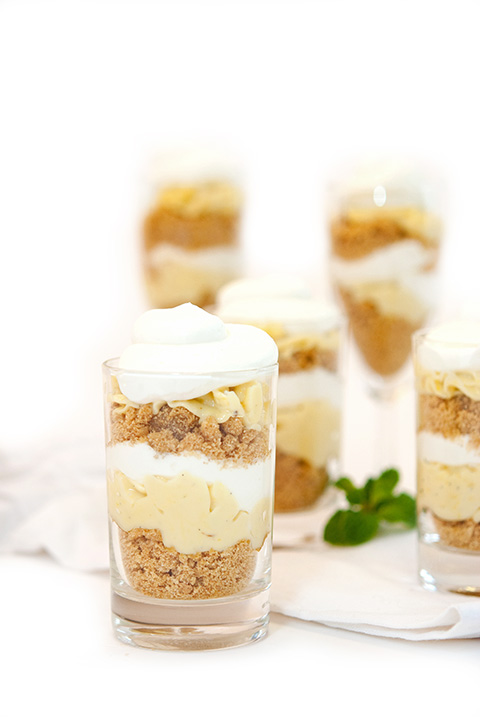 There is nothing quite as delicious as a key lime pie! The tart key lime filling mingles well with the sweet and buttery graham cracker crust, but let's not forget the whipped cream! Mounds of freshly whipped cream is an essential component to the perfect key lime pie. But let's be honest, unless you plan on eating the pie directly from the pie plate (which is perfectly acceptable), or you are hosting a beautiful plated dinner, hauling around a plate of pie at a party that is constantly slipping to the edge is a bit cumbersome. I have a solution! Key lime pie mini parfaits!
Portable and easy to eat in just a few bites, this parfait has all the components of a traditional key lime pie in a very easy to serve size.
This post was posted in Mini Desserts, Parfaits & Trifles, Recipes
03 Mar
Posted in Cakes, Recipes by Sarah | 0 comments
Just about everyone that I know can use a little sunshine in their lives right now. This is the time of year when the winter blues start to set in and the pristine white snow has lost its luster and appeal. We are all yearning for a peak of green grass and the first tiny crocuses to sprout from the frozen ground. While we are waiting anxiously for this to happen, why not bring a little warmth and sunshine into your cold winter day with a beautiful blood orange. Blood oranges look similar to any other citrus on the market; bright orange with a tinge of red on the skin. The red blush on the skin of the blood orange reveals only a glimpse of the beautiful bright red interior. Truly a stunning fruit...
This post was posted in Cakes, Recipes
17 Feb
Posted in Beverages, Recipes by Sarah | 0 comments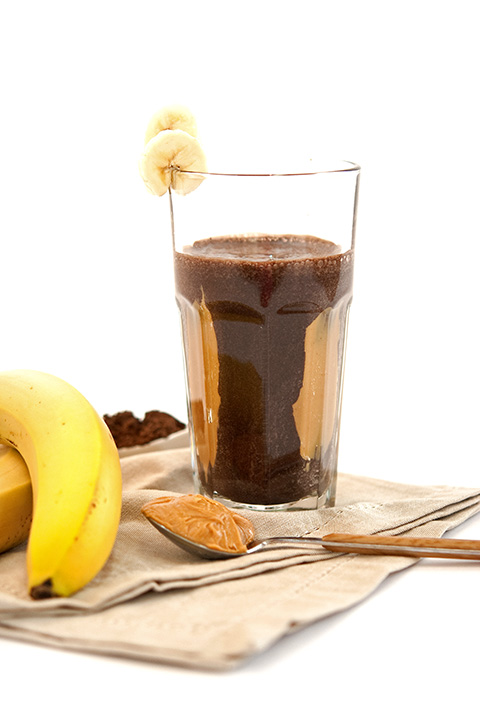 It's that time of year again….. The time of year when we begin to feel the effects of cabin fever, the effects of all our holiday indulgences and the fear that in a few months it's swimsuit season once again! As all the experts will tell you, exercise and a healthy diet is the key to successful long term weight loss. Not only does a healthy diet and exercise aid you in weight loss, it also eases the symptoms of joint related pain and is a natural mood booster -- Essential when you live in an area where sun is brief and fleeting in the winter months!
This post was posted in Beverages, Recipes
11 Feb
Posted in Breads & Muffins, Recipes by Sarah | 0 comments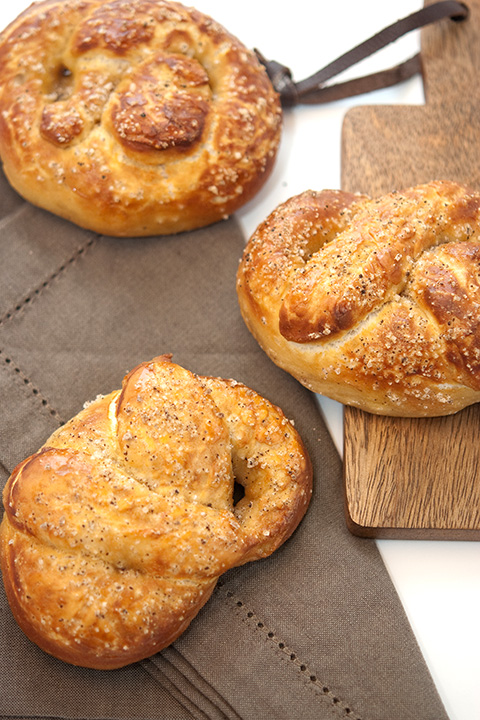 If you have ever been to the mall or shopping center you are instantly greeted by the delicious smells wafting from the pretzel stand. It is hard to miss and even harder to resist!
The soft pretzel is said to have originated from Germany. History states that in the year 1111, the first documented picture of the pretzel appeared in the baker's guild crest. In the 1440's the pretzel was seen in a prayer book, St. Bartholomew was pictured surrounded by the soft and chewy knotted bread. The pretzel was said to bring luck and spiritual wholeness to the people. Pretzels were used in other traditions in Europe, often in Easter hunts (much like today's Easter egg hunts) and hung on Christmas trees as a symbol of luck and prosperity. The pretzel was also used in wedding ceremonies, the bride and groom would tug on each side and wish for happiness in the marriage, similar to the modern day turkey wishbone.
This post was posted in Breads & Muffins, Recipes
02 Feb
Posted in Chocolate, Cupcakes, Recipes by Sarah | 0 comments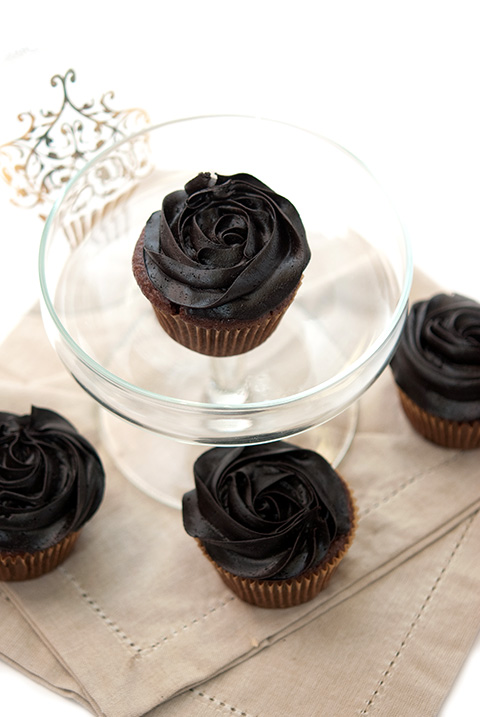 From time to time, even professional Pastry Chef's utilize store bought cake mixes! I have a recipe from my childhood that is the perfect example of this. The recipe is already multi-stepped without the addition of making a homemade batter; just like my mother used to make.
The first boxed cake mixes graced the store shelves in the early 1930's by the Duff Company who even offered gingerbread and molasses cake mixes. The mixes required only water and were not as big of a success as the company had hope for…
As the 1940's and 1950's approached, Pillsbury and Duncan Hines emerged with mixes that required the addition of eggs. Eggs not only made the cake moist and rich but gave the average housewife (of the time) more of a feeling that they made the cake from scratch. Cake mixes are now on every shelf and I can guarantee from time to time we will all utilize this time saver in our recipes!
This post was posted in Chocolate, Cupcakes, Recipes
26 Jan
Posted in Chocolate, Cobblers, Crisps & Crumbles, Recipes by Sarah | 0 comments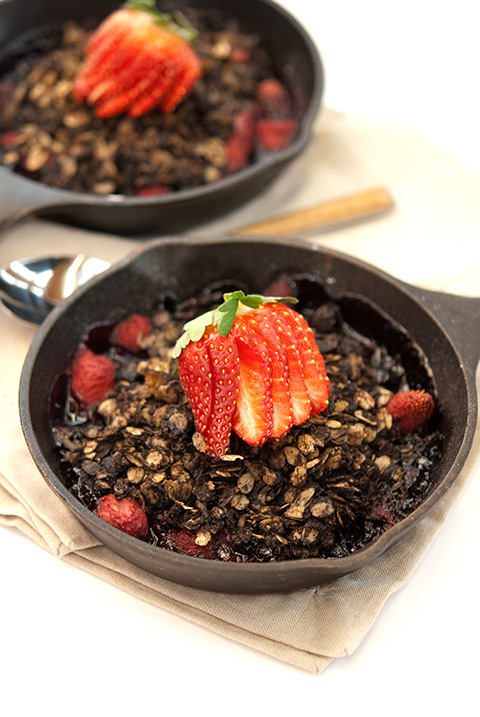 The origin of the crisp is decidedly an American invention. When it came to recipes, early settlers were often forced to use what was readily available and on hand. Early American settlers often improvised; they had limited access to ingredients or the ability to run to the store when needed. Quite often, each creation varied from the last; oats may not have been available so ground nuts were often substituted, or flour was used in its place. There are many variations of the crisp and many have different and interesting names given to them such as: grunt, cobbler, buckle, slump, pandowdy or even a sonker. Each recipe varies from region to region. The crisp or the cobbler is what many of us in the United States are familiar with. The cobbler has more of a biscuit or cake like crust while the crisp is traditionally made with oatmeal and ground nuts as a base.
Berry Chocolate crisp adds one more layer of flavor to a very simple and comforting dessert. Chocolate and Ugandan Vanilla beans! The addition of dark cocoa powder to the crisp topping adds a depth of flavor not often found in traditional crisps. Have you ever had chocolate covered strawberries? This dessert will satisfy your desire for chocolate, berries and a crisp topping all in one delicious bite!
This post was posted in Chocolate, Cobblers, Crisps & Crumbles, Recipes
21 Jan
Posted in Breakfast & Brunch, Recipes by Sarah | 0 comments
The Danish is a small breakfast pastry that typically contains a creamy cheese or a sweet fruit filling. Traditional Danishes are labor intensive; unless you are making them commercially in large batches, making them will take you the better part of the day to create all the components necessary for the filling and dough.
I don't know about you, but I just don't have the time to spend part of a day on one pastry! A very quick and easy solution to this problem is "puff pastry". Making puff pastry from scratch is a true art and takes a considerable amount of time and ingredients. There are just not many great commercially made puff pastries on the market today (Even the professionals utilize these pre-made shortcuts!)
This post was posted in Breakfast & Brunch, Recipes
14 Jan
Posted in Ice Cream & Sherbet, Recipes by Sarah | 0 comments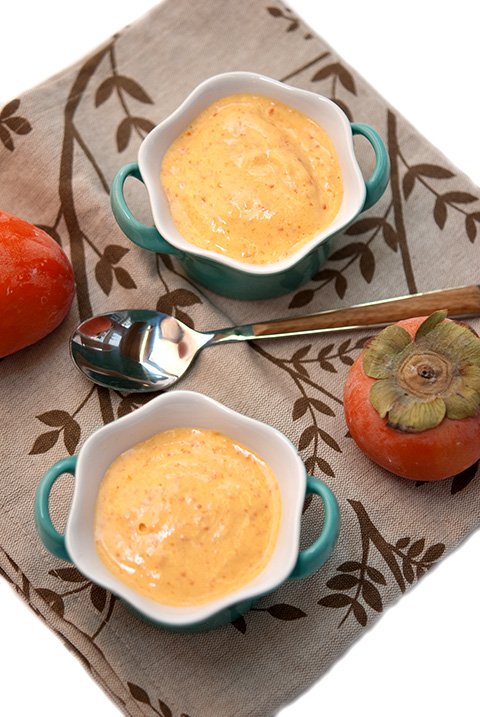 Persimmons are in season! This sweet and creamy fruit is very versatile, but can be a little intimidating a first glance. You may ask, "What is a persimmon, and how can I eat this beautiful, bright orange fruit?!"
This post was posted in Ice Cream & Sherbet, Recipes
09 Jan
Posted in Beverages, Recipes by Sarah | 0 comments
What was your New Year's resolution this year? Whether your goal was to lose that last 5 pounds, run a marathon, eat less, find love or spend more time with the one's you love; toast to some of your resolutions with our Vanilla Pomegranate Sparkling Cocktail.
This post was posted in Beverages, Recipes