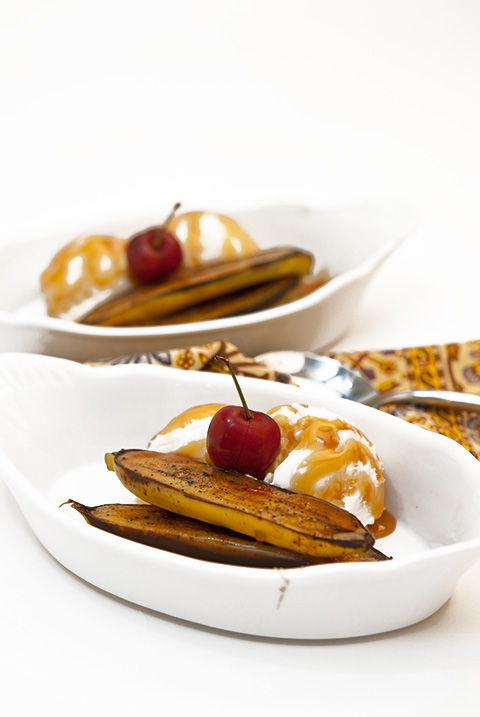 Do you have a special place from your childhood that your mind wanders to from time to time? I do! I come from a large family of six boys and me. I am the oldest, and the only girl. Lucky me, huh?! Needless to say, this made one-on-one time with our parents difficult at times. Some of my fondest memories were the one-on-one times I spent with my father. Small moments like learning more about who my parents were beyond the everyday moments of being parents stand out in my mind. My dad was a master fly fisherman, and he also was one of the few craftsmen left in America who completely hand crafted and sold custom bamboo fly rods as a hobby. These were truly labors of love from hand planing the large pieces of bamboo that would arrive at our home, to gluing and kiln-drying the entire finished product. There were many more steps to the process, but my favorite step was when he had completed a rod and tested it in our backyard...the fluid motion of his hand combined with the whooshing sound of the lines, so graceful and fluid. When he had finished testing the rod and was satisfied with the craftsmanship, he would treat us to ice cream. This was not just any ice cream shop. This was "dad's special" ice cream place. The ice cream tasted better than any other place I knew--soft and creamy, full of flavor. The most important part of the memory for me was, and still is, is that I got to spend time with my dad.
This post was posted in Desserts, Recipes and was tagged with Bananas
09 Jun
Posted in Desserts, Recipes, Vanilla Bean Recipes by Sarah | 0 comments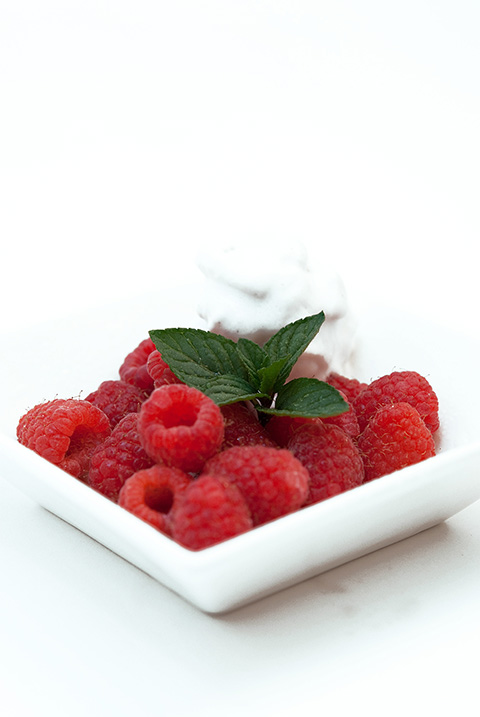 I embrace technology whole heartedly. My iPad, iPhone and digital camera rarely stray far from my satchel. I love being connected to anyone and everyone far and near, but I simply can't embrace reading my favorite publications in digital form. There is something about the feel of flipping through my favorite food magazines and cookbooks, and the feel of the pages and the vibrancy of the photographs gracing the pictorials. I have a file of my favorite international food magazines that I often refer to when creating new recipes. The pages are worn and many are dog-eared waiting for future projects, but I wouldn't trade them for an e-reader or the simplicity of the iPad. I recently pulled one of them out looking for inspiration; a beautiful recipe for marinated raspberries and coconut granita caught my eye. Simple, unique and refreshing! I took the concept and adapted it to fit Beanilla and what I think you, the reader, will enjoy!
This post was posted in Desserts, Recipes, Vanilla Bean Recipes
03 Jun
Posted in Desserts, Recipes, Vanilla Bean Recipes by Sarah | 0 comments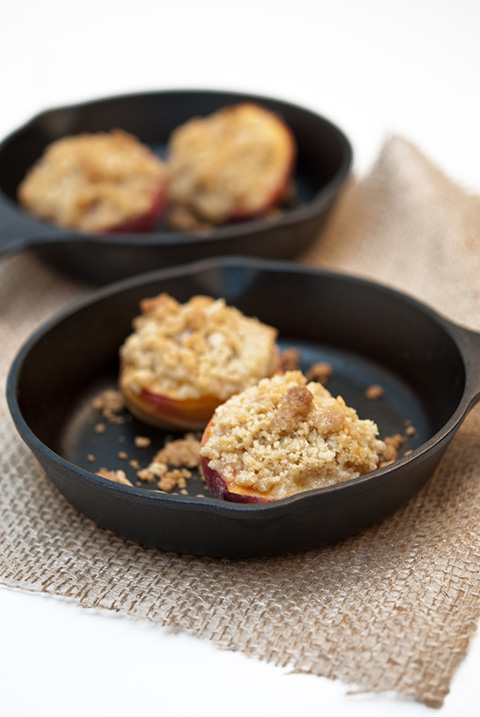 I get so excited this time of year! The trees are blooming, the birds are chirping, the sun is shining and the fruit is starting smell like fruit. If you don't live on the west coast, you know what I'm talking about… There is a time in the dead of winter when you walk into the grocery store and the fruit and produce aisles smell like the floor cleaner they used earlier that morning. The strawberries are still red and ripe, but that intoxicating smell of fresh strawberries doesn't overwhelm you. The raspberries don't smell like raspberries, and if you're lucky enough to find a peach, they smell like the packing material they arrived in. But… this time of year the produce aisles magically transform. The aroma of freshly picked fruit greets you the moment you step in. Finally! Fruit that tastes like fruit, and soon tomatoes that don't taste like cardboard! If you live in the Midwest, celebrate this time (it is fleeting) with a fresh peach crumble. Simply slice the deliciously aromatic peach you can now find in the produce aisle and top it with a simple crumble. Bake to enhance the sweetness of the fruit, and store this memory away for next winter.
This post was posted in Desserts, Recipes, Vanilla Bean Recipes and was tagged with Peaches
30 May
Posted in Desserts, Recipes by Sarah | 0 comments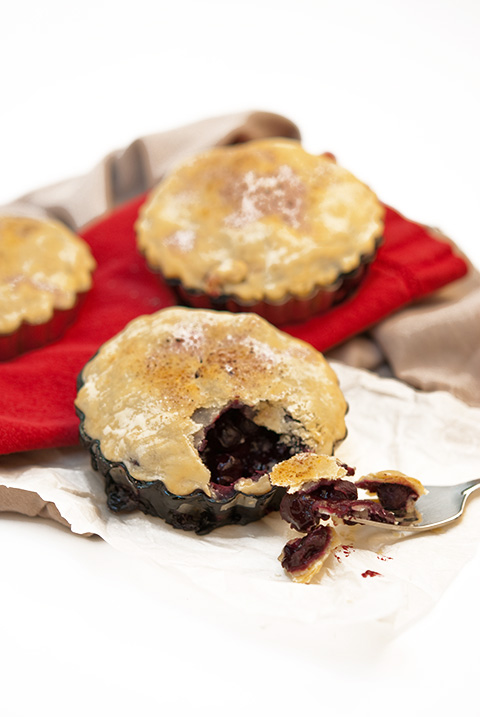 Classic blueberry pie is the quintessential summer dessert, and the perfect addition to any barbecue or backyard picnic that you may have planned this summer. This past weekend was the unofficial kickoff to barbecue season. Many of us celebrated the Memorial holiday weekend grilling out with friends and family, while others brought the RV out of storage or dusted off, and aired out their tents. I have beautiful memories of big family picnics packed up and hauled out to the Holland State Park. We would pick the perfect spot for everyone and set up camp. My grandmother always made her famous potato salad and perfectly cooked pasta salad with huge chunks of cheddar cheese. Aluminum foil would be brought out to line the community grills, and burgers and hotdogs would be cooked to perfection. There was never a lack of desserts -- homemade cookies and pies would magically appear from the picnic basket towards the end of the meal. Completely stuffed and happy to relax on our blankets in the sun, we would watch the boats slowly sail through the channel on their way out to bigger bodies of water. I feel very blessed to have such wonderful Michigan summer memories of my childhood. What is your favorite summer holiday memory?
This post was posted in Desserts, Recipes and was tagged with Blueberry
14 May
Posted in Desserts, Recipes by Sarah | 0 comments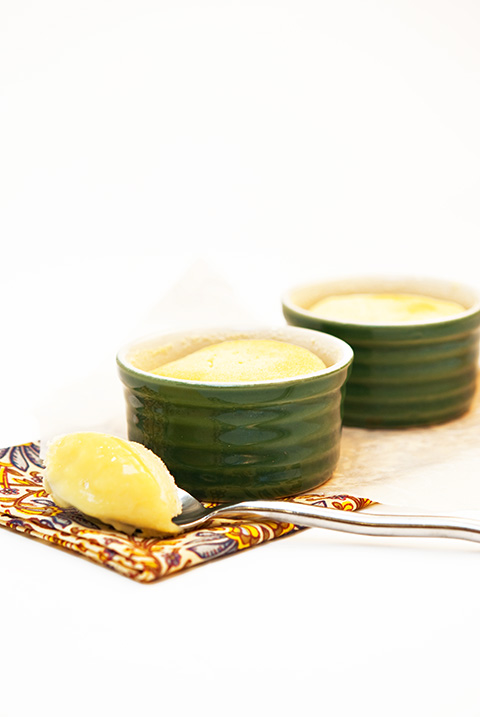 Lemon Budino is delicious. It is a cross between tart and creamy lemon curd and a soft, light and airy genoise cake. I made this for the first time about seven years ago, fully expecting it not to turn out. Not only did it exceed my expectations in flavor, texture and appearance, but it was really simple to make! The first spoonful of Lemon Budino is a culinary delight. The dessert has two very distinct layers of creamy lemon custard and soft sponge like cake, and each spoonful is light airy and utterly delicious. Lemon Budino is the perfect dessert to make ahead of time for summer parties or to enjoy with a glass of white wine on the patio.
This post was posted in Desserts, Recipes
09 May
Posted in Desserts, Recipes by Sarah | 0 comments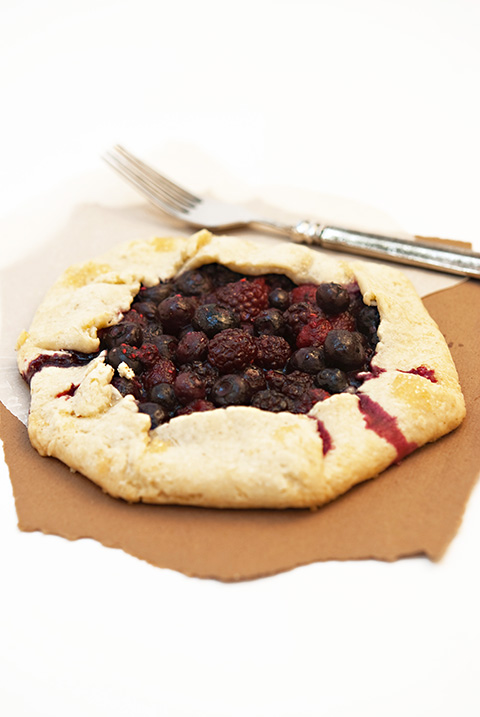 The new Grand Rapids Farmers market officially opened here in Michigan this past weekend! I love the farmers market; the sights, the smells and the people that gather to purchase fresh picked fruits and vegetables and baked goods. I love that small business owners, local farmers and the occasional home cook are given the opportunity to support themselves and grow their businesses. I even love the crowds....  But what I love most of all is the inspiration I gather from wandering the different vendors. It's magical.
This post was posted in Desserts, Recipes
24 Apr
Posted in Desserts, Recipes by Sarah | 0 comments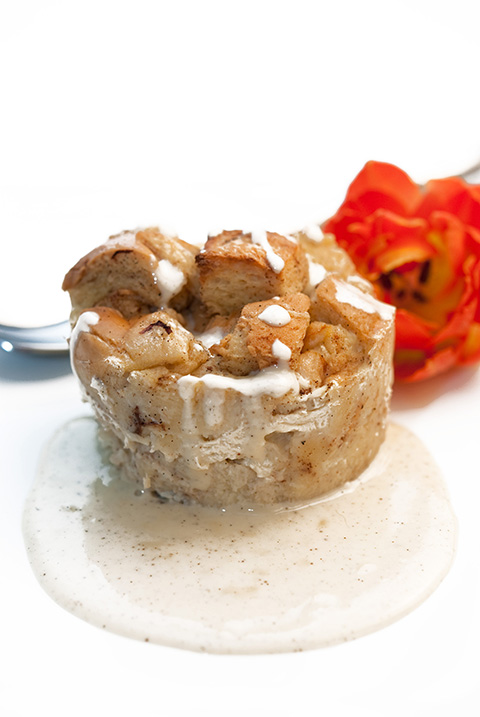 Bread pudding and soufflés are two of the pastries that I have never made...can you believe that?! To be completely honest, I hadn't even tried either one until a recent trip to New Orleans. I have a difficult time ordering desserts such as bread pudding when I am dining out because; a) I bake for a living, and b) If I am going to order dessert, it has to be unique and absolutely decadent. I have never really thought of bread soaked in a custard as either decadent or unique. Boy was I wrong! The bread pudding I had was creamy, sweet and absolutely decadent. I knew I had to put that on my checklist of desserts to recreate when I got back home. The recipe I chose is an adaptation of the recipe that is used at Bon Ton in New Orleans. I substituted the whiskey sauce for a creamy and delicious vanilla crème anglaise and omitted the raisins (I just don't like raisins in pastries!). I also added chopped white chocolate (I like Callebaut chocolate), and I have to admit that it was absolutely divine!
This post was posted in Desserts, Recipes
06 Apr
Posted in Breakfast and Brunch, Desserts, Recipes by Sarah | 0 comments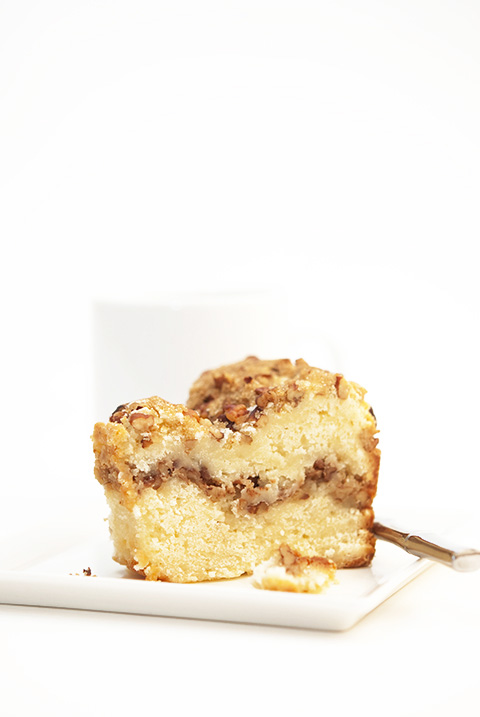 My house is full of the aroma of baked goods; raspberry crumb bars, gooey caramel pecan bars and, my personal favorite, cinnamon pecan coffee cake. There is something very special and incredibly delicious about a really good coffee cake. The perfect way to start, or end, any day! This coffee cake is moist and rich, with sweet ribbons of cinnamon, and pecans enhancing the double-fold Madagascar vanilla extract that is used in this recipe.
This post was posted in Breakfast and Brunch, Desserts, Recipes
03 Apr
Posted in Cookies & Baked Goods, Desserts, Recipes by Sarah | 0 comments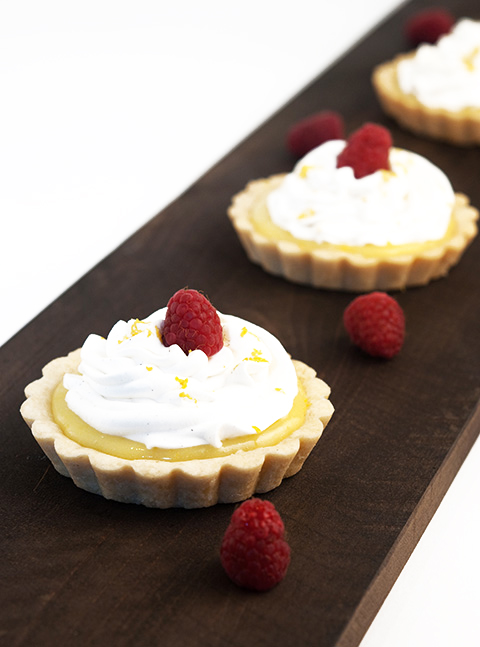 The sun is out, the birds are chirping and the temperature is slowly climbing above freezing. I look out my office window and see the neighbor kids playing basketball in short sleeves, couples walking their dogs and others slowly emerging from winter hibernation. Spring seems to have finally found us! In celebration of green grass, fresh flowers and bountiful farmers markets to come, I have decided to celebrate with a bright and tangy tart -- a Meyer lemon and orange tart to be precise. Meyer lemons are a specialty lemon that is a cross between a lemon and a mandarin orange. They are typically sweeter and less acidic than traditional lemons making them a perfect choice for desserts and pastries.
This post was posted in Cookies & Baked Goods, Desserts, Recipes
21 Mar
Posted in Desserts, Recipes by Sarah | 0 comments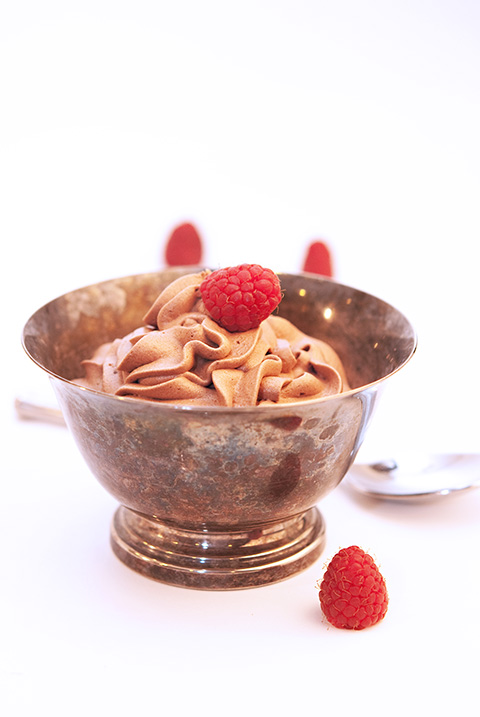 I think it is essential that we send our children out into the world with a working knowledge of basic cooking skills! Essential skills such as how to boil pasta, create a stellar grilled cheese, bake chicken to the correct temperature, cream butter and sugar together to create a warm gooey chocolate chip cookie and, without a doubt, how to easily assemble a delicious chocolate mousse recipe. A great chocolate mousse recipe is the perfect tool to impress a date, woo a potential spouse, or soothe a broken heart.
Cooking with children is not only fun and builds fundamental skills such a fractions, whole numbers, science and reading, but it also creates wonderful memories. Chocolate mousse is a fantastic intermediate recipe to create with your pre-teen or teenager. Simply divide up the components of the recipe into the chocolate mixture, egg whites and whipped cream. Give the child (or children) the individual component and bring all the items together in the end to create the recipe.
This post was posted in Desserts, Recipes