Pure Vanilla Extract. Prized for its rich, complex flavor and incredibly smooth aroma, pure vanilla extract should be a mainstay in a culinary enthusiast's kitchen. There is no substitute for quality and flavor. The difference between pure vanilla and imitation vanilla is simple. Pure vanilla extract is made from whole vanilla beans extracted using 35%+ alcohol - that's it! Don't be fooled by extracts that claim to be pure; imitation and clear vanilla utilizes artificial flavors and harmful chemicals. That big bottle of Mexican vanilla (that sort of smells like suntan lotion); the one you brought back home from your vacation abroad, is likely not even vanilla at all...
This post was posted in Baking Ingredients, Recipes, Vanilla Bean Recipes and was tagged with Pure Vanilla Extract, Homemade Vanilla, DIY
07 Oct
Posted in Brownies & Bars, Cookies, Recipes by Sarah | 0 comments
Grocery shopping when you're a kid can be downright monotonous. Walking behind one of your parents while they decide which macaroni and cheese was a better buy was never my idea of fun; except when we were bribed to be on our best behavior. This meant that my brother's and I would break off from our macaroni and cheese indecisive parents and beeline for the Brach's candy bins. Brightly colored hard candies sat next to soft and chewy fruit slices. Ultimately I would choose the wrapped chocolate creams. Raspberry, vanilla, maple and orange were just a few of the flavors they had to offer. More often than not my perfectly measured bag of treats would consist of a few raspberry, perhaps a vanilla, but mostly orange creams. I loved how the orange flavoring played beautifully with the slight bitterness of the dark chocolate. I haven't been to the candy bins in years but the allure of dark chocolate and orange cream still calls my name from time to time.
This post was posted in Brownies & Bars, Cookies, Recipes
29 Sep
Posted in Breads & Muffins, Breakfast & Brunch, Recipes by Sarah | 0 comments
Trying to get yourself ready for the day amongst the chatter of young children, the moodiness of a teenager and a spouse that can't seem to find the car keys is enough to make you want to pull your hair out! Getting any number of children, backpacks, lunches and maybe a spouse out the door is no easy task. Wouldn't it be nice to take a few minutes, grab a cup of coffee (or tea) and enjoy a slice of homemade sweet bread? A cup of caffeine and a slice of chocolate cappuccino bread can bring a much need energy boost to start your day off right.
Continue reading →
This post was posted in Breads & Muffins, Breakfast & Brunch, Recipes
18 Sep
Posted in Cookies, Recipes by Sarah | 0 comments
(For a Delicious 1st Birthday)
As parents we spend the first year of our children's lives celebrating all the momentous milestones: The first smile, rolling over, crawling, the first tooth, the first word and finally the first attempt at walking. Many sleepless nights are spent in those first few weeks as well as numerous trips to the drugstore for infant Tylenol for a cranky teething baby and wandering through the aisles of what seems like endless cabinet safety latches and toilet safety clips. Through all the sleepless nights, mounds of diaper changes and endless feedings we endure, sweet innocence prevails. Sweet moments of first words, softly read lullabies and clean, baby soft skin linger with us as parents as they grow and become more independent and less dependent on us.
Continue reading →
This post was posted in Cookies, Recipes
12 Sep
Posted in Cheesecake, Pastries & Tarts, Recipes by Sarah | 0 comments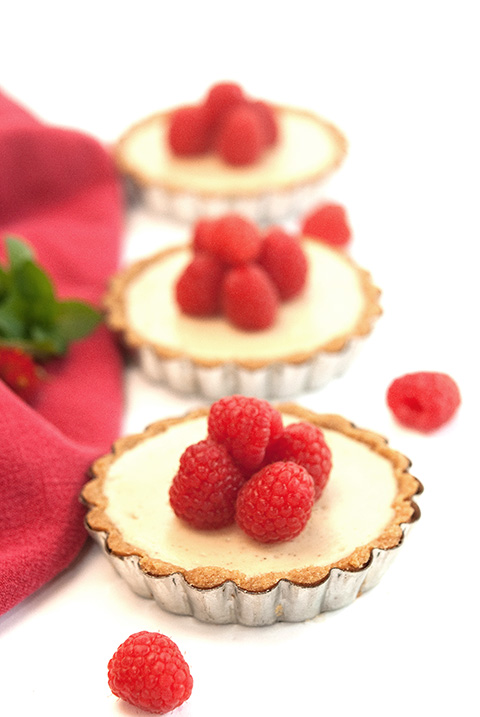 I grew up enjoying classic dense cheesecakes complete with graham cracker crust and a slightly sweet sour cream topping. On special occasions, sweet cherry pie filling would cascade over the side adding to the decadence of the cake. My mother was an accomplished cook and there was always some sort of pastry or dessert in the house. On holidays and special occasions we could count on her creating the most delicious and decadent treats. She made everything from homemade pies to crème filled chocolate cupcakes. The most memorable and often most requested was her sour cream cheesecake.
This post was posted in Cheesecake, Pastries & Tarts, Recipes and was tagged with Cheesecake
09 Sep
Posted in Brownies & Bars, Recipes, Seasonal by Sarah | 0 comments
The kids are back to school, the leaves are starting to turn and the Christmas decorations are beginning to show up in the big box stores..... What???? Christmas decorations already?! I don't know about you, but I am not quite ready to let go of the last bit of summer we have left! I stepped outside this morning and was hit with a wall of hot, humid air and thought to myself, "I am oddly okay with this." I know that in a few short weeks we will be bundled up in sweaters and blankets to watch Friday night football games and sipping on hot apple cider. So..... for now I'm savoring the hot sticky weather by making a very summery treat! Lemons are often associated with memories of warm sunny days, the smell of freshly mowed grass and a cold glass of refreshing lemonade savored on a hot sticky day. Throw in a few ripe red raspberries and you have the perfect summertime drink! Raspberry lemonade bars are that cool, refreshing glass of lemonade in a handy and very portable dessert. As many of you have already packed up for a last summer weekend at the beach, or your last weekend up north at the cottage, why not savor the last warm days of summer? I encourage you to make a batch of raspberry lemonade bars to enjoy it just a little bit more.
This post was posted in Brownies & Bars, Recipes, Seasonal
04 Sep
Posted in Fruits, Compotes & Jams, Recipes, Seasonal by Sarah | 0 comments
It's canning season;that time of the year when you wonder why in the world you planted that many tomato, jalapeño and squash plants?! After a long and often dreary winter, the anticipation of planting and tending to a large garden full of vibrant fruits and vegetables is extremely enticing to all garden savvy Midwesterners. In our giddiness for warm weather and green growth, we often forget that at the end of a very brief (sadly) warm and sunny summer, we are left with more vegetables than one family of four could ever eat! What do we do? We can! Canning preserves that sun-kissed real vegetable taste that many of us crave in the long winter months. A bright jar of fresh fruits and vegetables that gives us the hope that spring will come once again and endurance to brave the long cold winters.
This post was posted in Fruits, Compotes & Jams, Recipes, Seasonal and was tagged with Canning, Jam
01 Sep
Posted in Breakfast & Brunch, Recipes by Sarah | 0 comments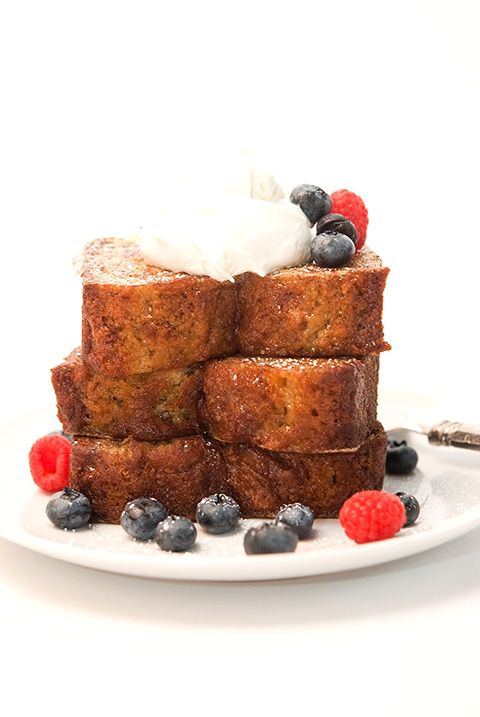 There is nothing quite as homey or satisfying in the morning as a slice of freshly made banana bread. Warm from the oven slathered in butter, it is the perfect accompaniment to a hot cup of coffee! Let's be honest though, who has the time to make from scratch a loaf of bread?! I think I found the perfect solution to this conundrum! Banana bread French toast! The bread can be made days, or even weeks, ahead of time when it fits into our hectic schedules, and then frozen. Simply remove the frozen bread the night before and let it thaw out on the counter. Add some fresh berries and a simple mascarpone whipped cream, and your loved ones will think you slaved for hours just for them.
This post was posted in Breakfast & Brunch, Recipes
26 Aug
Posted in Beverages, Recipes by Sarah | 0 comments
It's a sweltering August evening and you are looking for the perfect drink to serve your guests -- something that is not too sweet but it still light and fruity with a punch. Mint juleps are cold, refreshing and beg to be sipped slowly -- perfect for those hot summer nights surrounded by friends and great food.
The mint julep has a long and rich history. The drink gained popularity in celebration of the Kentucky Derby in 1938, and sold for $ 0.75 in a souvenir cup that patrons could take home with them. On average, the Derby sells more than 80,000 of this signature drink during the event. The question still remains, "Why do you always see mint juleps in a classic and recognizable silver cup?" The south is rich in tradition, and the mint julep cup was traditionally given as gifts at weddings, christenings and races. The cup symbolizes achievement, high regard and prestige.
This post was posted in Beverages, Recipes and was tagged with Strawberries
19 Aug
Posted in Pastries & Tarts, Recipes by Sarah | 0 comments
My husband loves avocados, which was great when we lived in San Diego where fresh avocados were available year round. Finding the perfect ripe avocado that doesn't cost $3.00 proved to be a bit of a challenge here in West Michigan this winter. When the season began again, and the prices dropped to a more reasonable $1.50, I began to think once again about this luscious little fruit. Fresh guacamole is delicious, sliced avocado is lovely and salads of avocado are amazing, but after awhile it becomes a little monotonous. In my quest to discover new ways to use this creamy, delicious fruit, I have found and created a couple new desserts. I know it's hard to grasp, but avocados are delicious in dessert applications! The texture of the fruit makes it easy to blend them into ice cream and whipped creams. My favorite way to use them is in a delicious avocado cream. A simple combination of  heavy cream and sugar beaten together with half of an avocado can create a heavenly dessert. Kick it up a notch with a crispy cinnamon sugar tortilla and a delicious currant sauce.
This post was posted in Pastries & Tarts, Recipes