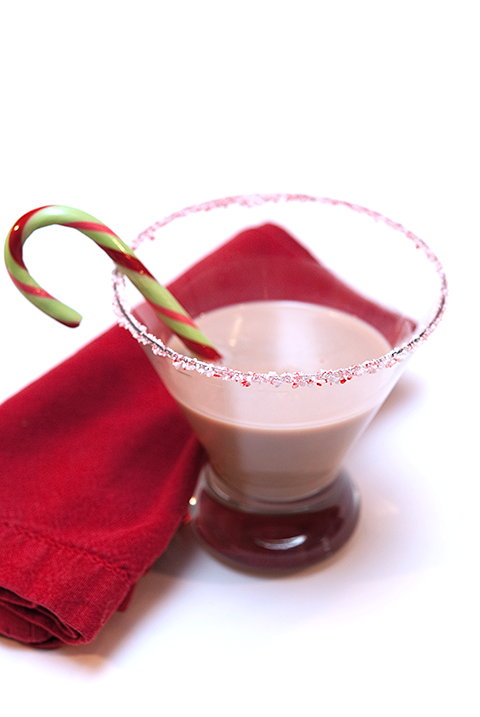 A few weeks ago, I posted a homemade Kahlua recipe that was perfect for gift giving! I know that you have put aside a small amount for yourself, so I have created a special drink just for you. So, sit down, wrap a few presents and pour yourself a glass of deliciousness!
This post was posted in Drinks & Cocktails, Recipes, Vanilla Bean Recipes and was tagged with Chocolate, Cocktail
15 Dec
Posted in Confections, Recipes by Sarah | 0 comments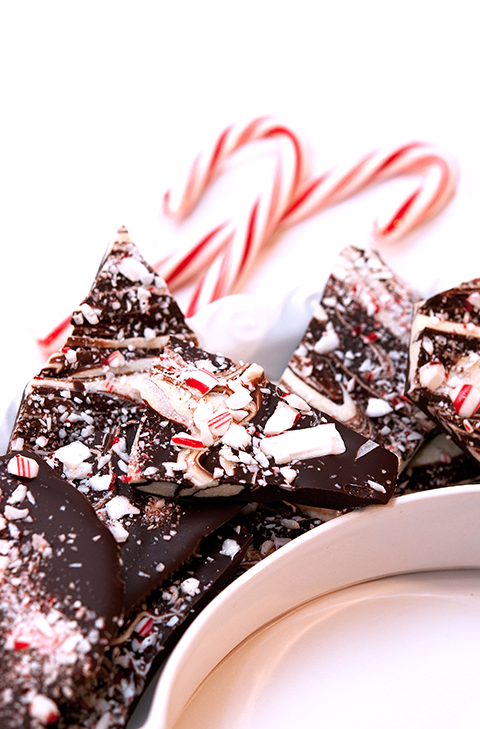 Certain foods evoke memories of holidays; peeps for Easter, candy corn for Halloween and, of course, candy canes for Christmas. Each year, as Christmas draws near, my son asks to make peppermint bark; a tradition I am more than happy to continue with him. I always encourage parents to cook and bake with their children, and peppermint bark is an easy recipe to create with just about any age child.
This post was posted in Confections, Recipes and was tagged with Peppermint, Chocolate
11 Dec
Posted in Desserts, Recipes by Sarah | 0 comments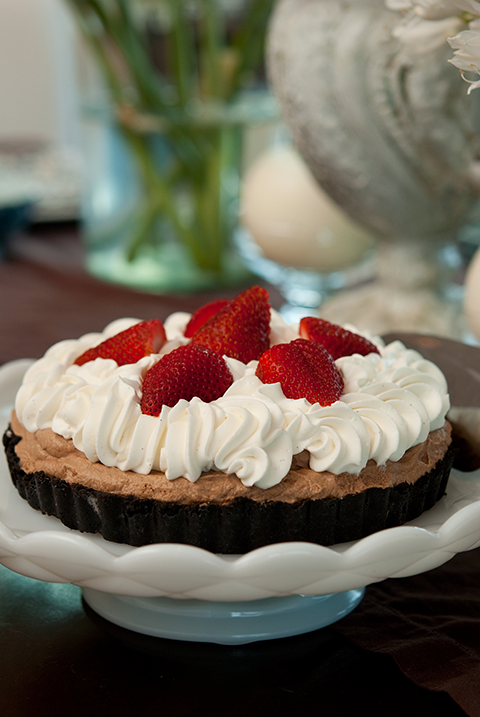 My husband is not a dessert fan, which always bewilders friends and acquaintances when they learn I am a pastry chef. He would happily eat pizza in place of dessert any day.  Me, on the other hand, I could live on sweets and vegetables. One of the few desserts that he loves is chocolate cream pie; I can see the allure that it has for him. Rich creamy chocolate mousse, sweet flaky pie dough topped with sweet whipped cream. What a perfect dessert!
This post was posted in Desserts, Recipes and was tagged with Whipped Cream, Chocolate
25 Oct
Posted in Cookies & Baked Goods, Recipes by Sarah | 0 comments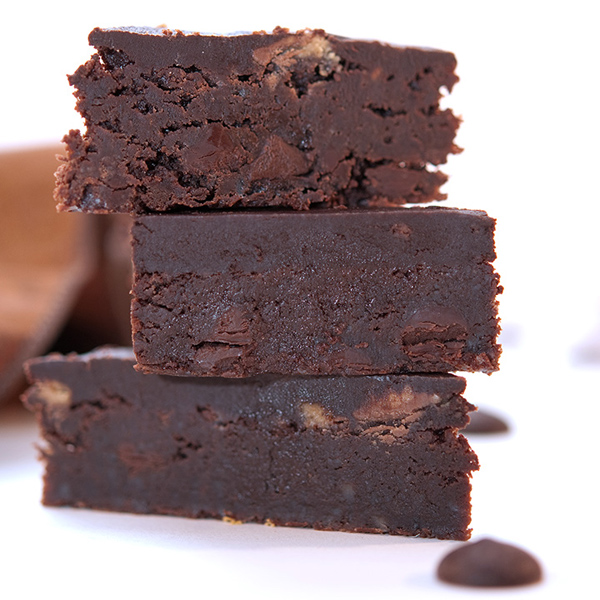 These brownies are the perfect combination of sweet and salty, with an intense dark chocolate flavor. Fudgy and dense, then coated in rich chocolate ganache, and sprinkled with peanut butter cups. Who could resist? Chocolate peanut butter ganache brownies are the perfect three bite sweet -- so rich and delicious, that one is all you need. These brownies are sure to impress even the pickiest of brownie connoisseur.
This post was posted in Cookies & Baked Goods, Recipes and was tagged with Brownies, Chocolate
09 Oct
Posted in Cookies & Baked Goods, Recipes by Sarah | 0 comments
When I was little my grandmother always had a plate of freshly baked chocolate chip cookies sitting on her kitchen counter. They weren't the large cookies you see now days in bakeries. They were relatively small, perfectly round, two bite cookies. The cookies always had a soft interior, and were slightly crisp on the edges.
My grandmother would sit us down at the kitchen table, pour us a cold glass of milk (put into commemorative Snoopy glasses from a popular fast food chain), and hand us a plate of her delicious cookies. When my grandparents sold their home I remember thinking, "All I really want to have is the Snoopy glasses and my grandmother's chocolate chip cookie recipe." Unfortunately, I wasn't able to get either one, but it started my search for the chocolate chip recipe of my childhood.
This post was posted in Cookies & Baked Goods, Recipes and was tagged with Cookies, Chocolate, Vanilla Extract
29 Sep
Posted in Desserts, Recipes by Sarah | 0 comments
I like unique flavor combinations. Any combination of flavors that remind me of being at the beach are even better. I have always dreamed of living near the ocean and was blessed to have had that opportunity recently. I am now near water again, Lake Michigan to be exact. The lake is beautiful, the sand is a pure white color and it is very calm and peaceful out there. But, there is nothing quite like the sounds, smells and tastes of the ocean! The fish tacos, the tropical drinks, the smell of the ocean air and of course coconut suntan lotion.
You know that I am a huge fan of Beanilla's baking extracts and flavors, I love the fresh unprocessed smell and flavor. But I must admit I was a little skeptical of the coconut extract. Most grocery store brands smell like, well.... coconut suntan lotion. I love the smell, but hesitate to put it into my desserts. Beanilla coconut extract does not smell like coconut suntan lotion, quite the opposite actually. I opened the bottle and was greeted by a pleasant waft of pure coconut, the kind you experience when you crack open a fresh coconut.
This post was posted in Desserts, Recipes and was tagged with Coconut, Cake, Chocolate
10 Sep
Posted in Desserts, Recipes by Sarah | 0 comments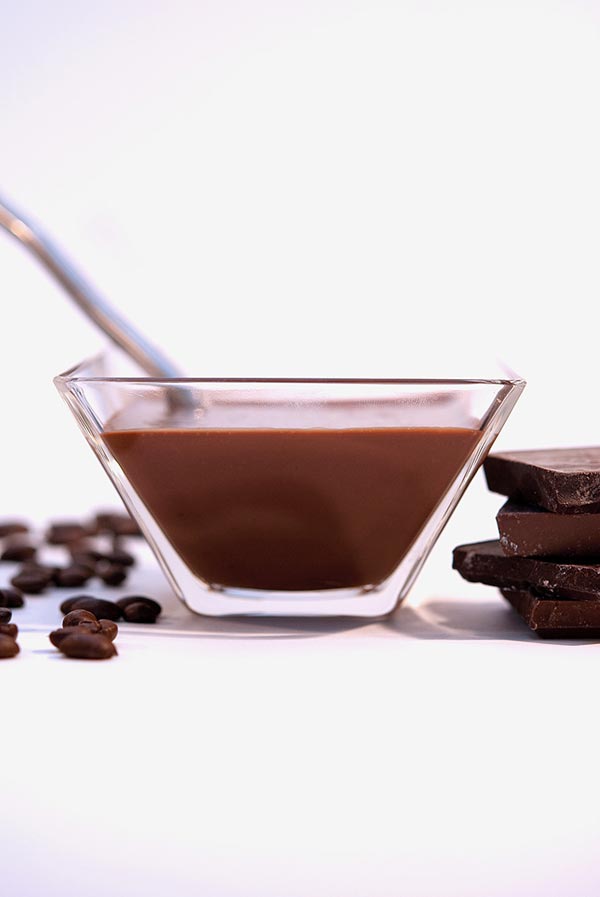 As a chef, I am often reminded that what I think is easy and uncomplicated, is not necessarily. Chocolate ganache is often thought of as fussy and complicated, and I want to tell you it as simple as 1...2...3. Chocolate ganache originated in France. Ganache is a French term referring to a smooth and velvety mixture of chocolate and cream. Its origin is a little unclear, but it is believed to have been invented around 1850. Some say it originated in Switzerland where it was used as a base for truffles. Others say it was invented in Paris at the Patisserie Siravdin.
Ganache is a simple mixture of hot cream and good quality chocolate. As much as we all love Hershey's, this is not the place for it. I recommend Callebaut, Valhrona or any other high quality dark chocolate. Look for chocolate that contains cocoa butter as the primary ingredient. The higher the quality of chocolate used, the better the flavor and texture your ganache will have in the end.
This post was posted in Desserts, Recipes and was tagged with Chocolate
19 Aug
Posted in Recipes by Sarah | 1 comments
We recently moved back to the Midwest from sunny Southern California. Although I miss the ocean and mountains, I am thrilled to be closer to family! One of the benefits of being so close to family is the ability to "stop" by and raid my father's garden.
Looking for inspiration for a breakfast pastry, I gathered up my camera and the kids, and drove up to his house. I was very pleasantly surprised by the abundance of tomatoes, but tomato muffins did not sound appealing to any of us, so we continued our hunt. Beneath large green leaves I spied a very large zucchini, and then a second one. Perfect! Zucchini bread it is! The moisture from the zucchini keeps the bread moist for days, and even after it has gone past its prime I have been known to make french toast out of the leftovers. But that's another post...
This post was posted in Recipes and was tagged with Chocolate, Bread, Vanilla Paste