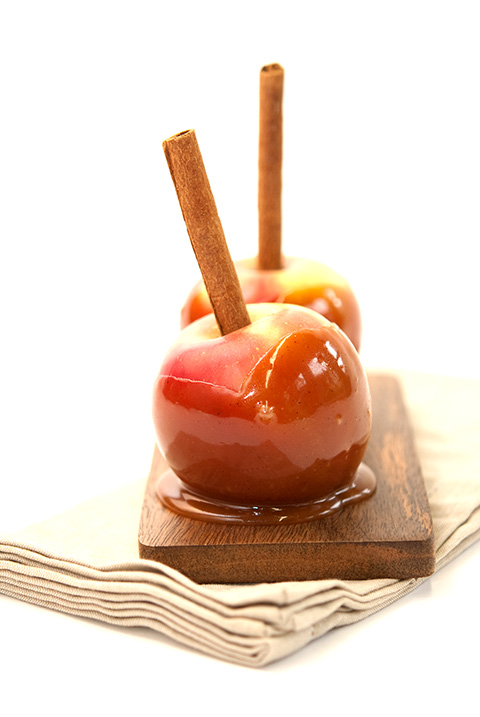 Leaves are turning bright red, yellow and orange. The smell of fresh cider and hot cinnamon donuts lingers in the air. Swimsuits and suntan lotion are traded for hayrides, wool blankets and cold metal bleachers at football games. It's fall in Michigan! The apples are abundant and it is the perfect time of year to make caramel apples.
The caramel apple has an uncertain history. Some say that a Kraft caramel salesman is credited with the first commercially publicized caramel apple. In the 1950's a man by the name of Dan Walker convinced Kraft to print and publicize a caramel apple recipe on the back of their wrapped caramel packages. It was an instant success. Families were able to make simple caramel apples with just three ingredients. An apple, a wooden stick and packaged caramels from Kraft. While this is a very heartwarming story, many historians would disagree, stating that there are recipes for caramel dating back to the 1700's and even earlier.
This post was posted in Baking Recipes, Candy, Snacks & Treats, Seasonal Baking Recipes and was tagged with Apples, Caramel
27 Jun
Posted in Baking Recipes, Sweet Sauces & Caramel by Sarah | 0 comments
The craft beer movement has been part of my life for more than 15 years. In my early 20's, I vividly remember consuming some of the most delicious microbrews in the Pacific Northwest, along with fresh salmon and some of the most delicious sushi I've had in my life. As life moved on, and the scenery changed from evergreens and fresh fish to wide open spaces and corn fields, our love of microbrews and craft beers evolved. The craft breweries were not as prevalent in the Midwest as they were in the Pacific Northwest, so we resorted to creating our own. A sudden move to sunny San Diego once again put us in the center of brewing innovation. Places like Stone and Firehouse Brewing changed our views on bold and unique brews.
This post was posted in Baking Recipes, Sweet Sauces & Caramel and was tagged with Caramel
26 Sep
Posted in Baking Recipes, Fruits, Compotes & Jams, Seasonal Baking Recipes, Sweet Sauces & Caramel by Sarah | 0 comments
Sunday is family day in our family -- a time to relax and enjoy one another's company. While living in San Diego, Sundays meant we ventured out to explore places or attractions we had not enjoyed before; a new farmers market, Legoland, Disneyland, various dog parks and beaches. Living in So. California was one big adventure, however I love being back in the Midwest! The pace is slower, the people friendlier, I actually know my neighbor (and have spoken to them) and the cider is real!! I know you are probably thinking, "Has she lost it? The cider is real?!"
This post was posted in Baking Recipes, Fruits, Compotes & Jams, Seasonal Baking Recipes, Sweet Sauces & Caramel and was tagged with Apples, Caramel
15 Aug
Posted in Baking Recipes, Sweet Sauces & Caramel by Sarah | 0 comments
I know what you are thinking..... That is a very long title for a dessert. Well, I have to agree, but I couldn't think of any other way to describe in one line the deliciousness that is Vanilla Fleur de sel Dulce de leche.
While living in California I had the opportunity to work for a non-profit that fed low income children. It was one of the most rewarding experiences I have had as a chef. The children were beautiful and it was a pleasure to introduce them to healthy eating while maintaining a budget. Every Wednesday I would go into the classroom and we would have a kids-kitchen cooking session. Often times I learned about a food item or dish that I had never heard of, due to the ethnic diversity of the children. Once monthly, I asked a parent to bring in a treat that represented their culture or family. This is how I was introduced to sweet, delicious dulce de leche.
"Dulce de leche is a sweet prepared by slowly heating sweetened milk to create a product that derives its taste from caramelized sugar. Literally translated, it means "candy of milk" or "candy [made] of milk", "milk candy", or "milk jam" in the same way that "dulce de frutilla" is strawberry jam. It is popular in South America, notably in Brazil, Argentina and Uruguay. In Chile and Ecuador, it is known as manjar. In Peru, Colombia and Venezuela, it is referred to as manjar blanco or arequipe, depending on regional variations. In Brazil, it is known by its Portuguese name doce de leite. Dulce de Leche is believed to have been created in Argentina in 1829 in Cañuelas, Buenos Aires". (wikipedia.com)
The traditional way to make Dulce de leche is to slowly boil an unopened can of sweetened condensed milk. I find that this method sometimes lacks the complexity in other caramel sauces. So, I altered tradition and adapted my own recipe to include Beanilla Vanilla Fleur de sel. 
Vanilla Fleur de Sel
Beanilla's Vanilla Fleur Del Sel is hand harvested sea salt from the Brittany region of France. Ground Tahitian vanilla beans are added to the salt to add a sweet floral note. The Fleur de sel adds a complexity to the sauce and the perfect balance of sweet and salty. Dulce de leche beautifully complements classic vanilla ice cream, can be drizzled over cream puffs, used as a filling for chocolate tarts, added to chocolate truffles and sprinkled on caramels or just simply eaten straight off the spoon (my personal favorite!).
This post was posted in Baking Recipes, Sweet Sauces & Caramel and was tagged with Caramel, Dessert, Vanilla Fleur de Sel