The last weeks of warm summer weather are fast approaching. Ice cream in the cold winter months just doesn't have that je ne sais quoi that it has in the warmer months of spring and summer. There is something different about cold refreshing ice cream in the summer; it just tastes better! Before we know it, summer will be over- so eat all the ice cream you can! We have the perfect ice cream recipe featuring fresh summer strawberries and cacao nibs. We hope you enjoy!
This post was posted in Baking Recipes, Ice Cream & Frozen Desserts and was tagged with Cacao, Strawberries
26 Aug
Posted in Baking Recipes, Beverages, Drinks & Cocktails by Sarah | 0 comments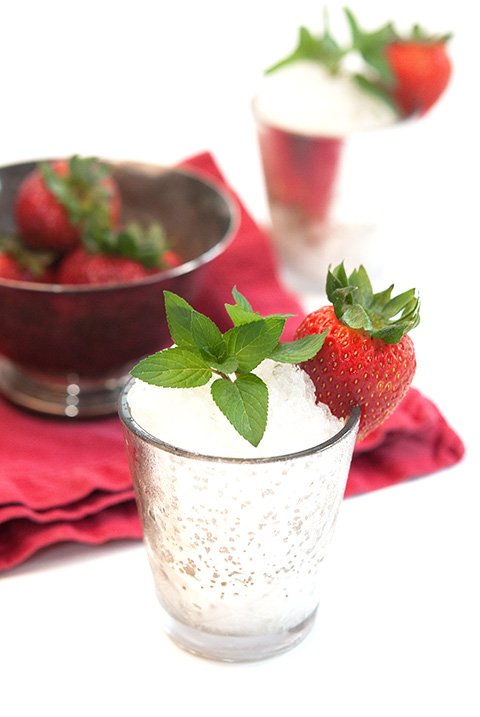 It's a sweltering August evening and you are looking for the perfect drink to serve your guests -- something that is not too sweet but it still light and fruity with a punch. Mint juleps are cold, refreshing and beg to be sipped slowly -- perfect for those hot summer nights surrounded by friends and great food.
The mint julep has a long and rich history. The drink gained popularity in celebration of the Kentucky Derby in 1938, and sold for $ 0.75 in a souvenir cup that patrons could take home with them. On average, the Derby sells more than 80,000 of this signature drink during the event. The question still remains, "Why do you always see mint juleps in a classic and recognizable silver cup?" The south is rich in tradition, and the mint julep cup was traditionally given as gifts at weddings, christenings and races. The cup symbolizes achievement, high regard and prestige.
This post was posted in Baking Recipes, Beverages, Drinks & Cocktails and was tagged with Strawberries
14 Mar
Posted in Baking Recipes, Cakes by Sarah | 0 comments
Spring is almost here. I could not be more excited!
As a child, spring brought mud puddles, thunderstorms and tulips. Tulips are a garden staple here in Michigan. You know that spring is here to stay when tulips begin to pop through the cold winter soil. The tulips haven't shown up yet, and there is still a thin layer of snow in our front yard, but that doesn't mean I can't celebrate spring's impending arrival with a classic spring dessert.
This post was posted in Baking Recipes, Cakes and was tagged with Strawberries, Spring