Posted in Baking Recipes, Sweet Sauces & Caramel by Sarah
Porter Caramel Sauce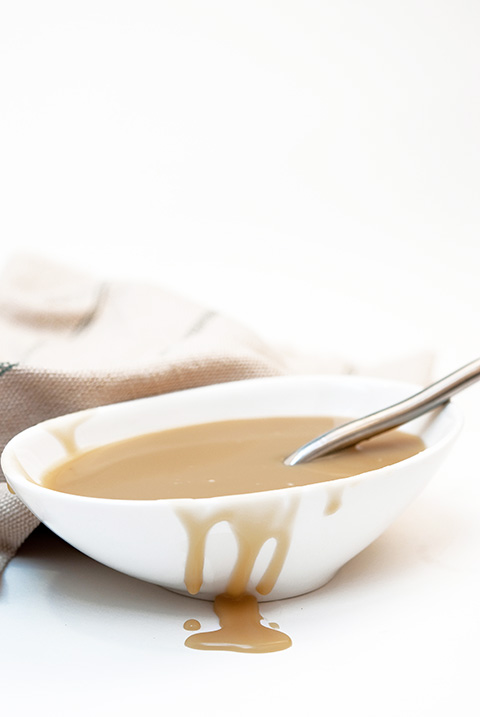 The craft beer movement has been part of my life for more than 15 years. In my early 20's, I vividly remember consuming some of the most delicious microbrews in the Pacific Northwest, along with fresh salmon and some of the most delicious sushi I've had in my life. As life moved on, and the scenery changed from evergreens and fresh fish to wide open spaces and corn fields, our love of microbrews and craft beers evolved. The craft breweries were not as prevalent in the Midwest as they were in the Pacific Northwest, so we resorted to creating our own. A sudden move to sunny San Diego once again put us in the center of brewing innovation. Places like Stone and Firehouse Brewing changed our views on bold and unique brews.
The move back to our hometown was a blessing, but our beloved microbreweries had to be left behind. Little did we know that Grand Rapids, MI had evolved into a mecca of craft breweries and farm-to-table dining. GR was recently named Beer City, USA -- a title fitting for a town that has more breweries per capita than any other city.
Living in a town that prides itself in numerous craft breweries is great, but eventually one gets tired of drinking the beers and begins to devise ways to creatively implement them into everyday cooking. As a professional chef, pastries are my specialty, so incorporating brews into my desserts seemed like a natural choice. Chocolate porter brownies -- delicious! Stout floats with homemade Tahitian vanilla ice cream -- divine!  My personal favorite, and one that consistently graces our fridge, is homemade vanilla porter caramel sauce. The caramel sauce remains true to the subtle nuances of the beer, but has the familiar and creamy texture of caramel sauce. Perfect over ice cream, or simply eaten by the spoonful!
The addition of Tahitian vanilla bean triple-fold paste to Porter caramel sauce brings out the floral nuances of the beer's hops. Our 3-Fold Tahitian Vanilla Bean Paste is made using three times as many vanilla beans as many other single-fold vanilla bean pastes. As a result, you get a much fuller, richer and more intense hit of vanilla flavor. Our Vanilla Paste is for the chef or baker who wants a little more performance out of their vanilla flavor. Since it is three times as concentrated, you will use half as much, meaning a little goes a long way. This paste packs a serious flavor punch!
Share your thoughts, leave a comment!
← Previous Post
Next Post →