Vanilla Whipped Coffee Martini
(educational indulgence)
I recently received two very different vanilla beans from Beanilla. Did you know that there are different varieties of vanilla beans that grow in various regions around the world? In each vanilla producing region, vanilla beans are uniquely cured by vanilla farmers through a very labor-intensive process. Curing techniques, which have been passed down from generations of farmers, contribute to the aroma, texture, length, girth and flavor characteristics that make each bean so different, according to region.
Origin: Madagascar (Africa)
Bourbon Madagascar Vanilla Beans are superior, with flavor and aromatic qualities that make these beans the most popular and sought after vanilla variety. The flavor is rich, dark and creamy with an overwhelming sweet, buttery aroma. Madagascar vanilla beans are often regarded as Beanilla's best vanilla beans.
You will commonly notice that Madagascar beans have visible markings, often referred to as "tattoos". These markings are a series of pin-pricks that identify the vanilla farmer, who painstakingly initialed thousands of individual vanilla beans amongst his crop, simply in order to deter theft.
Origin: Mexico (North America)
Mexican Vanilla Beans are rich and smooth with subtle tones of bourbon and smoke. Mexican vanilla has the familiar natural vanilla flavor that we associate with vanilla bean ice cream and other vanilla-flavored desserts. These beans are cured using sun and oven-wilting techniques.
Origin: Tahiti (French Polynesia)
There are two types of Tahitian vanilla beans; those from Tahiti and those from Papua New Guinea. This is the real deal. Vanilla from Tahiti is incredible, with an aroma that is floral with tones of ripe fruit. The flavor is rich of chocolate, licorice and caramel. True Tahitian vanilla beans are HUGE, often 2-3 times larger than other vanilla varieties. There is no comparison between Tahitian vanilla from Tahiti and Tahitian beans (Vanilla tahitiensis) from Papua New Guinea.
Origin: Papua New Guinea (Southwest Pacific Ocean)
Tahitian Vanilla Beans from Papua New Guinea come from the fruit of an orchid variety called Vanilla tahitiensis. The aroma is flowery, fruity and with a smooth flavor. They are often described as smelling like licorice, cherries, or wine. Beanilla carries Grade B Tahitian Vanilla, also called extract beans, that contain significantly less moisture and are less attractive, but will work just fine in your homemade vanilla extract.
Bourbon vanilla Beans have a traditional flavor, and is the most popular type of vanilla. Bourbon vanilla from Papua New Guinea (PNG) comes from the fruit of an orchid variety called Vanilla planifolia, and is rich in the natural organic compound called vanillin. Bourbon beans have a creamy, sweet, smooth and mellow flavor. Use Bourbon vanilla for applications that require a traditional vanilla flavor.
Origin: Tonga (Pacific Islands)
Palm-fringed beaches, rainforests, lagoons and warm blue water make up the beautiful paradise where these rare and highly sought after vanilla beans are grown. Tonga vanilla beans are extremely bold and pronounced with a very unique aroma and flavor profile. One of my personal favorites!
Origin: Uganda (Africa)
Vanilla produced in Uganda is incredible. The aroma is earthy with tones of milk-chocolate. The flavor is very bold as these vanilla beans produce a very high amount of vanillin, making them perfect for rich desserts and chocolates. The beans are very large and plump. At over 8 inches in length, these are some of the largest vanilla beans.
Origin: India (Asia)
Indian vanilla beans are very similar to Madagascar vanilla. These gourmet-grade vanilla beans are huge and contain a very large abundance of seeds. Many will contest that the sweet woodsy flavor profile of these beans are superior to that of the Bourbon-Madagascar variety.
Origin: Indonesia (Asia)
Indonesian vanilla beans are have a delicate aroma of red wine with earthy tones. The flavor is perfect for richer desserts and recipes that call for chocolate, caramel, or other deep flavors. These beans are similar to the Tahitian and Tonga vanilla beans and contain a significant amount of moisture content.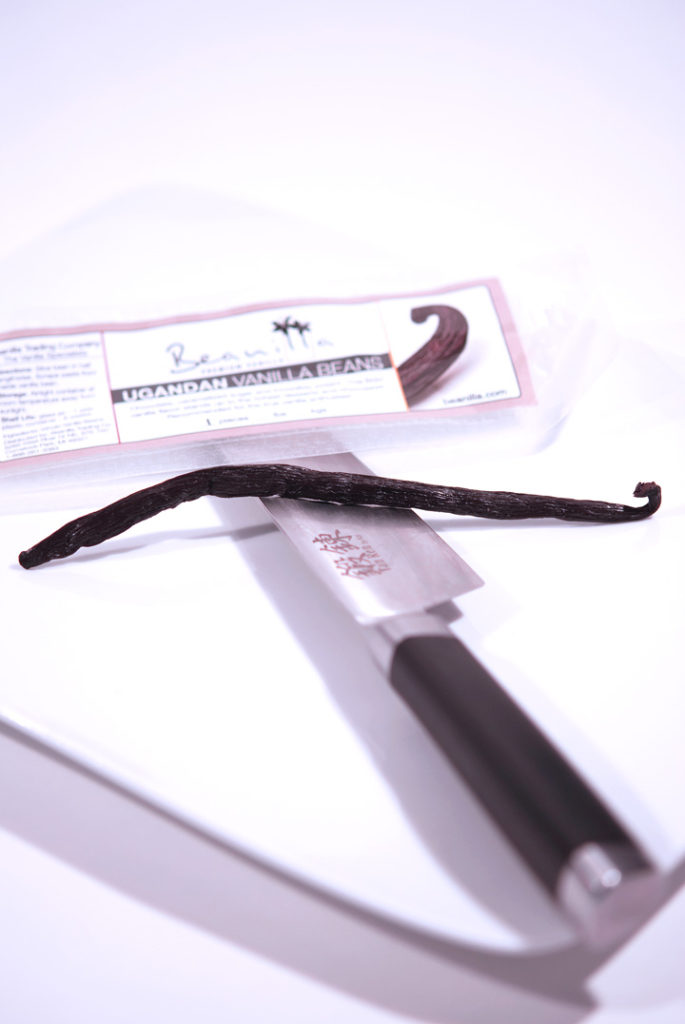 I love the richness and the aroma of the Ugandan vanilla bean, and decided that it would pair perfectly with coffee. Why stop there? Every once in a while I like to indulge in an over-the-top drink. Vanilla Coffee whipped cream drink sounds so boring, so let's give it a bold and classy name... such as Beanilla Vanilla Whipped Coffee Martini.
Enjoy!
Vanilla Whipped Coffee Martini Recipe
Yields 1
Ingredients:
4 oz.

freshly brewed coffee

1

Ugandan Vanilla

Bean

1/2 oz.

simple syrup

1 tbsp.

heavy cream

2 oz.

whipped cream vodka

Beanilla

Vanilla Sugar

for rim
Directions:
Infused coffee
Carefully split one Ugandan Vanilla Bean lengthwise with a sharp knife.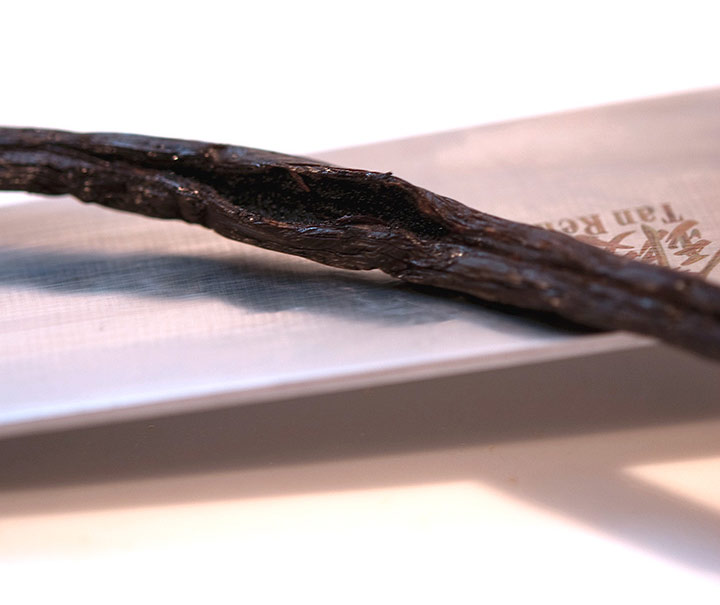 Pour hot coffee into a container and place split vanilla bean in hot coffee. Let it infuse flavor overnight in the fridge.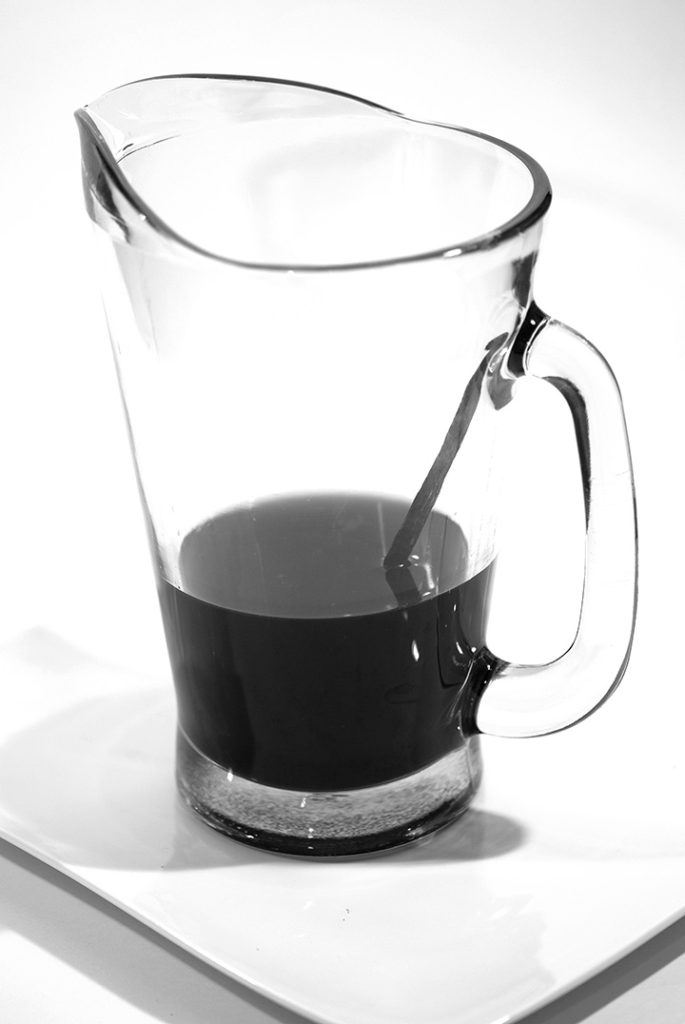 Method
Combine 4oz. infused coffee, cream, vodka and simple syrup in shaker with ice. Shake to combine. Rim glass with vanilla sugar by dipping glass into water and then into vanilla sugar. Pour drink into glass and enjoy!
Share your thoughts, leave a comment