Almond Vanilla Whipped Cream (Part 1)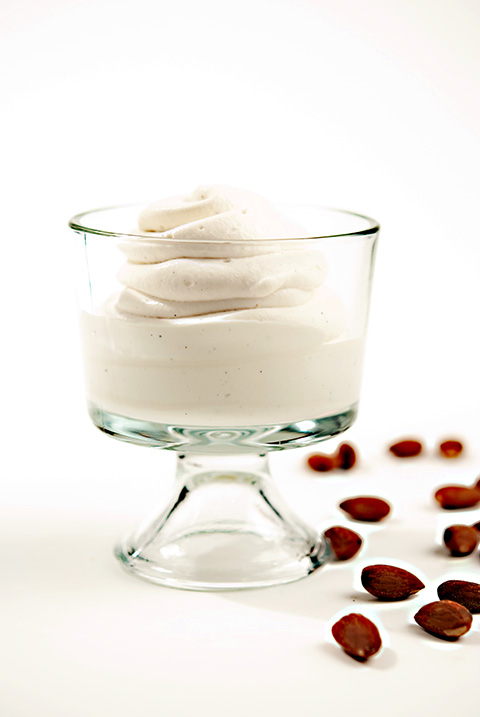 Almonds and vanilla are a match made in heaven. Tahitian vanilla beans, fresh roasted almonds and sweet cream provide a decadent base for the second part of a scrumptious recipe I guarantee you will drool over. You may wonder what I am talking about... creamy, rich and decadent almond vanilla whipped cream. So deceptively simple to prepare, but impossible to resist.
Before beginning my position with Beanilla as head blogger and photographer, I really did not understand the scope of the varieties within the vanilla family. I knew there were Madagascar beans, Tahitian beans and Mexican beans, but that was the limit of my vanilla knowledge. Did you know there are eight varieties of vanilla beans that Beanilla carries???
Each variety is unique, and has a specific aroma and flavor profile. Every bean comes from different corners of the world, and each vanilla bean pairs uniquely with foods in many different ways. My personal favorite, and most used vanilla bean, is the Tahitian. Sweet and fruity with a bolder and more pronounced vanilla flavor than the Madagascar bean, they lend themselves well to just about any dessert or pastry, especially almond vanilla whipped cream!
I first began working with almond whipped cream in my previous position as an assistant pastry chef. Fairly new to the pastry world (I had previously worked as an executive chef on the savory side of the kitchen), I now had a kitchen that I had to manage, in addition to prep work and preparing a very large quantity of scratch-made intricate pastries.
One of components of a layer cake the restaurant made was an infused almond cream that was a base for an almond pastry cream. I remember the smell being intoxicating, especially in the small kitchen we worked out of.
The smell of infused almond cream, to this day, reminds me of one of my employees; small in stature, but very opinionated. George, a French-born pastry chef, trained in the finest kitchens in France. He came to us to keep up his skills, but to work in a less hectic and high pressure position before retiring. Although extremely opinionated and often flustered, George is the reason why I make the most beautiful pastry cream. He is also the inspiration behind almond vanilla whipped cream, and the second part of this post.... profiteroles w/ almond vanilla whipped cream.
Almond Vanilla Whipped Cream
Yields 2 cups
Ingredients:
1 cup Heavy Cream
1/2 cup almonds, roasted and roughly chopped
1 Tahitian vanilla bean
1/4 c. sugar
Directions:
Bring the roasted almonds, heavy cream and Tahitian vanilla bean scrapings to a low boil. Remove from heat and cover. Let infuse for 1 hour. Strain out the almonds into a bowl and set the infused cream aside. Cover the cream and refrigerate overnight.
Once the cream is cold, place into a mixer, along with the sugar. Beat with a whisk attachment and beat until medium peaks form. Refrigerate until you are ready to use.
*Fresh whipped cream lasts 24-48 hours at the very most
Share your thoughts, leave a comment