Posted in Baking Recipes, Pastries & Tarts, Puddings, Custards & Creams by Sarah
Profiteroles with Vanilla Almond Cream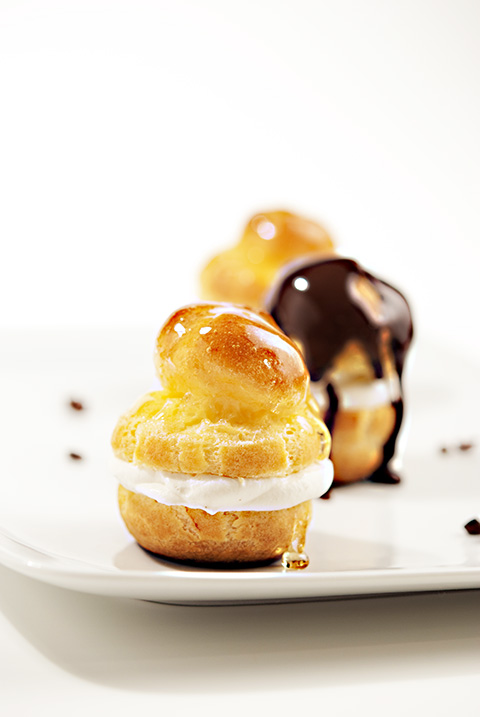 Profiteroles, or cream puffs as they are called here in the states, are a classic French dessert. You will most likely find them filled with a sweet whipped cream and garnished with a dusting of powdered sugar or hard caramel. My favorite is the latter version. I vividly remember going to the patisserie in Paris, and blissfully enjoying this light and filling pastry. I love the chewy texture of the Pâte à Choux (cream puff dough) the soft cream filling and the crunchy texture of the hard caramel glaze.
Pâte à Choux was one of the first desserts that I made and photographed after acquiring my first DSLR camera. It was also the first time that I realized that becoming a pastry chef may be well suited to me. Pâte à Choux may look daunting, but if you follow the steps to creating it, it is a very simple dough with extraordinary results. The dough is very elastic and sticky, but once you pipe out those little rounds and place them in the oven a little bit of magic happens. When the dough hits the hot air, the profiterole (cream puff) dough begins to rise to form a "puff", enabling you to fill them with a sweet and delicious filling of your choice. Be sure to bake them until they sound hollow when baking sheet is lightly tapped on, or they will deflate and you will ultimately have flat cream puffs (a lesson I learned once or twice).
Once the puffs have cooled, you can slice them in half (you will notice that they are hollow inside), and fill them with the vanilla almond whipped cream you made from our previous post. The profiteroles can then be drizzled with a rich chocolate sauce or dipped in a sweet and crunchy caramel glaze.
Share your thoughts, leave a comment!
← Previous Post
Next Post →