Posted in Baking Recipes, Breakfast & Brunch by Sarah
Easy Vanilla Cheese Danishes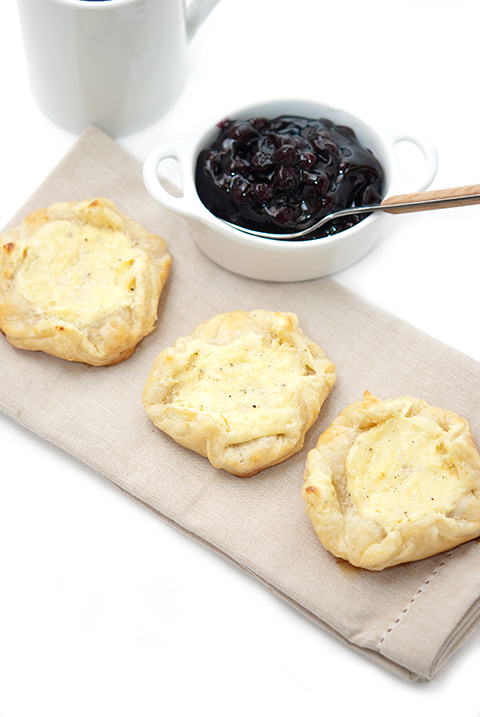 The Danish is a small breakfast pastry that typically contains a creamy cheese or a sweet fruit filling. Traditional Danishes are labor intensive; unless you are making them commercially in large batches, making them will take you the better part of the day to create all the components necessary for the filling and dough.
I don't know about you, but I just don't have the time to spend part of a day on one pastry! A very quick and easy solution to this problem is "puff pastry". Making puff pastry from scratch is a true art and takes a considerable amount of time and ingredients. There are just not many great commercially made puff pastries on the market today (Even the professionals utilize these pre-made shortcuts!)
If you have never worked with puff pastry, it's essentially dough folded together many times. Each time it is folded, a layer of butter is added! The dough is then chilled, rolled out and the butter is dispersed amongst the dough through this process. The heat of the oven causes the cold dough to rise while the butter melts resulting in a light, buttery and flaky pastry dough. The key to working with puff pastry is to not let it get warm and to chill the finished product before placing it into a hot oven (or you will end up with flat puff pastry!)
Traditionally the Danish is filled with a creamy cheese filling or fresh fruit filling. Ours is a creamy cheese Danish that is enhanced with vanilla sugar. The addition of our vanilla sugar boosts the flavor and adds appealing vanilla bean specks to the finished product.
Our vanilla sugar is made from Kosher Certified Organic Cane Sugar blended with the Tahitensis species of vanilla beans from Tahiti and Papua New Guinea. Add it to just about anything sweet. For the adventurous; add it to a few things savory!
Share your thoughts, leave a comment!
← Previous Post
Next Post →