Homemade Donut Recipe: Vanilla Bean Sugar Donuts
Doughnuts! Who doesn't like a hot fresh doughnut fresh from the oil and still warm to the touch? It makes my mouth salivate just thinking about it! Many of us simply drive up to our local donut shop and choose a favorite glaze and dip, but have you ever tried making a homemade vanilla donut at home? Well, now is the time to learn how to make a donut! In this recipe we'll be creating a puff pastry donut coated with vanilla bean sugar.
The traditional yeast or cake doughnut dough is a fairly long process that sometimes requires multiple steps and proofing to get the dough just right. I don't know about you but I just don't have the time for multiple step recipes these days! I have resigned myself to a life of readymade donuts… until now! Puff pastry is one of the most versatile dough's that you can keep in your freezer. Puff pastry is a flaky butter based dough that can easily take you from pot pie to strawberry napoleons in one easy step. Simply thaw the dough in the fridge, unfold and roll lightly on a floured surface. Cut out your favorite dough shape (don't forget to keep the holes!) and place back in the refrigerator to chill while you heat up your oil. That is my kind of recipe; simple and delicious, even on the weeknights!
This recipe uses vanilla sugar as a coating. This is no ordinary sugar mixture; ours will a be mixture that contains Tahitian vanilla bean caviar. If you have not had the pleasure of trying our Tahitian vanilla beans, now is the perfect time! The flaky, buttery puff pastry is the perfect vehicle to savor the amazing flavor of Tahitian vanilla. Vanilla from Tahiti is incredible with an aroma that is floral with tones of ripe fruit. The flavor is rich of cherry-chocolate, licorice and caramel. Hand's down our favorite!
Let's get started…
How to Make Donuts
Yields 12-15 doughnuts
Ingredients:
½ cup

sugar

1 tbsp.

cinnamon

1

Tahitian vanilla bean

(split and scraped)
Canola oil

2 sheets

puff pastry

, thawed from frozen but cold
Directions:
Unfold and roll out the puff pastry on a lightly floured surface. Roll lightly, just to remove the creases from packaging in the dough. Cut the dough with a doughnut cutter using a biscuit cutter of varying size (one big, one small).
Fill the bottom of an enamel cast iron pot with two inches of canola oil. Turn on the heat and bring the oil to 350 degrees. Gently place the doughnuts in to the hot oil, cook for 3 minutes on each side. Remove and let sit on a cooling rack.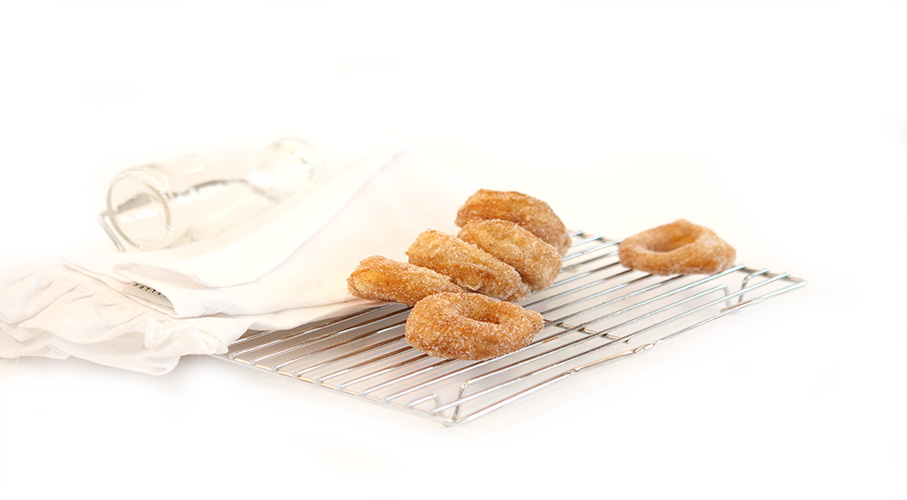 Once cool enough to handle roll the doughnut in the vanilla sugar mixture. Serve immediately!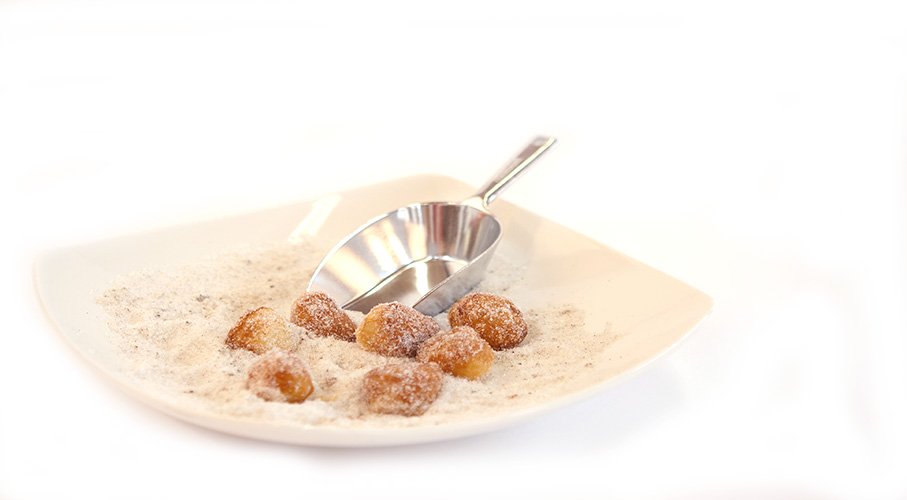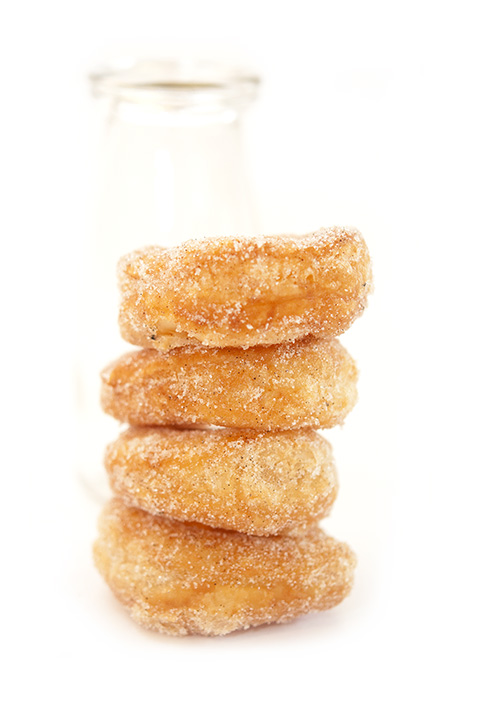 Share your thoughts, leave a comment