Posted in Baking Recipes, Ice Cream & Frozen Desserts by Sarah
Strawberry-Cacao Ice Cream Recipe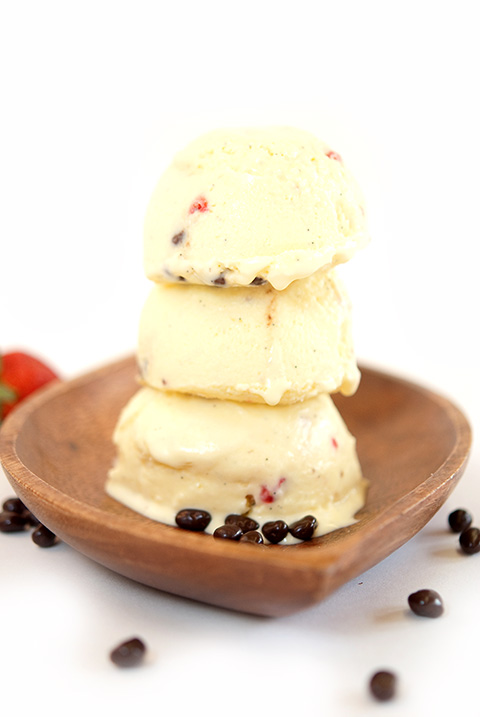 The last weeks of warm summer weather are fast approaching. Ice cream in the cold winter months just doesn't have that je ne sais quoi that it has in the warmer months of spring and summer. There is something different about cold refreshing ice cream in the summer; it just tastes better! Before we know it, summer will be over- so eat all the ice cream you can! We have the perfect ice cream recipe featuring fresh summer strawberries and cacao nibs. We hope you enjoy!
But first, where and when did Ice Cream come from?! Ice cream has a very long and distinguished history. Most likely beginning in the Roman times (30-70AD), although the Chinese King's are also credited for the invention. The Europeans brought back the confections from China and thus began a long history of royalty and aristocrats serving ice cream and sorbets at banquets and dinner parties. The history continues from there with the opening of what we now call ice cream shops, the first parlor opening in 1776 in New York City. The first ice creams were called iced creams by the colonists but shortened later on. The ice cream, gelato, shaved ice industry is now a multi- billion dollar empire with variations in every country around the world. The classic flavors still remain chocolate, strawberry and vanilla. Vanilla being a strong contender for the top place.
Strawberry cacao ice cream combines the three classic flavors in a very unique way. Fresh seasonal strawberries, unprocessed chocolate in the form of a cacao nib and classic vanilla studded with Tahitian vanilla bean caviar. Tahitian vanilla beans are fat, plump and bursting with vanilla bean caviar. The perfect fruity, floral addition to this unique ice cream recipe.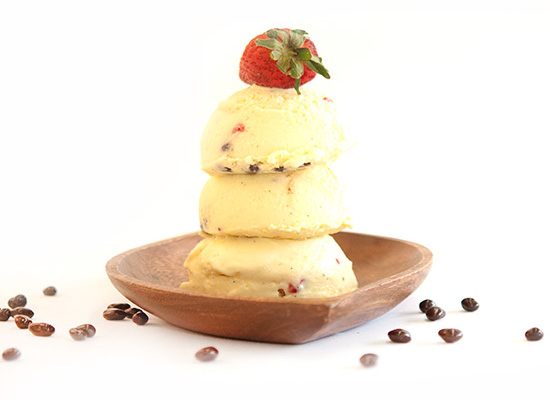 Share your thoughts, leave a comment!
← Previous Post
Next Post →