Posted in Baking Recipes, Ice Cream & Frozen Desserts by Sarah
Strawberry Mint Sorbet Recipe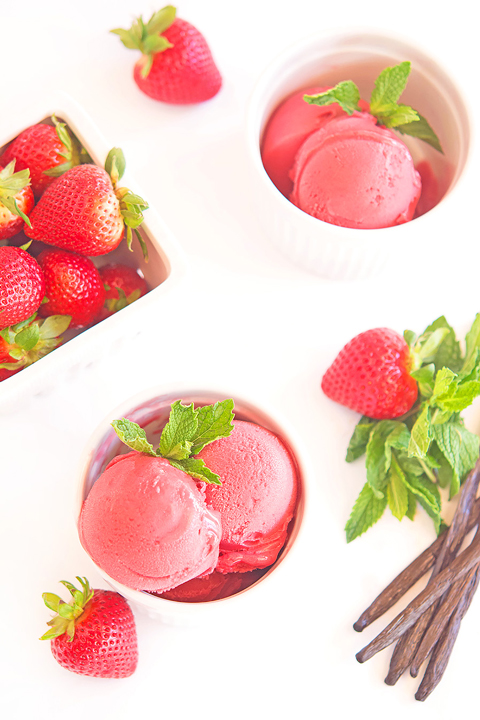 Beautiful ripe red strawberries are in season and they are spectacular right now! The droughts in California may have brought the cost up on these delicious beauties but it has not compromised the sweet flavor of in-season strawberries. Early April to May is typically the perfect time to enjoy strawberries. While strawberries are delicious straight from the field warmed by the beautiful spring sunshine, we love to use them in fresh fruit sorbets. We have the perfect strawberry mint sorbet recipe for you to enjoy.
Sorbet is incredibly simple to make for it does not have an ice cream base to cook and cool. Simply create a simple syrup, chop up some strawberries and throw it all in a blender to puree, and then freeze in the ice cream maker. Sounds easy doesn't it!? The best part of a fresh fruit sorbet is that it retains the beautiful taste of the seasonal fruit.
We of course could not create a recipe for Beanilla without the addition of a vanilla product! Madagascar vanilla beans are what is essentially known as a traditional vanilla bean. This is typically the type of bean that you will see in the grocery store or gourmet food market. But not all vanilla beans are equal; our Madagascar vanilla beans are plump, full of bean caviar and smell heavenly!
 
No more dried, sad vanilla beans from the grocery store!
Share your thoughts, leave a comment!
← Previous Post
Next Post →