Posted in Baking Recipes, Pastries & Tarts by Sarah
Chocolate Caramel Tarts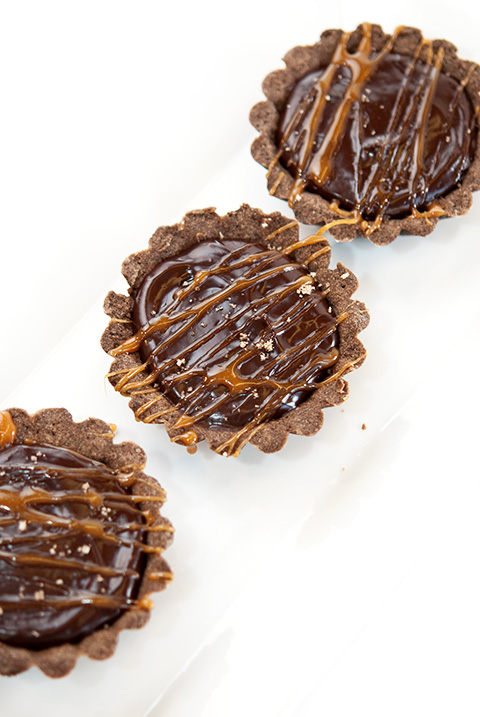 I'm not going to lie, this is a recipe that takes a bit of time to complete. It is the perfect special occasion or dinner party dessert, sure to wow even the pickiest of dessert connoisseurs. The crumbly outer crust is the perfect vehicle for a soft and creamy caramel. The dessert is perfectly rounded out with a layer of rich and creamy chocolate ganache. The addition of our Tonga bean caviar adds a bold flavor and can easily stand up the intense flavors of chocolate and caramel. This type of vanilla will stand up to the fullest flavored desserts.
The recipe may look daunting but can easily be broken down in separate parts that can be completed on separate days. Make the caramel, cool and cover. Refrigerate up to 7 days. The chocolate ganache can also be made ahead of time and chilled up to seven days. Unfortunately I have found that the tart shells can only be prepared a maximum of 48 hours in advance. The shells can then be wrapped and held at room temperature until you are ready to fill them. When you are ready to fill the tart shells, soften the caramel and ganache in the microwave for thirty seconds for ease of spreading.
Once you fill the tart shells with the caramel and ganache, sprinkle the tops with vanilla fleur de sel. Fleur de Sel ("Flower of Salt" in French) is hand-harvested sea salt that is formed at the surface of salt beds and collected by workers who scrape only the top layer of salt. Rich in minerals with superior flavor qualities, Fleur de Sel is one of the most expensive salts in the world. Our Fleur de Sel is collected off the coast of Brittany (France) and is combined with premium ground vanilla beans of Tahiti and Papua New Guinea. Vanilla Fleur de Sel is exquisite with seafood and poultry and is naturally harmonious with sweet and sour dishes. Vanilla Fleur de Sel is also great for making vanilla bean caramels, Foie Gras and it even makes the best margarita rimmer around. Happy Baking!

Share your thoughts, leave a comment!
← Previous Post
Next Post →