Chocolate Chip Toffee Cookies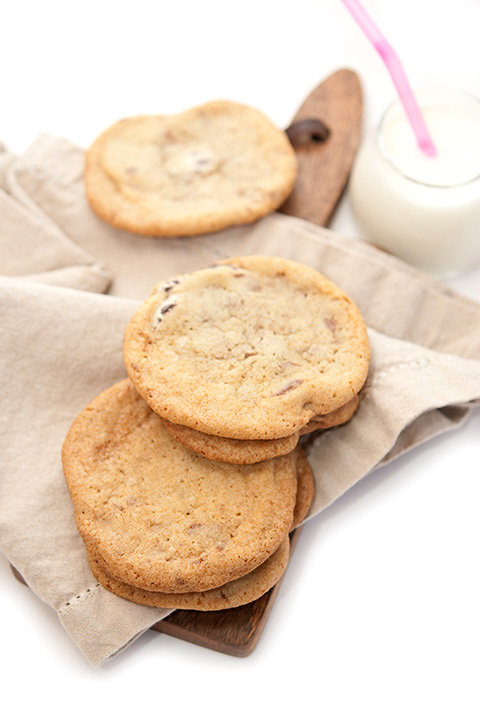 What is the perfect chocolate chip cookie? Is it soft and "cakey", hard and crispy, or crispy edges with a soft chewy center? Chocolate chip toffee cookies fall into the last category. Crisp and sweet around the edges but soft and chewy in the middle, this might just be the perfect chocolate chip cookie recipe.
Chocolate chip cookies have always been a staple in many American households, but where do they hail from what is the history of the chocolate chip cookie? In 1930, a woman by the name of Ruth Graves Wakefield was running a little bed and breakfast in a small town in Massachusetts. The Wakefield's were known for their absolutely delicious desserts. Ruth would consistently produce a cookie known as the butter cookie for patrons and guests. Running short on chocolate, Ruth substituted pieces of chopped chocolate that was gifted to her by the Nestle company. Unlike the Bakers chocolate the Nestle chocolate did not disperse throughout the cookie but remained intact but melted. The chocolate chip cookie was born!
An integral part of the chocolate chip cookie is the chocolate chip, but what gives the cookie the most flavor? Vanilla (of course)! That is why we selected our Madagascar vanilla extract for this recipe. This extract has a full body impact and a remarkable after taste. Smooth rich and creamy, the Madagascar vanilla extract defiantly completes the perfect chocolate chip cookie.
Chocolate Chip Toffee Cookies Recipe
Yields approximately 24 cookies
Ingredients:
2 sticks

salted butter (softened)

1 cup

brown sugar (packed)

1/2 cup

sugar

2 tsp.

Madagascar vanilla extract (single fold)

2

eggs

2 1/4 cups

all purpose flour

1 1/4 tsp.

baking soda

1 cup

toffee bits

1 cup

bittersweet chocolate chips
Directions:
In a stand mixer fitted with a paddle attachment place the butter, brown sugar, sugar and vanilla extract. Beat on medium until combined. Add the two eggs, beat to combine. In a small bowl combine the flour and baking soda. Add the flour mixture to the butter mixture and beat on low speed until combined. Add the toffee bits and bittersweet chocolate chips mix on low until the chips are dispersed through the dough.
Refrigerate the dough for one hour before baking.
Preheat oven to 375 degrees.
Prepare two cookie sheets with parchment or silpats. Scoop (using a small ice cream scoop) the cookies onto the sheets, spacing evenly apart. Bake for 10-12 minutes until golden brown.
Share your thoughts, leave a comment