Chocolate Chip Cookie Marshmallow Peep S'mores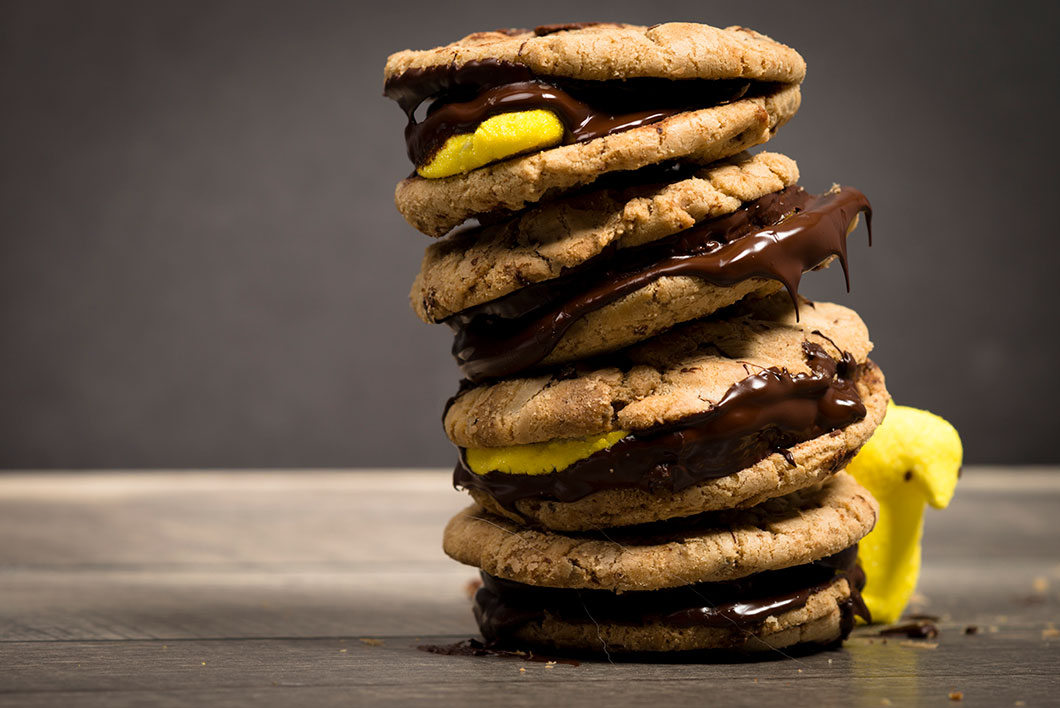 Easter is just around the corner! The bright red and white displays of Valentine's Day are long gone, and the Kelly green of St. Patrick's day has given way to the pastels of pink, yellow, blue and green. Easter baskets, egg-dying kits, and of course a variety of Easter treats have taken over store shelves.
While Easter goodies usually come in the form of egg-shaped candy or chocolate bunnies, one of our favorite recipes is a spin on the campfire classic known as s'mores. We take the tried-and-true formula to the next level by incorporating some of the Marshmallow Peeps the Easter Bunny is so fond of leaving behind. Making these even more indulgent is the fact that we use homemade chocolate chip cookies instead of boring old graham crackers. Give these decadent delights a try, and you're guaranteed to have a Happy Easter.
Chocolate Chip Cookie Marshmallow Peep S'mores Recipe
Ingredients:
1½ cups

all-purpose flour

½ teaspoon

baking soda

1 stick

salted butter, softened

½ cup

granulated sugar

½ cup

light brown sugar

1

egg

1 teaspoon

Madagascar Vanilla Extract

8 oz

bittersweet chocolate, roughly chopped

8 oz

bittersweet chocolate chips

12

Marshmallow Peeps
Directions:
Preheat oven to 350 degrees, and line two cookie sheets with parchment paper or a nonstick baking mat.
In a stand mixer fitted with a paddle attachment, add the softened butter, sugar and brown sugar. Beat on medium high until the sugars are well incorporated into the butter. Add the egg and vanilla extract to the mixture, beat together until incorporated. Add the flour and baking soda beat until just combined. Remove the bowl from the mixer and fold in the roughly-chopped chocolate.
Bake for 10-12 minutes in pre-heated oven until the center is cooked through.
Halfway through the baking process, place the Peeps on a baking sheet lined with a nonstick baking mat. Remove from oven when the cookies are done.
Place the chocolate chips in a small bowl. Microwave at 30-second intervals until just melted. Spread on one cookie. Set the cookie down, chocolate side up. Add a peep and top with a second cookie. Press the two halves together, and enjoy.
Share your thoughts, leave a comment