Posted in Baking Recipes, Cookies, Seasonal Baking Recipes by Sarah
Peanut Butter Candy Cookies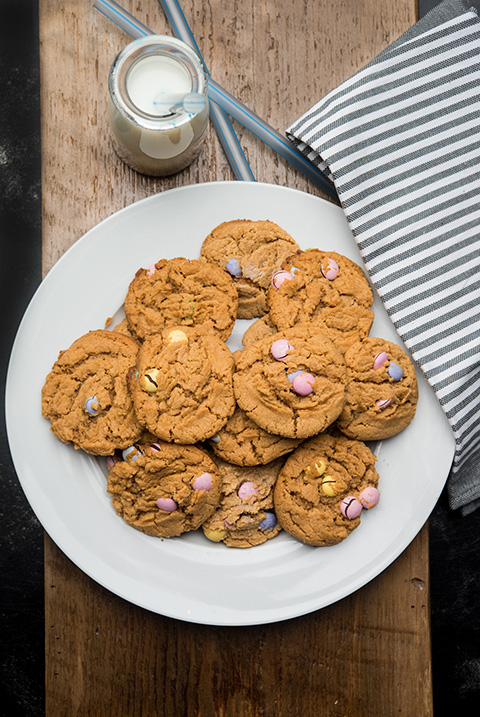 Recipe: Peanut Butter Candy Cookies
The peeps are out; bright yellow, green and shocking hot pink round out the line up. I'm referring to the fluffy marshmallow concoction covered in colored sugar that only makes their appearance during the Easter holiday. This is the time of year that sweet pastel candies of every shape and flavor hit the stores, some traditional to the Easter holiday and others created in a new shape or flavor to add to the traditional Easter morning basket.
One of my favorite Easter treats is pastel m&m's. Yes, I know they are no different than traditional primary colored m&m's but there is something so beautiful knowing that spring is finally here while eating those pastel beauties!
Many of us know the traditional Easter story, but how did the gifting of treats in a basket piled with brightly covered plastic grass, or even the Easter bunny begin? Easter is a deeply religious Christian holiday that is celebrated the first Sunday after the first vernal equinox full moon. Easter baskets are said to have originated as a pagan offering to the goddess of fertility, spring is a time for re-birth and renewal and Eostre is said to have carried a basket of eggs with her as a symbol of this. Christians are said to have adopted this tradition as a way to introduce small children to the complex ideas of death and re-birth. Over the years the tradition has become commercialized and the traditional Easter basket is more about sweet treats and small gifts but the underlying meaning still remains. Whether you celebrate the religious beginnings of Easter or not, waking up to a sweet ladened basket of treats is so much fun!
While many of our Easter baskets are made up of commercially made treats and gifts, wouldn't it be nice to add a few homemade treats to the mix! Peanut butter candy cookies are simple, incredibly delicious and can be easily wrapped in a small treat bag and tied with a brightly colored bow. Make them a day or two ahead of time (save a few for yourself) and watch your little ones gobble them up!
Happy Easter from our Beanilla family to yours!
Share your thoughts, leave a comment!
← Previous Post
Next Post →