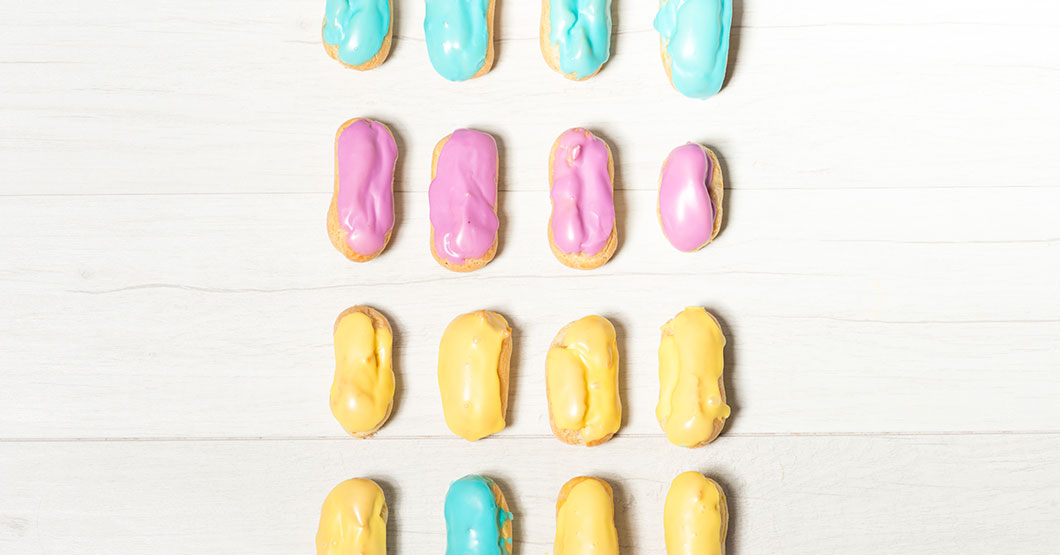 Spring tends to get off to a slow start here in Michigan. A beautiful, sunny day will be followed by a week of rain (or even worse, snow). That doesn't mean you can't add a little brightness of your own to any day, and this éclair recipe is the perfect way to do exactly that!
Éclairs are traditionally dipped in melted chocolate, but we thought it might be fun to brighten things up a bit with some fruit-flavored glazes, in pastel colors to celebrate the arrival of spring. We start with a classic pastry dough, also known as Pâte à choux, or choux pastry. This versatile dough can also be used to make cream puffs, croquembouches, and a variety of other delicious delicacies. We then walk you through how to make a delightful vanilla pastry cream, which is the perfect filling for these éclairs. Finally, we have a trio of colorful icing ideas that will brighten up your éclairs, and your day!
Pastel Éclair Recipe
Yields 20-24 small éclairs
Pâte à choux (pastry dough) Ingredients:
½ cup (1 stick)

salted butter, cut into pieces

1 cup

water

1 cup

all-purpose flour

1

Madagascar Bourbon vanilla bean (scraped)

4

large eggs

Egg wash,

made from 1 egg whisked with 1 tablespoon water

Pastry Dough Directions:

Preheat oven to 375 degrees. Line two baking sheets with parchment paper or silpats.
Combine butter and 1 cup water in a medium saucepan over medium-high heat. Bring to a boil, then quickly stir in the flour using a wooden spoon. Keep stirring until a film forms on the bottom of the pan. Add the vanilla bean scrapings and stir to combine. Remove from heat and pour contents into a bowl to cool for about 3 minutes. Add 4 eggs, one at a time, stirring well after each addition to make sure it is entirely incorporated. Transfer the mixture to a large pastry bag fitted with a 5/8-inch plain tip. Pipe 3-inch logs onto each prepared pan, leaving about 2 inches between each log. Brush tops with egg wash. Bake until éclairs rise and are golden brown, about 25-30 minutes. Let cool on sheets on wire racks. Éclair shells can be stored at room temperature for up to 1 day.

Vanilla Pastry Cream Ingredients:

½ cup

sugar

¼ cup

cornstarch

1 pinch

coarse salt

2 cups

whole milk

4

large egg yolks

2 tablespoons

unsalted butter

1 teaspoon

Madagascar vanilla extract

Vanilla Pastry Cream Directions:

In a medium saucepan, mix together sugar, cornstarch, and salt. In a separate bowl, whisk together milk and egg yolks. Add this mixture to the saucepan, along with the butter. Bring to a boil over medium heat. Let boil for 1 minute, then remove from heat and add vanilla extract.

Strain liquid through a fine-mesh sieve into a bowl. Press plastic wrap directly onto the surface to prevent a "skin" from forming on the cream. Refrigerate until chilled. When ready to use, transfer into a pastry bag and pipe into éclair shells.

Pastel Glaze Ingredients:

3 cups

confectioners' sugar

2 tablespoons

lemon juice

1 drop

yellow food coloring

1 ½ tablespoons

concord grape juice

1 drop

purple food coloring

1 ½ tablespoons

blueberry juice

1 drop

blue food coloring

Pastel Glaze Directions:

Place 1 cup of confectioners' sugar in each of 3 medium bowls. Whisk the blueberry juice and food coloring into one bowl, the lemon juice and food coloring into another, and the Concord grape juice and food coloring in to the last bowl mixing until smooth. Dip the top of each filled éclair into a glaze, letting the excess drip off before turning over and placing on a platter. Let the éclairs rest until the glaze dries, approximately 30 minutes.
Share your thoughts, leave a comment