Posted in Baking Recipes, Chocolate, Cupcakes, Seasonal Baking Recipes by Sarah
Chocolate Peppermint Cupcakes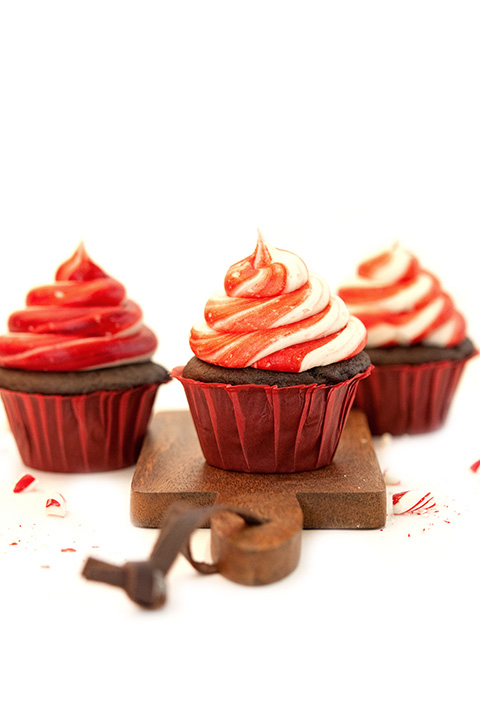 Chocolate Peppermint Cupcakes are the perfect addition to any dessert table or as a gift for someone special.
Every chocolate cupcake I have ever had has had a certain level of denseness or ended up being dry and tasteless. That is not the case with this recipe. The deep chocolate flavor is brought out with the addition of coffee extract and the crumb is moist and delicious. The only thing that could possibly make this cake even better is the addition of a creamy and rich peppermint buttercream.
Peppermint and the holidays have always had a connection. Bakers, pastry chefs and retailers all know that the peppermint flavor has a certain nostalgic charm for many consumers during this time of the year. The most beloved and well known peppermint treat is the candy cane. Historically the candy cane dates back to the early 1600's. Priests gave out pure white sticks of hard candy bent at the top to resemble the shepherd's staff. The white candy cane remained until 1900, often being depicted on holiday cards. The following year in 1901, red stripes were added and candy maker's adopted the coloring for their own. Around the same time peppermint was added to the candy and what we currently know as the candy cane was born. This began our love affair with peppermint and why it is often associated exclusively with the holiday season.
Peppermint is a plant, similar in size and look to the mint plant grown in gardens. The leaves of the plant give off the fragrant smell of mint when rubbed and the leaves are used to infuse the flavor into natural extracts and flavorings. Our pure peppermint extract is a high grade extract that smells and tastes like it was just picked from the garden. We may be biased, but we haven't found a more pure tasting peppermint extract anywhere else; we think you will agree!
Share your thoughts, leave a comment!
← Previous Post
Next Post →