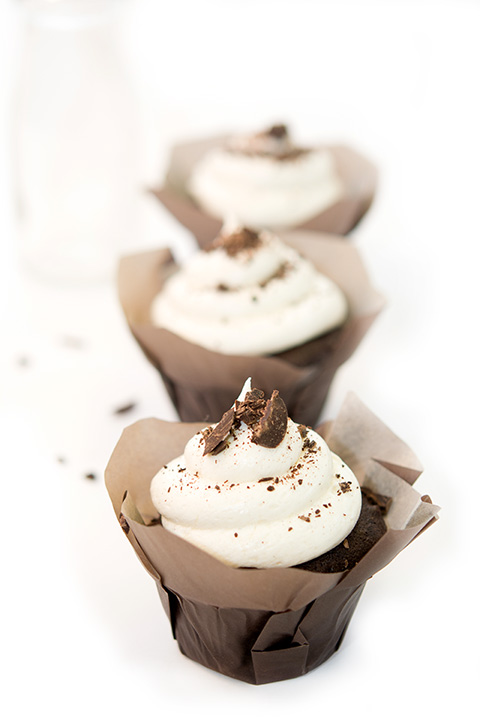 The cupcake craze began in the late 1990's with Magnolia Bakery in New York City, but what really launched these bite size desserts into the spotlight was the creation of Sprinkles. What began as a relatively small business in Beverly Hills grew rapidly to a full fledge cupcake empire. Barbara Streisand and Oprah Winfrey endorsed the cupcakes, after requesting 300 cupcakes be sent to the Harpo Studios for Breakfast. With Oprah, the daily production of cupcakes doubled at the Beverly Hills store. The fascination with cupcakes continues and more and more bakeries are being opened by sweet entrepreneurs excited to share their recipes with the waiting public.
The cupcake craze has slowed a bit over the years but now is considered more of a classic vs. a fad, but most of us will agree, cupcakes are here to stay! The best part about this small cake is how easy it is to make at home. Once you decide on the flavor combination and the perfect cake recipe, the rest is a piece of cake!
Chocolate malt cupcakes were created out of my LOVE of malted milkshakes! I would happily pass over a burger and fries for a good malted milkshake. My earliest childhood memories include crispy griddled fried thin burger patties on a classic white bun and a huge chocolate malt. The cake in this recipe is adapted from Hershey's Cocoa. I find that it is one of the most moist and delicious cake recipes out there!
For the frosting, I have created a standard buttercream recipe made light and fluffy with a small addition of shortening and heavy cream (I didn't say this was light in calories). The addition of powdered malt gives the frosting the malted flavor I remember so fondly. In addition, I utilized Beanilla Vanilla extract. This extract brings out the chocolate in the cupcake perfectly and compliments the malt flavor in the frosting. For the frosting, I utilized Tahitian Vanilla Bean paste. The pastry chef in me likes the visual aspect of seeing tiny flecks of vanilla bean in the frosting. The paste also provides a great floral and sweet cherry note to the malted flavoring.
Bon Appetite!
Chocolate Malt Cupcakes Recipe
Cake Recipe adapted from Hershey's Cocoa
Yields 12-18 cupcakes
Ingredients:
2 cups

sugar

1-3/4 cups

all-purpose flour

3/4 cup

cocoa powder

1-1/2 teaspoons

baking powder

1-1/2 teaspoons

baking soda

1 teaspoon

salt

2

eggs

1 cup

milk

1/2 cup

vegetable oil

2 teaspoons

Beanilla Vanilla Extract

1 cup

boiling water
Frosting
yields 12 frosted cupcakes
Ingredients:
3 cups

powdered sugar

¼ cup

shortening

2 sticks

butter (softened)

1/3 cup

heavy cream

2 tsp.

Tahitian vanilla bean paste

2 tbsp.

water

4 tsp.

malted milk powder
Directions:
Heat oven to 350°F. Place cupcake wrappers in two muffin baking pans. Stir together sugar, flour, cocoa, baking powder, baking soda and salt in large bowl. Add eggs, milk, oil and vanilla; beat on medium speed of mixer 2 minutes. Stir in boiling water (batter will be thin). Pour batter into wrappers, filling 2/3 of the way full. Bake at 350 degrees for 18-20 minutes until the cupcake center springs back when lightly touched. Let cool to room temperature.
Frosting:
In a stand mixer bowl fitted with a whisk attachment add the softened butter. Then add the remaining ingredients to the bowl. Beat for 2 minutes on medium speed, increase to high for 3 minutes. The frosting will be light and fluffy.
Pipe or spread on a layer of frosting onto the cupcakes, garnish with chocolate shavings.
Share your thoughts, leave a comment