Posted in Baking Recipes, Cakes by Sarah
Raspberry White Chocolate Angel Food Cake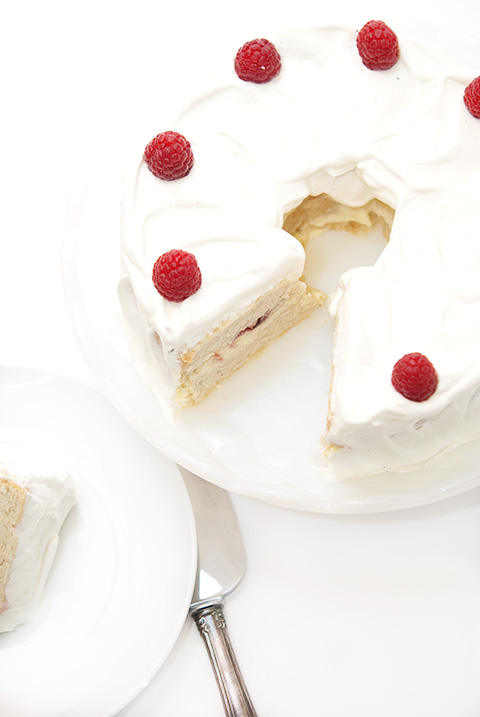 Angel food cake; a very light and airy cake often used as a base for macerated fruits and fresh whipped cream. The cake itself is often void of texture, has little crumb and more often than not tastes like you are chewing on a packing peanut. Happily, this angel food cake recipe is the complete opposite. Yes, it has all the basic components of a classic angel food cake but this cake has a definite crumb, a moist texture and the most delicious filling you will ever taste!
Angel food cake was once reserved for royalty, the labor intensive whisking of egg whites by hand made it nearly impossible for the average home cook to create the light airy texture the cake needs. The introduction of the rotary hand mixers in the late 1800's made the arduous task much easier. By the early 1900's many cookbooks were including recipes for angel food cake. The task of whisking the egg whites is now as easy as turning on a switch.
The lack luster flavor of angel food cake is often a complaint among cake connoisseurs, white chocolate ganache filling, raspberry preserves and fresh whipped cream can bring any cake to a decadent level but the true star of this cake is the Madagascar vanilla bean paste.
Our Madagascar vanilla bean paste is 3-fold. High quality Madagascar vanilla beans are ground and made into a paste. The paste acts and tastes like a fresh vanilla bean, but makes it easier for the bean to spread throughout your pastries and baked goods. We know that you may be wondering what 3-fold means. Three fold means that there is 3 times the number of vanilla beans of traditional vanilla bean paste. The vanilla bean paste is thick, rich and provides an intense vanilla flavor. We highly recommend that you use 1/2 the amount of this product when a recipe calls for vanilla bean paste or extract.
Share your thoughts, leave a comment!
← Previous Post
Next Post →