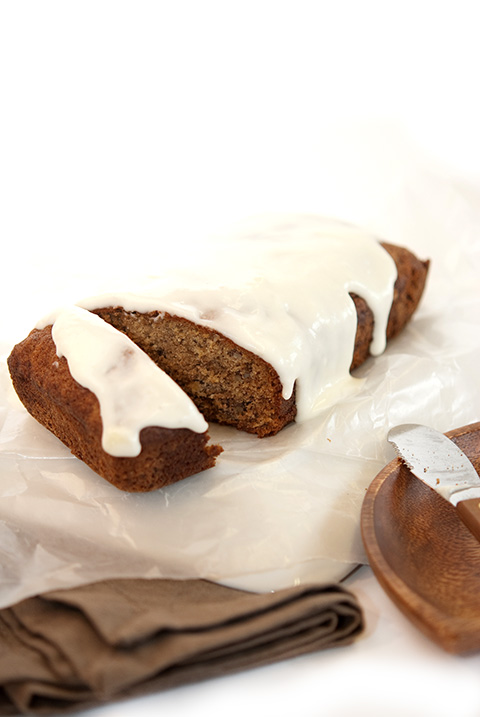 Banana bread is a classic treat often served with brunch or breakfast. Carrot cake, banana bread's "big sister", is another classic favorite. What do you get when you cross banana bread and carrot cake together? Hummingbird cake! Hummingbird cake has a long but rather unknown history in the South. The first known published recipe was in 1978 in Southern Living Magazine. Mrs. Wiggins, of Greensboro North Carolina submitted the recipe to the magazine after winning numerous awards and ribbons for the cake. The hummingbird bread recipe went on to be the most requested recipe in the magazine's history.
Hummingbird Cake consists of layers of moist, rich spice cake that are studded with pineapple, bananas, pecans and (in some recipes) coconut. Traditionally the dessert is served in layer cake form. In between each layer of cake is a layer of creamy cheese frosting. I, however, wanted to serve the cake with brunch. Since this hummingbird bread recipe was a bit too heavy for an early morning gathering, I placed the batter into loaf pans and baked them to golden brown perfection. After the cake had cooled I spread the tops of the bread with a generous layer of cream cheese frosting which, of course, contained vanilla beans!
For this hummingbird bread recipe, I decided to use Ugandan Vanilla Beans for the frosting instead of the cake because the bold flavors of the cake would not let the flavors of the bean shine through! Vanilla produced in Uganda is incredible! The aroma is earthy with tones of milk-chocolate.
Hummingbird Cake Recipe (Hummingbird Bread)
Yields 2 8x4 loaves
Ingredients:
Hummingbird Spice Cake
3 cups

all purpose flour

1 tsp.

salt

1 tsp.

baking soda

2 cups

sugar

1 1/2

cups canola oil

3

eggs

1 cup

crushed pineapple (drained)

2 cups

ripe mashed bananas

1 cup

roasted and chopped pecans
Directions:
Preheat oven to 350 degrees. Combine the flour, salt and baking soda in a small bowl, set aside. In a large bowl combine the sugar, eggs and canola oil, whisk until incorporated. Add the pineapple, bananas and chopped pecans. Stir to combine. Gently fold in the flour mixture to the wet mixture. Continue folding until no flour is visible. Pour into two greased 8x4 inch loaf pans. Bake for 40-50 minutes until a toothpick comes out clean from the center. Let cool to room temperature. (The bread is even better if it sits out covered overnight)
Cream Cheese Frosting
Ingredients:
1 package

softened cream cheese

2 cups

powdered sugar

1/2 stick

butter (room temperature)

1/8- 1/4 cup

milk

1

Ugandan vanilla bean (split and scraped)

Directions:

Combine the cream cheese, powdered sugar, butter and vanilla bean scrapings in a mixing bowl fitted with a whisk attachment. Set the speed to low and slowly add the milk, beat until light and fluffy. Approximately 3-5 minutes.

Spread a generous layer onto the top of the loaves of bread. Serve and enjoy!
Share your thoughts, leave a comment