Posted in Baking Recipes, Breakfast & Brunch, Cakes, Breads & Muffins by Sarah
Hummingbird Cake Recipe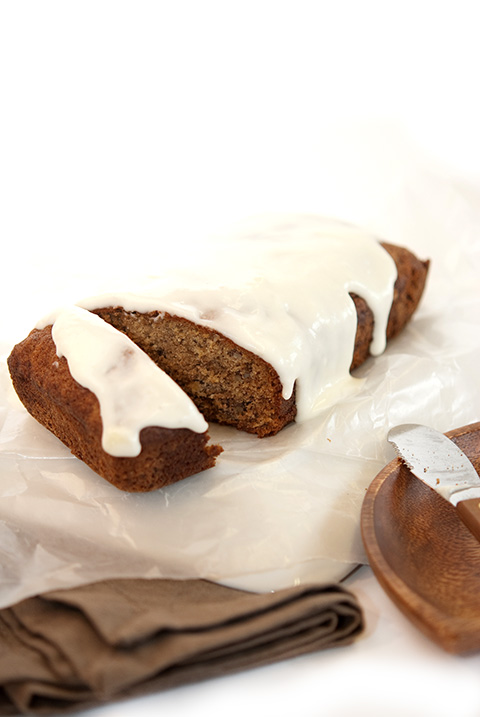 Banana bread is a classic treat often served with brunch or breakfast. Carrot cake, banana bread's "big sister", is another classic favorite. What do you get when you cross banana bread and carrot cake together? Hummingbird cake! Hummingbird cake has a long but rather unknown history in the South. The first known published recipe was in 1978 in Southern Living Magazine. Mrs. Wiggins, of Greensboro North Carolina submitted the recipe to the magazine after winning numerous awards and ribbons for the cake. The recipe went on to be the most requested recipe in the magazine's history.
Hummingbird Cake consists of layers of moist, rich spice cake that are studded with pineapple, bananas, pecans and (in some recipes) coconut. Traditionally the dessert is served in layer cake form. In between each layer of cake is a layer of creamy cheese frosting. I, however, wanted to serve the cake with brunch. A bit too heavy for an early morning gathering, I placed the batter into loaf pans and baked them to golden brown perfection. After the cake had cooled I spread the tops of the bread with a generous layer of cream cheese frosting which, of course, contained vanilla beans!
I decided to use Ugandan Vanilla Beans for the frosting instead of the cake because the bold flavors of the cake would not let the flavors of the bean shine through! Vanilla produced in Uganda is incredible! The aroma is earthy with tones of milk-chocolate.
Share your thoughts, leave a comment!
← Previous Post
Next Post →