Posted in Baking Recipes, Cakes by Sarah
Drunken Cherry Chocolate Cake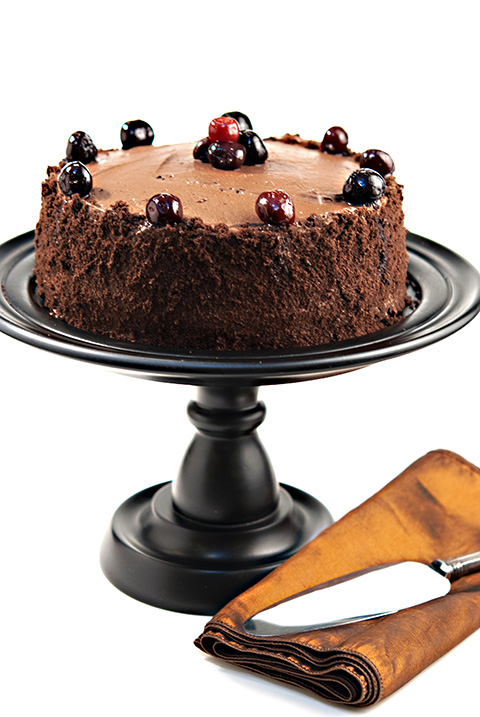 Chocolate cake makes me weak in the knees. It's not just, "That dessert looks good. I think I will throw all inclinations of eating healthy today out the window," but, "I want to sit down and eat a giant slice cold from the fridge at six in the morning with a big glass of cold milk."
Luckily, I was able to do just that this morning! I recently posted a recipe for drunken cherries on the Beanilla blog. As I sat down to plan out my posts for the week, I remembered a previous post for drunken cherries. I grabbed them out of the fridge and pried off the lid. The most amazing aroma greeted me; hints of almond, beautiful vanilla beans from Beanilla, and cherries. I knew that those cherries were crying out to be paired with rich chocolate cake. So, I made one, and guess what? It was amazing! My son begged for a piece, my husband (who doesn't eat dessert) ate an entire slice and me, well... I had two! I know you're thinking, "You're a pastry chef. You probably eat sweets all the time".  But that is simply not the case......
As a pastry chef I am around cakes, tarts, cookies, brownies and just about every other imaginable sweet all the time! I bake on a daily basis, whether it is for professional reasons or just to experiment with a new recipe. Needless to say, I get tired of sweets! I know you're thinking, "How could you ever get tired of pastries?" When you work anywhere from 2-12 hours a day with sugar, eggs, flour and all the other baking supplies, you tend to get tired of the smell, the taste and sight of pastries. That being said, I LOVE my career choice, and I love the process of creating a specific product for a client and seeing the sheer happiness that it brings them. I love that I can make their wedding, graduation other event a little more special for them. I love the huge smile and the compliments I receive when a client knows that I have gone above and beyond for them. After all, every chef has a huge ego and simply wants the world to know just how amazing they really are! (Yes, it is true! All chefs have huge egos, and tend to pout when things don't go their way.)
But, put chocolate cake in front of me, and I will not decline it. I will simply sit down with you, enjoy a long overdue quiet moment, and devour my chocolate cake.
Share your thoughts, leave a comment!
← Previous Post
Next Post →