Peanut Butter Chocolate Chip Cookies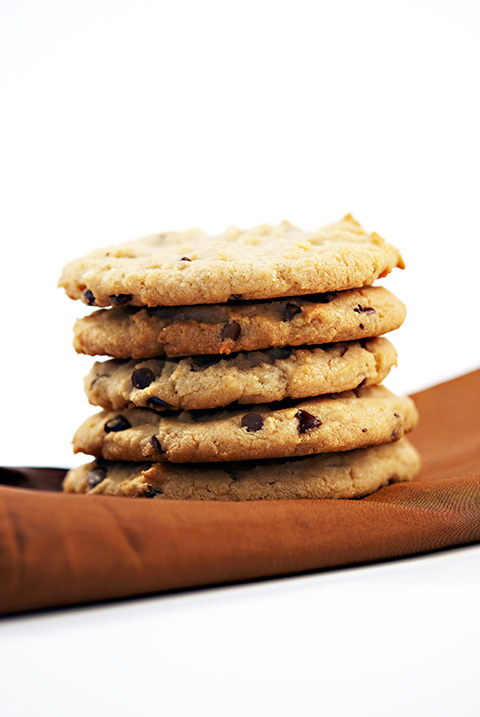 Did you ever have a time in your life where you ate so much of one particular food item that you can't stand the smell, taste or look of that item any longer? For me, it is the peanut butter cookie. I know you are thinking, "How could you not like peanut butter cookies?" I have one very good reason...my father! My father is a wonderful man that I truly enjoy spending time with, but when he becomes fixated on a certain food item, it tends to make an appearance many, many times! A good example is peanut butter cookies. He decided that homemade peanut butter cookies would be a thoughtful and delicious addition to our school lunches… and they were… for the first week. After a month of peanut butter cookies making a daily appearance, we began to tire of them. At two months, we kindly asked him to please refrain from putting them in the lunches (I'm pretty sure it wasn't so eloquently asked, but I think he finally got the point). We were wrong. The peanut butter cookies continued to make an appearance, but this time they were topped with a Hershey kiss. This did not improve upon them! Thankfully, he finally grew tired of them himself, and one glorious day, they were no longer gracing the top of our lunches, halleluja! This was over 25 years ago and, until recently, I would not make any peanut butter cookies, often blaming food allergies for their lack of appearance in our home.
I realized that I needed to put aside my disdain for the cookie and bake a batch for Beanilla using our beautiful Indian vanilla beans. The sweet milk chocolate notes of the bean compliment the chocolate chips perfectly, and enhance the overall flavor of the cookie. I must admit that they weren't as horrible as I had remembered (they were actually quite delicious) … but I still couldn't eat more than one.
Peanut Butter Chocolate Chip Cookies
Yields 4 dozen
Ingredients:
1 1/2 cups

salted butter (room temperature)

1 cup natural peanut butter

1 cup

granulated sugar

1 cup

firmly packed brown sugar

Indian

Vanilla Bean (scraped)

2 large

eggs

2 ½ cups

pastry flour

1 tsp.

baking powder

1 ½ tsp.

baking soda

1 cup

mini chocolate chips
Directions:
Cream together the butter, peanut butter, Indian vanilla bean scrapings and both sugars until light and fluffy with a paddle attachment on the mixer. Add eggs one at a time until incorporated into the batter. Combine the flour, baking powder, baking soda in a medium sized mixing bowl, whisk to combine. Slowly add the flour to the batter with the mixer on low. Beat until the flour mixture is completely incorporated. Add chocolate chips and stir to combine. Scoop out level scoops of dough (I use a standard #10 scoop, but the size is up to you) and place evenly spaced on a parchment or silpat lined baking sheet. Put into the fridge and let chill for ½ hour. Remove from fridge and crisscross the dough with a fork. Slightly pushing down on the fork each time you put the fork onto the dough. Bake at 350 degrees for 8-10 minutes, until edges are a very light brown. Let cool and enjoy! Repeat process for the remaining dough!
Share your thoughts, leave a comment