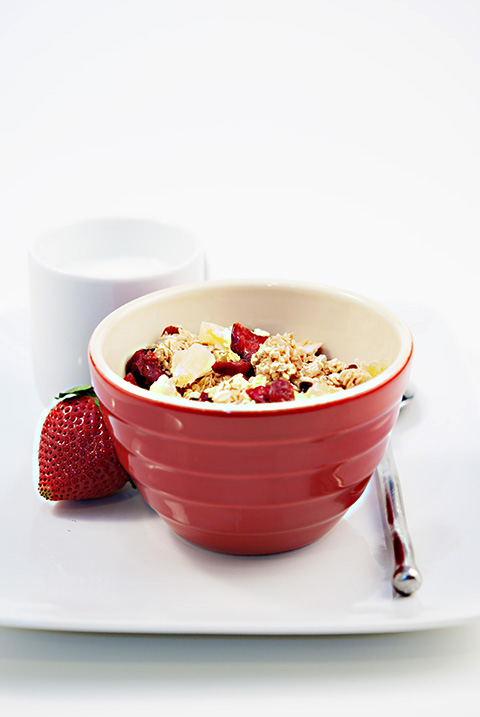 Granola can be a pretty boring breakfast option. It often is dry and practically void of flavor. In addition to that, most store-bought versions are loaded with fat, sugar and preservatives (you thought you were being healthy, didn't you!?). However, Homemade granola is easy to create in your own kitchen. In addition to ease of preparation, it is easily portioned and can keep for up to a month in a tightly closed container. The addition of dried exotic fruits, sweet coconut and maybe the occasional dark chocolate chip adds flavor and texture to a basic, tasteless granola. Adding Tahitian vanilla beans amps up the flavor even more; the sweet, fruity and floral notes of the beans mix with the dried fruits and coconut to create an exciting granola you will jump out of bed for. Plus, it looks beautiful in the bowl!
Dust off that baking sheet, locate some parchment or a silpat, choose your favorite dried fruits (you could even go as far as selecting, cracking, scooping and drying your own coconut if you're really serious about your granola, but I think I'll stick to the store bought kind…), and create your own signature granola full of flavor and texture. Your taste buds and your waistline will thank you for this healthy homemade granola cereal recipe!
Homemade Granola
Yields 8 cups
Ingredients:
4 cups rolled oats (Quaker oatmeal works great)
2 ½ cups coconut (you can use flake or shredded)
2 cups sliced almonds
1

Tahitian vanilla bean

(scraped)
1 cup dried pineapple (chopped into ¼ inch pieces)
¾ cup dried cherries
½ cup mini chocolate chips
½ cup melted butter
¾ cup honey
1 tsp. sea salt
Directions:
Combine the rolled oats, coconut, almonds, melted butter, honey, Tahitian vanilla bean scrapings and salt in a medium bowl and toss to combine. Dump out the mixture onto a parchment lined baking sheet and spread out evenly onto the sheet. Place in oven preheated to 325 degrees, bake for 25-30 minutes until the mixture is light golden brown. Let the mixture cool slightly, spoon into a medium mixing bowl and add the dried fruit. Toss the mixture to combine. Place in an airtight container, the granola will keep 3-4 weeks.
Share your thoughts, leave a comment