Café Au Lait Glazed Beignets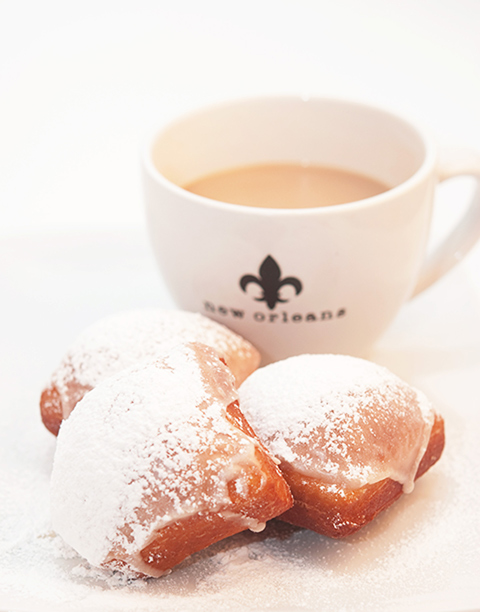 The beignet is a classic New Orleans breakfast treat. It is a staple in the New Orleans food culture, dating back to the early 1900's. Café Du Monde is the most famous and well recognized purveyor of beignets, but many bakeries in and around the French quarter have their own recipes for these light and filling breakfast treats.
The easiest and simplest way to describe a beignet is a cross between a rich and dense egg-based French pastry (such as a profiterole) and a classic American yeast donut. The beignet dough is fried to a light golden brown and covered in powdered sugar. They are served in sets of three and brought to your table piping hot. A simple pairing of a classic café au lait with your beignet, and you will feel as though you are transported to French Quarter café.
The classic New Orleans beignet arrives at your table covered in a mound of snowy white powdered sugar. While this is delicious, it often results in a layer of white powder sprayed across the front of your shirt. (Warning! When eating homemade beignets, I would highly recommend not wearing black!) To combat this, I revised the classic beignet by adding a light café au lait glaze and a very light dusting of powdered sugar. The result is a classic combination of New Orleans beignets and café au lait all in one portable, and less messy, pastry.
We carry a wide range of extracts and flavorings for all your baking and cooking needs. One of my personal favorites, and one that I find most versatile in baking, is the natural coffee flavoring. I have found that natural coffee flavoring is delicious in many coffee-based pastry creams and glazes. It also increases the intensity and brings out subtle nuances in many of the fine dark chocolates on the market today.
Coffee Glazed Beignets
Yields 12-18
Adapted From Food Network
Ingredients:
1 1/2 cups slightly warm water (not too hot or it will kill the yeast)
1/2 cup granulated sugar
1 envelope active dry yeast
1 Tahitian vanilla bean (scraped)
2 eggs, slightly beaten
1 1/4 teaspoons salt
1 cup evaporated milk
7 cups bread flour
1/4 cup shortening
Directions:
Mix water, sugar, vanilla and yeast in a large bowl and let sit for 10 minutes.
In a second bowl; beat the eggs, salt and evaporated milk together. Mix egg mixture into the yeast mixture. In a third bowl; measure out the bread flour and place into the bowl. Add 3 cups of the flour to the yeast mixture and stir with a wooden spoon to combine. Add the shortening and stir with a wooden spoon while adding the remaining flour. Remove dough from the bowl, place onto a lightly floured surface and knead until smooth. Spray a large bowl with nonstick spray. Put dough into the bowl and cover with plastic wrap or a towel. Let rise in a warm place for at least 2 hours.
Preheat oil in a cast iron deep-sided pot or a deep-fryer to 350 degrees F. (I used a le creuset cast iron pot)
Roll the dough out to about 1/4-inch thickness and cut into 1-inch squares. Deep-fry, flipping constantly, until they become a golden color (a pair of chopsticks works great for flipping the beignets) After beignets are fried, drain them on a layer of paper towels.
Café Au Lait Glaze
Yields 1 cup
Ingredients:
1 cup powdered sugar
1 1/2 tsps. natural coffee flavor
1/8 cup milk
powdered sugar for dusting
Directions:
Place all ingredients into a small bowl, and whisk to combine until smooth and creamy. Invert the beignet top side down into the bowl of glaze, dipping halfway up the beignet. Remove from glaze and let excess drip off from the beignet. Place glazed side up on a wire rack and lightly dust with powdered sugar.
Share your thoughts, leave a comment