Posted in Baking Recipes, Breakfast & Brunch, Pastries & Tarts by Sarah
Café Au Lait Glazed Beignets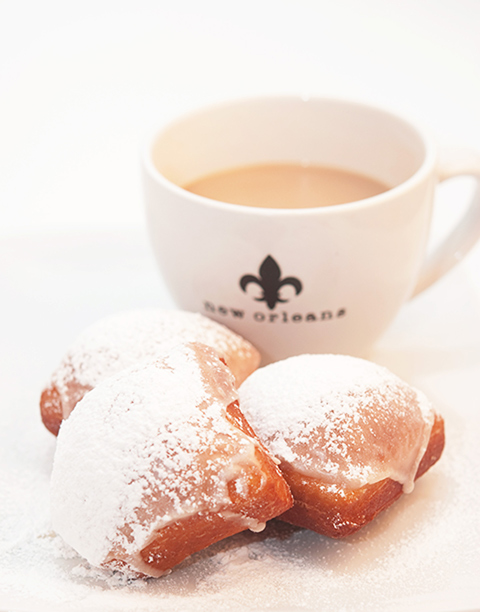 The beignet is a classic New Orleans breakfast treat. It is a staple in the New Orleans food culture, dating back to the early 1900's. Café Du Monde is the most famous and well recognized purveyor of beignets, but many bakeries in and around the French quarter have their own recipes for these light and filling breakfast treats.
The easiest and simplest way to describe a beignet is a cross between a rich and dense egg-based French pastry (such as a profiterole) and a classic American yeast donut. The beignet dough is fried to a light golden brown and covered in powdered sugar. They are served in sets of three and brought to your table piping hot. A simple pairing of a classic café au lait with your beignet, and you will feel as though you are transported to French Quarter café.
The classic New Orleans beignet arrives at your table covered in a mound of snowy white powdered sugar. While this is delicious, it often results in a layer of white powder sprayed across the front of your shirt. (Warning! When eating beignets, I would highly recommend not wearing black!) To combat this, I revised the classic beignet by adding a light café au lait glaze and a very light dusting of powdered sugar. The result is a classic combination of New Orleans beignets and café au lait all in one portable, and less messy, pastry.
We carry a wide range of extracts and flavorings for all your baking and cooking needs. One of my personal favorites, and one that I find most versatile in baking, is the natural coffee flavor. I have found that natural coffee flavoring is delicious in many coffee-based pastry creams and glazes. It also increases the intensity and brings out subtle nuances in many of the fine dark chocolates on the market today.
Share your thoughts, leave a comment!
← Previous Post
Next Post →