Posted in Baking Recipes, Breakfast & Brunch by Sarah
Bananas Foster French Toast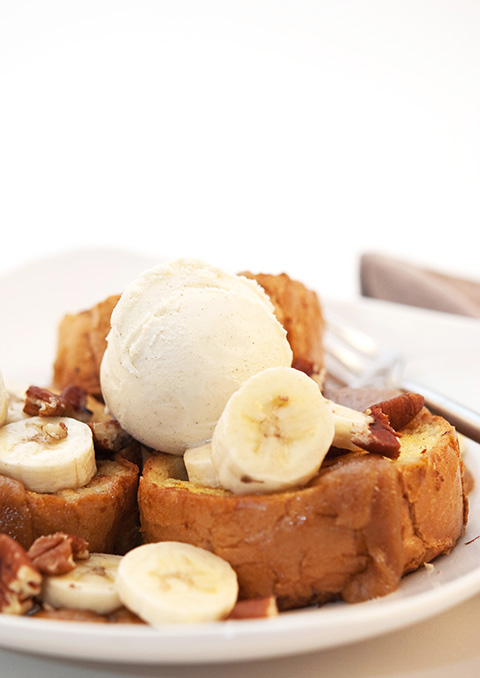 Have you ever had something so simple, but deliciously decadent at a restaurant that you risked embarrassing your dining companions to take a photo of it? This happened to me while recently on vacation. The waiter arrived with my selection and it looked so delicious and beautiful, that I struggled with the dilemma of standing up, hauling out my professional camera and taking the shot. I am often faced with this dilemma, and many times I have passed up the opportunity to photograph an amazing dish as a courtesy to fellow diners. (However, there are times that I regret it later!)
This time, however, I forewarned my companions, and chalked it up to research for work. I can always blame it on my relentless pursuit of photographic and culinary perfection! I am so thrilled that I did because bananas foster french toast was one of the most decadent and beautiful breakfast entrees I had had in a very long time. The soft egg-based french toast was grilled to perfection -- not too crunchy and definitely not soggy. Cascading over the top of the bread were toasted walnuts, fresh bananas, a brown-sugar caramel sauce and a scoop of Tahitian vanilla bean ice cream in the middle. "Yum" does not even begin to describe this sweet breakfast masterpiece.
The scoop of Tahitian vanilla bean ice cream that graced the middle of the French toast was perfectly paired with all of the other flavors and textures of the dish. Instead of pulling out the ice cream maker and making my own ice cream, I chose to incorporate Tahitian vanilla beans into a quality store bought vanilla ice cream. This was a simple and delicious way to add the flavor of the bean into a recipe. I also added Tahitian vanilla bean scrapings into the base of the French toast, tying the components of the dish together.
Share your thoughts, leave a comment!
← Previous Post
Next Post →