Pumpkin Bread with Maple Syrup Glaze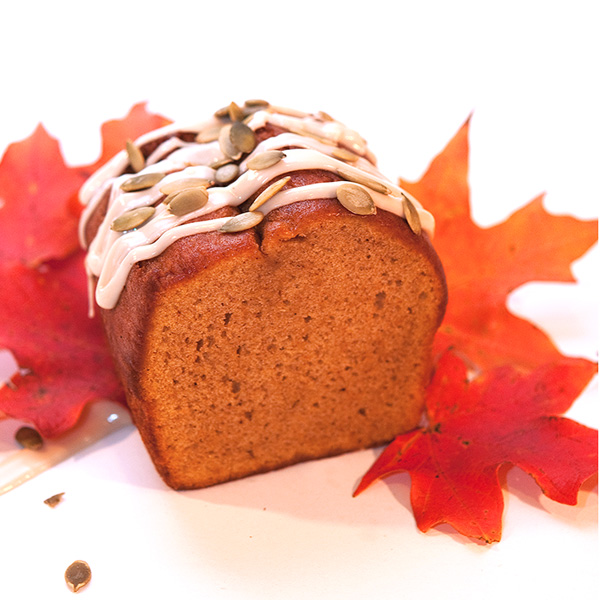 The leaves begin to fall, the weather starts to turn, and there is a crispness in the air. Fall has begun to show its colors, and my mind turns to baking. This time of year I bake with rich savory spices; spices that fill the house with their aroma. Cinnamon, nutmeg and cloves are a few that come to mind.
Pumpkin is the perfect companion to rich fall spices. Pumpkin pie, pumpkin ice cream, pumpkin tarts and, my personal favorite, pumpkin bread. Rich, moist and decadent are a few words to describe this delicious bread. Delicious straight out of the oven, but they are even better the next day when all the flavors have meld together.
Pumpkin is perfect plain with no garnish or embellishment, but I paired my bread with a maple syrup glaze. The vanilla-enhanced flavor of maple syrup (by the way, Beanilla sells a delicious vanilla maple syrup!) increases the decadence of the bread. Drizzle with maple syrup glaze, and sprinkle with toasted pepita seeds on top. Grab a cup of coffee, a piece of this delicious bread and enjoy fall in all of its colorful splendor.
Pumpkin Bread w/ Maple Syrup Glaze Recipe
Original recipe makes 3 - 7x3 inch loaf
adapted from all recipes
Ingredients:
1 (15 ounce) can pumpkin puree
4eggs
1 cup vegetable oil
2/3 cup applesauce
3 cups white sugar
3 1/2 cups all-purpose flour
2 teaspoons baking soda
1 1/2 teaspoons salt
1 teaspoon ground nutmeg
1/2 teaspoon ground cloves
1/4 teaspoon ground ginger
Glaze:
1 c. powdered sugar
3 tbsp. Vanilla Maple Syrup
Directions:
Whisk together Vanilla Maple Syrup and powdered sugar until thick and smooth.
Toasted Pepitas:
¼ c. Pepitas
Roast pepitas at 375 for 4-5 minutes until golden brown
Directions:
Preheat oven to 350 degrees F (175 degrees C). Grease and flour three 7x3 inch loaf pans.
In a large bowl, mix together pumpkin puree, eggs, oil, water and sugar until well blended. In a separate bowl, whisk together the flour, baking soda, salt, cinnamon, nutmeg, cloves and ginger. Stir the dry ingredients into the pumpkin mixture until just blended. Pour into the prepared pans.
Bake for about 50 minutes in the preheated oven. Loaves are done when toothpick inserted in center comes out clean.
Drizzle with glaze and sprinkle with pepitas
Share your thoughts, leave a comment