Pumpkin Pecan Pie Muffins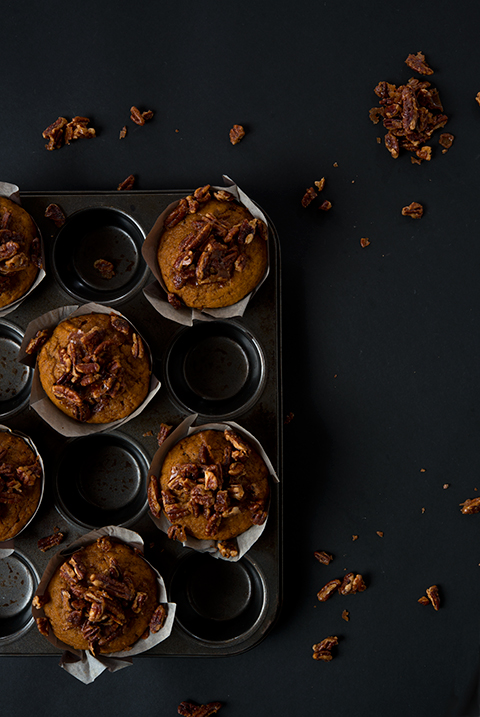 Pumpkin! The market is saturated with pumpkin spice lattes, donuts, and scones. Everywhere we turn, the bright orange vegetable is being prominently turned into the epitome of fall.
Just when I thought I had enough of pumpkin, I remembered this absolutely delicious pumpkin muffin recipe I created a few years back. Perfectly moist, the right amount of spice to pumpkin and the most delicious pecan pie topping. Go to your pantry, collect all the ingredients and make these now! They are that good!
The warm spices that are typically associated with fall are nutmeg, cinnamon, and allspice. Each spice has a unique flavor profile and culinary application. Nutmeg is the seed of an evergreen indigenous to the Banda Islands. At one time, the spice was so highly valued by the spice trade that the Dutch were willing to do anything to control the cultivation and trade of it. Nutmeg is best ground from whole as it loses its potency fairly quickly once ground. Simply hold the dried seed in your hand and lightly grind the needed amount with a micro plane into your measuring spoon. The spice has a sweet but slightly spicy note when used in baking or savory applications.
Allspice is an intriguing peppercorn from Jamaica. The flavor once ground is reminiscent of nutmeg, cinnamon, and cloves. We carry both ground and whole allspice. Ground is perfect for baking and savory application where the peppercorn is mixed into the final product. Whole allspice is most widely used crushed in rubs for various meat products such as pork, beef and lamb. Because of its intense flavor, please use sparingly. It will overwhelm the flavor of the other ingredients in your dishes.
Cinnamon. I saved cinnamon for last because of the vast properties of the varieties of cinnamon we carry.
Let's start with Ceylon cinnamon. The only true cinnamon on the market today. Many ground cinnamons on the commercial market are produced from cassia bark. Ceylon cinnamon is not. It is the real deal! Grown specifically for cinnamon production, the interior of the tree is cut into strips and dried. Then the dried pieces are ground in to true cinnamon. Ceylon cinnamon's aroma and flavor is most often what we associate with cinnamon.
The second type of cinnamon we carry is Vietnamese cinnamon. Vietnamese cinnamon is harvested from the species Cinnamomum loureiroi, and also goes by the name Saigon cinnamon. Vietnamese cinnamon is the strongest cinnamon due to a high essential oil content, of which 25% is cinnamaldehyde. This cinnamon is strong! I often associate the aroma with candy red hots. Spicy and pungent, use this cinnamon sparingly!!
The final cinnamon we carry is Korintje. This cinnamon is sourced from the bark of various species of the genus Cinnamomum. Cinnamomum is a tree farmed in much of Asia, though primarily in Indonesia, China, and Vietnam. The spicy and unique flavor, sweet aroma, and warm heat are derived from an essential oil called cinnamaldehyde. This cinnamon is mellow and is best used as a compliment to other spices. Perfect in all your fall baking!
Pumpkin Pecan Pie Muffins Recipe
Yields 12 large muffins
Ingredients:
Topping
2 tablespoons 

all-purpose flour

4 tablespoons 

unsalted butter

1/2 cup 

brown sugar

1 cup 

chopped pecans

1/4 teaspoon 

cinnamon
Muffins
2 cups 

all-purpose flour

1/2 teaspoon 

salt

1/2 teaspoon 

baking powder

1 teaspoon 

baking soda

1/2 teaspoon

nutmeg

1 teaspoon 

ground cinnamon

1/2 teaspoon 

ground allspice

1-1/2 sticks (3/4 cup) 

unsalted butter, softened

1-1/2 cups 

granulated sugar

2 large

eggs

1 (15-ounce)

canned 100% pure pumpkin
Directions:
Preheat the oven to 400 degrees.
Begin with the topping: Combine the flour, butter, brown sugar, chopped pecans and cinnamon in a small bowl. Place on a baking sheet with parchment or silpat. Bake at 400 degrees for 8-10 minutes. Let cool. Turn the oven down to 350 degrees!
Muffins: In a medium bowl, whisk together the flour, salt, baking powder, baking soda, nutmeg, cinnamon and allspice. Set aside.
In the bowl of an electric mixer, beat the butter and sugar at low speed until just blended. Add the eggs one at a time, beating well after each addition; continue beating at medium speed until very light and fluffy, a few minutes. Add the pumpkin and beat until combined, scraping down the sides of bowl as necessary. Turn the speed down to low and mix in the flour mixture until just combined.
Use an ice cream scoop to transfer batter to muffin pans lined with baking cups, filling each muffin tin about ¾ full. Bake for about 30 minutes. Let the muffins cool on rack for about 10 minutes, sprinkle with crumbled pecan pie crumble.
The muffins will keep covered for 2-3 days. Place in the microwave for 15-20 seconds to warm if desired.
Share your thoughts, leave a comment