Pumpkin-Maple Cream Whoopie Pies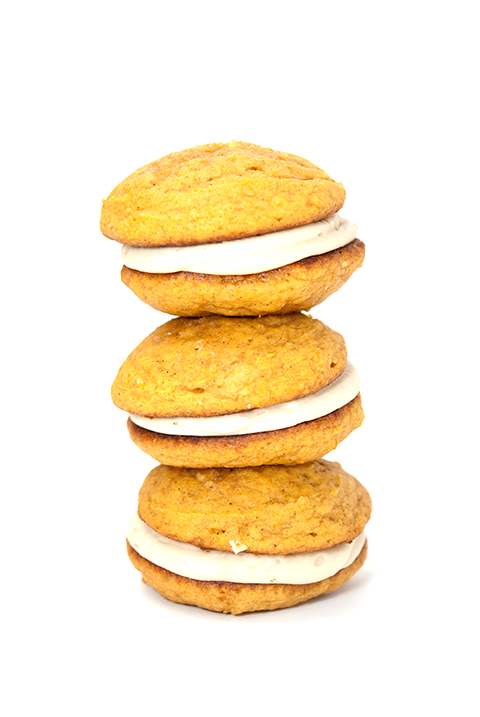 The leaves are beginning to fall, the air is crisp, and autumn has arrived. My thoughts drift to hot apple cider, crisp fresh picked apples and everything pumpkin I can create. Pumpkin is a unique flavor reserved exclusively for the fall season. Rarely do you see a pumpkin pie or pumpkin bread gracing the table in the heat of the summer.
Why is pumpkin saved for fall and winter months?! In my humble opinion, I believe it is the spices most often associated with pumpkin desserts and baked goods. Warm spices such as cinnamon, cloves and nutmeg create a pleasing and welcoming aroma, creating an atmosphere perfect for wrapping up in a cozy blanket on a crisp autumn night. Now that fall is showing its colors, it is finally time for pumpkin!
Pumpkin not only adds a wonderful flavor to many bake goods, it also keeps them moist and delicious. Pumpkin whoopie pies are a perfect example of this. These cakes become more moist and flavorful the second day after all the ingredients have had time to meld together. Pumpkin whoopie pies have a complex and very pronounced flavor, so a light and fruity vanilla simply would not do.
The addition of Mexican vanilla extract to pumpkin, and spices such as cinnamon, nutmeg and cloves bring out the unique characteristics of each spice and enhance the maple flavoring in the butter cream frosting. Our Mexican vanilla extract is bold and spicy, adding the perfect amount of depth and warmth to all of your autumn creations.
Pumpkin-Maple Cream Whoopie Pies
Yields 8 large Pies
Ingredients:
2

cups all-purpose flour

1

teaspoon baking powder

1

teaspoon baking soda

1

teaspoon all-spice

1/2 cup (1 stick)

butter, softened

1 1/4 cups

granulated sugar

2 extra large

eggs

1 1/4 cups

pumpkin puree

1 teaspoon

Mexican vanilla extract
Directions:
Preheat oven to 350 degrees. In a bowl whisk together the flour, baking powder, baking soda and all-spice. Set aside. Place butter and sugar in a stand mixer fitted with a paddle attachment. Beat until light and creamy, 2 minutes. Add eggs and pumpkin puree and beat until incorporated. Add vanilla extract, mix until incorporated.
With the mixer on low slowly add the flour mixture to the wet mixture. Beat on low until incorporated together.
Line three sheet trays with a silpat or parchment paper. Scoop 16 level scoops onto the baking sheets using a #20 scoop (equivalent to 3 tbsp). Bake for 12-13 minutes until cakes spring back when lightly touched.
Remove from oven and cool to room temperature.
Maple Butter Cream
Ingredients:
3 1/2 cups powdered sugar
3 tbsp. cream cheese (softened)
4 tbsp. butter (softened)
1/2 tsp.

Natural Maple Flavor

1/8-1/4 cup milk
Directions:
Beat powdered sugar, cream cheese, butter in a stand mixer bowl fitted with a whisk attachment. Beat until incorporated together. Slowly add maple flavor and 1/8 cup of milk to the bowl while the mixer is on low. Increase to medium and beat until light and creamy.
*Add the additional milk a little at a time if the frosting is too thick
Assembly
Invert the pumpkin cakes and divide frosting among eight of the cakes. Spread to smooth, and place the second cake on top of the frosted one to make a sandwich. Enjoy.
*Assembled cakes will keep for up to three days in a lidded container
Share your thoughts, leave a comment