Pumpkin-Maple Cream Whoopie Pies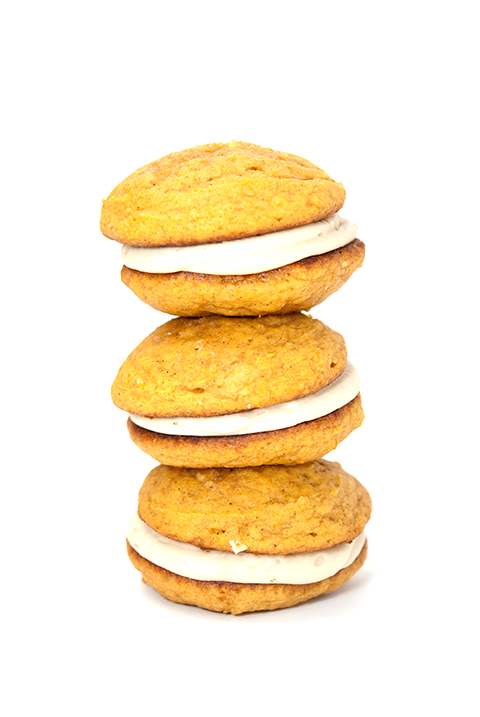 The leaves are beginning to fall, the air is crisp, and autumn has arrived. My thoughts drift to hot apple cider, crisp fresh picked apples and everything pumpkin I can create. Pumpkin is a unique flavor reserved exclusively for the fall season. Rarely do you see a pumpkin pie or pumpkin bread gracing the table in the heat of the summer.
Why is pumpkin saved for fall and winter months?! In my humble opinion, I believe it is the spices most often associated with pumpkin desserts and baked goods. Warm spices such as cinnamon, cloves and nutmeg create a pleasing and welcoming aroma, creating an atmosphere perfect for wrapping up in a cozy blanket on a crisp autumn night. Now that fall is showing its colors, it is finally time for pumpkin!
Pumpkin not only adds a wonderful flavor to many bake goods, it also keeps them moist and delicious. Pumpkin whoopie pies are a perfect example of this. These cakes become more moist and flavorful the second day after all the ingredients have had time to meld together. Pumpkin whoopie pies have a complex and very pronounced flavor, so a light and fruity vanilla simply would not do.
The addition of Mexican vanilla extract to pumpkin, and spices such as cinnamon, nutmeg and cloves bring out the unique characteristics of each spice and enhance the maple flavoring in the butter cream frosting. Our Mexican vanilla extract is bold and spicy, adding the perfect amount of depth and warmth to all of your autumn creations.
Share your thoughts, leave a comment