Posted in Baking Recipes, Pies, Pumpkin by Sarah
Pumpkin Pie with Bourbon Whipped Cream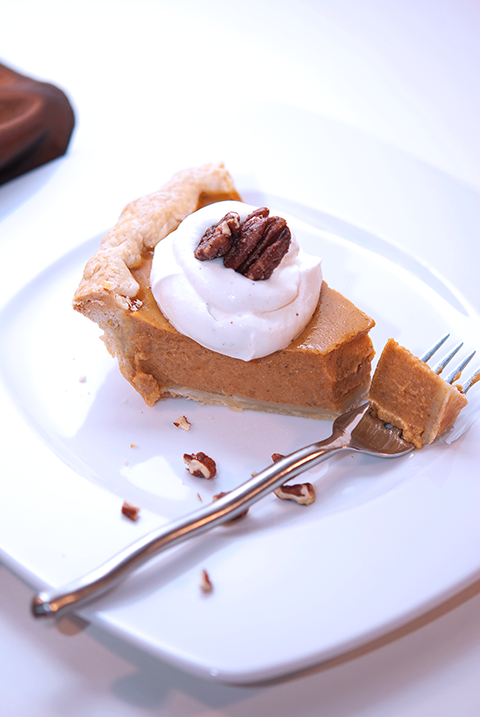 Today I received an email from one of my favorite retailers. It stated that they will not be decking the halls until November 27th. They stated that the Thanksgiving holiday is a time for their employees and customers to give thanks for all they are blessed with, and that decking the halls takes away from the holiday. I have to agree.
As a child I have wonderful memories of gathering around the thanksgiving table with family. Each family member was blessed with the task of bringing one dish to pass. Our family was so big that we had to set up dinner in my grandparents' basement on the biggest table they owned -- the ping pong table. There was nothing extraordinary about the table until Thanksgiving Day. It was beautifully transformed with white linens, fine china, flowers and candles. A buffet table of saw horses and boards was constructed close to the table and expertly transformed into an elegant buffet with table linens and silver platters. As we gathered around the table, I remember thinking that it seemed as though no time had passed since the last Thanksgiving. I silently gave thanks for having such a great extended family and family traditions.
These traditions included classic pumpkin pie with a flaky crust formed and gathered by my dear grandmother's hands, rolled out to the perfect thickness, and then folded and pinched perfectly around the edges. When I was much older I begged her to show me how to edge the pies. I still do it the same way she showed me. Once the crust was crimped, she whisked together pumpkin puree, spices, eggs and cream into a smooth custard. The pie was placed in her oven and baked to perfection, then chilled in the "icebox" until Thanksgiving Day. Once chilled, the pie was served with fresh whipped cream, hand whisked until soft, creamy peaks formed.
I still to this day prefer fresh whipped cream, especially when it includes a good vanilla extract or paste. My pie is slightly different from my grandmother's; the chef in me is constantly experimenting with new flavors. I found that bourbon is a perfect match to the spices in pumpkin pie and the Madagascar vanilla bean paste I used in the whipped cream. Madagascar vanilla bean paste adds a rich flavor, and enhances the bourbon perfectly in the whipped cream.
Share your thoughts, leave a comment!
← Previous Post
Next Post →