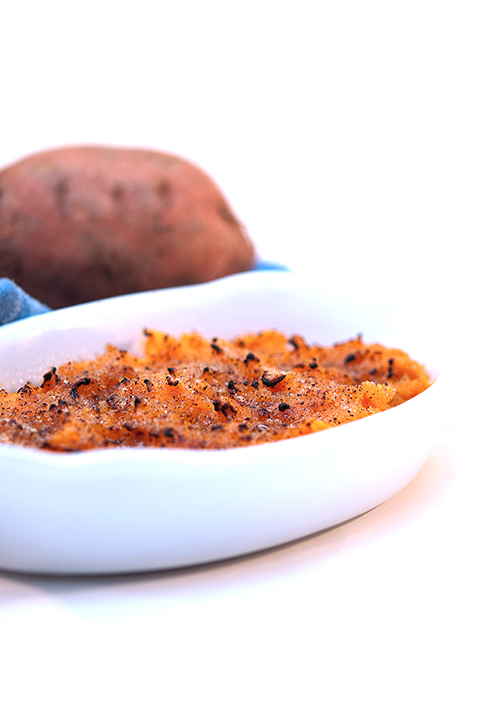 Thanksgiving is this week! Are you ready? I know that I most certainly am not…… The holidays are a very busy time for me as a professional pastry chef; the holiday parties, charity events and the endless amounts of pies leave very little time to prepare for my own celebrations. This lack of time makes it necessary for me to create easy and elegant dishes that can be prepared ahead of time. Sweet Potato Brûlée is simple, unique and easy to prepare ahead of time. The best part is your guests will think you slaved for hours, and only you will know the truth!

Beanilla vanilla maple syrup and vanilla sugar add the perfect amount of sweetness to the sweet potato in a natural and pure way. The addition of the sugar on top of the sweet potatoes adds a sweet crunch without the cloyingness of marshmallows.
Happy Thanksgiving and happy cooking!
Sweet Potato Brulee Recipe
Adapted from Epicurious
Yields 4-6 servings
Ingredients:
2 lb. sweet potatoes (baked)
7 large egg yolks (room temp)
1/4 c. vanilla maple syrup
1/4 tsp. allspice
1/2 teaspoon salt
2 1/2 cups half/half
3 tbsp. vanilla bean sugar for top of brulee
*Optional ( 1/4 c. candied pecans to garnish)
Directions:
Preheat oven to 375°F.
Wash the sweet potatoes to clean the outside and pat dry. Pierce potatoes with a fork. Microwave potatoes for 10-12 minutes until soft and tender.
When sweet potatoes are cool enough to handle, peel them. Cut potatoes into small pieces and purée in a food processor until smooth.
Whisk together yolks, maple syrup, allspice and salt in a large bowl until combined. Whisk in sweet-potato purée until combined. Fold in half/half until no white streaks of half/half remain. Pour mixture into baking dish and bake until brule is set in the middle. Approximately 45-60 minutes. Let cool and then brûlée.
Before serving, sprinkle with vanilla sugar and use a kitchen torch or broiler to melt sugar until lightly browned.
*This recipe can be made ahead of time and baked when needed up to 48 hours in advance.
Share your thoughts, leave a comment