Posted in Savory Recipes, Appetizers by Sarah
Creamy Saffron Bacon Dip with Crispy Sweet Potatoes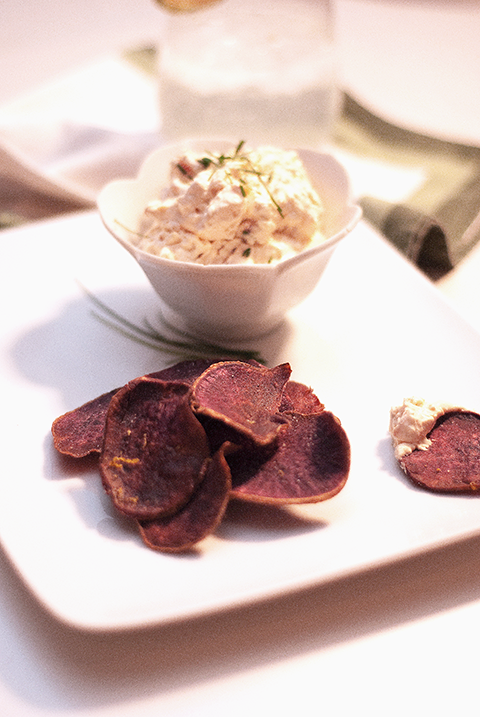 Many of you may not know that the Farmers Market is a constant source of inspiration in my recipes and cooking. Many culinary trends begin within the farmers market stalls. I often can be found wandering the market in search of photo ops and new trends. Each week I gather some interesting produce and of course an arm load of fresh flowers for the holiday table. These items often include pink lemons, baby squash, truffle oil, some beautiful aged balsamic vinegar and of course Hawaiian purple sweet potatoes.
Hawaiian purple sweet potatoes are indigenous to the Japanese island of Okinawan and is related to the morning glory family. The potato is now cultivated in Hawaii and is known as the Hawaiian purple sweet potato.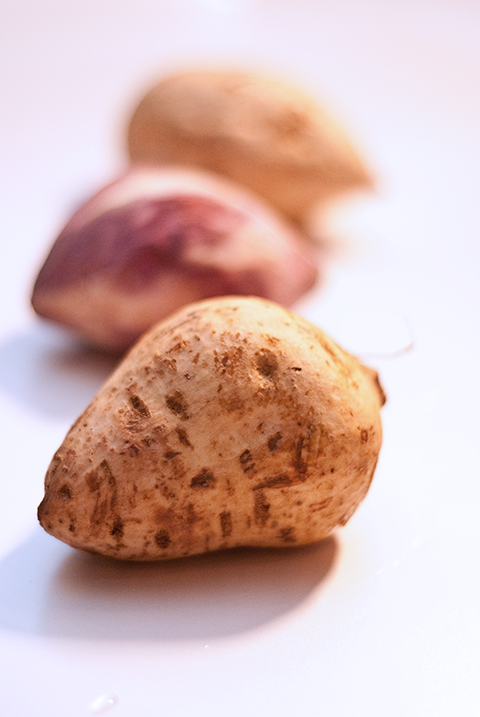 The Hawaiian sweet potato is low in calories (only 115 per one cup serving), high in fiber and fat free. What a great reason to go and search out a few Hawaiian purple sweet potatoes, plus they taste amazing!
I created a simple recipe for Sweet potato chips with a Creamy Saffron Bacon dip. Saffron from Beanilla is the perfect luxury item to add to the appetizer table for the upcoming holiday and New Years Eve parties.
Share your thoughts, leave a comment!
← Previous Post
Next Post →