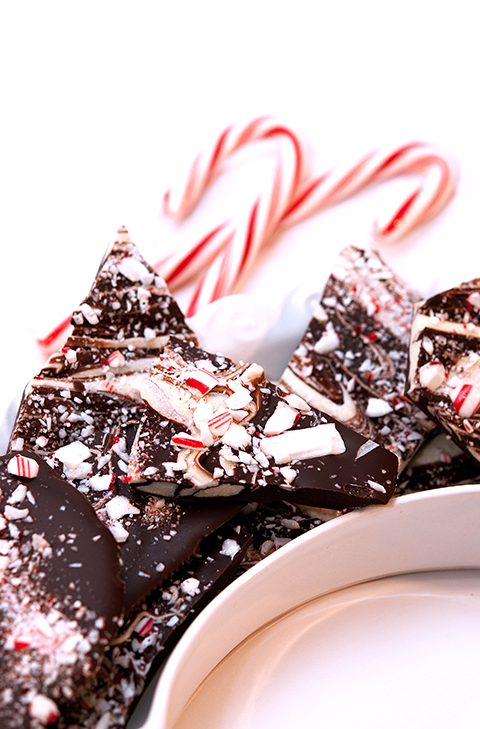 Certain foods evoke memories of holidays; peeps for Easter, candy corn for Halloween and, of course, candy canes for Christmas. Each year, as Christmas draws near, my son asks to make peppermint bark; a tradition I am more than happy to continue with him. I always encourage parents to cook and bake with their children, and peppermint bark is an easy recipe to create with just about any age child.
Peppermint bark is a simple holiday confection consisting of a rich dark chocolate layer, a creamy white chocolate drizzle and, of course, crushed candy canes. It is a simple recipe that can be made more delicious with the addition of Indian vanilla beans. Indian vanilla beans enhance the dark chocolate of the peppermint bark, and they are very similar to Madagascar vanilla. Indian vanilla beans are huge and contain a very large abundance of seeds. Many will contest that the sweet woodsy flavor profile of these beans are superior to that of the Bourbon-Madagascar variety.
Peppermint Bark Recipe
Yields 1lb.
Ingredients:
1lb. callebaut 60% bittersweet chocolate
½ lb. callebaut white chocolate
1 Indian vanilla bean (cut lengthwise and scraped)
½ c. crushed candy canes
Directions:
Place dark chocolate and white chocolate in microwave safe bowls at 30 sec. intervals until chocolates have melted. Be careful not to burn the chocolate, it will seize and ruin it.
Prepare a baking sheet with parchment and pour out dark chocolate onto the parchment. Spread around with a silicon spatula until the chocolate is about 1 inch thick. Drizzle with white chocolate and sprinkle with crushed candy canes. Place on counter until chocolates have hardened. Break into pieces and enjoy or gift to friends and family!
Share your thoughts, leave a comment