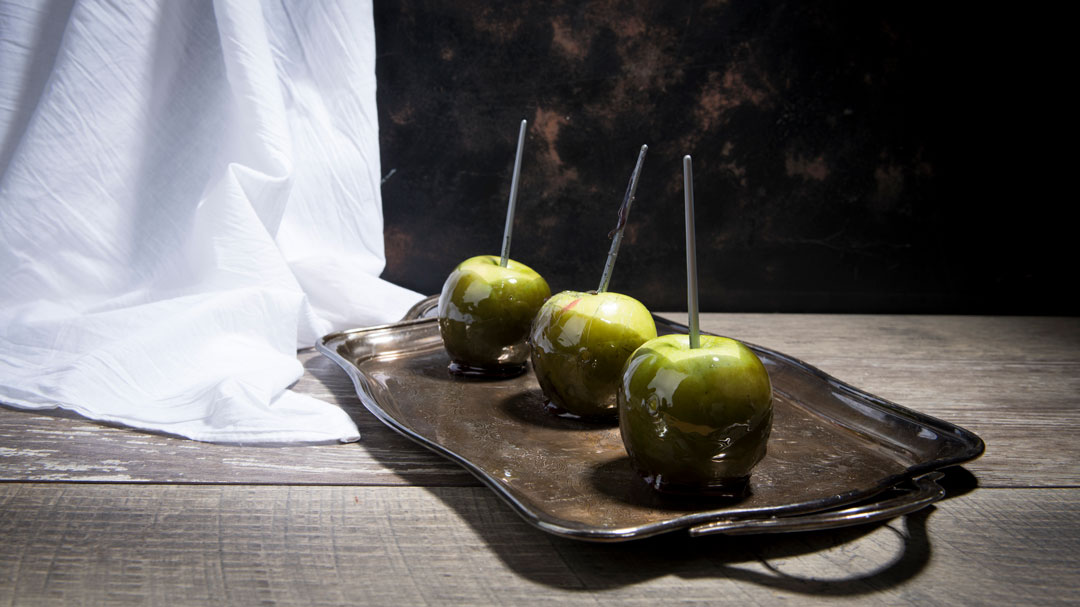 There's a chill in the air. A strange sound off in the distance. Was that a howl? Or maniacal laughter? Suddenly, you're surrounded by witches and werewolves and all manner of other ghastly ghouls, and you couldn't be happier! Halloween is almost here, and with it comes a celebration of all things creepy and macabre. And, of course, kids of all ages searching for a sweet treat. We've got you covered on both fronts with our pitch black colored candy apple recipe.
While we often associate candy apples with Halloween and fall in general, they were originally created for another holiday. Candy apples are said to have been invented in 1908 by William W. Kolb, a New Jersey candy maker. Kolb was experimenting in his shop, trying to find ways to promote a bright red cinnamon candy he invented for Christmas, when he got the idea to dip some apples in the concoction and display them in the window. What was intended as merely a display quickly caught customers' attention, and he was soon selling thousands of the apples every year. Today, candy apples are enjoyed all over the world, usually around Halloween or in celebration of the fall harvest.
We thought we'd put our own spooky spin on these seasonal treats by switching up the color a bit. While we keep the traditional cinnamon flavor, we trade in the bright red color for pitch black. The resulting creepy confection is sure to cast a spell over anyone who dares to take a bite. These homemade candy apples are so delicious, it's scary!
Share your thoughts, leave a comment