How To Make Candied Apples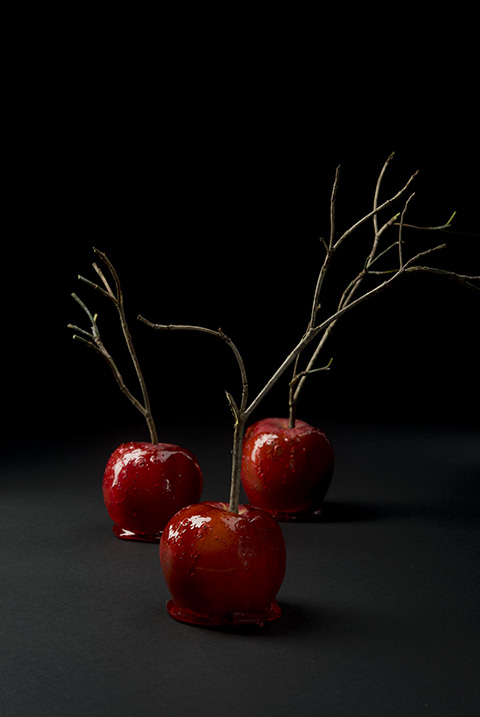 Glistening red, candy coated apples sitting pretty in a row, patiently waiting for the next customer to take that first delicious bite. Candied apples are a sweet treat that is typically found at carnivals, fairs and country gatherings.
The candied apple has a long and rather simple history. A confectioner by the name of William W Kolb created the apple when working in his commercial kitchen. He was trying to come up with creative and new ways to draw customers into his candy store. Working with a hard crack candy mixture, he added a wooden stick to a freshly picked orchard apple and dipped it in the mixture. The sugary treat was placed in his storefront window and well; you can say the rest is history…
The United States is not the only one with a taste for the sugary treat. Germany and many South American countries, for example, eat candy apples during Christmas time, while in the United Kingdom people eat them on Guy Fawkes night while watching fireworks. In Japan they eat candy apples, as well as many other candy-covered fruits, at a number of unique, traditional Japanese festivals.
The smell of cinnamon is the scent that I immediately associate with fall and the holidays. The spicy scent and warm flavor adds depth and dimension to our candy apple recipe. Candy apples are not the only food that can benefit from the warm, spicy flavor. Bring in the warmth of the holidays with our All Natural Cinnamon Flavoring. Bold and spicy, this aromatic flavor tastes as good as it smells. Utilize cinnamon's distinct taste to add a bit of zing to chocolates or favored beverages. Add a hint of intensity to your sweets or try it in your favorite savory dish. All Natural Cinnamon Flavor promises to be your new go-to addition during the holiday season and beyond!
How To Make Candied Apples
Yields 5 medium apples or 10 small apples
Ingredients:
1

Parchment paper or silpat

2 cups

sugar

3/4 cup

water

1/2 cup

light corn syrup

1 teaspoon

cinnamon natural flavoring

1/2 teaspoon

red food coloring

5 medium or 10 small

apples of your choice
Directions:
Line a baking sheet with parchment paper or silpat. In a saucepan, combine sugar, 3/4 cup water, corn syrup, and food coloring and cinnamon flavoring. Bring to a boil over high heat; reduce heat to medium-high. Insert candy thermometer and continue to boil until temperature reaches 300 degrees (hard crack stage), about 20 minutes.
Meanwhile, insert a wooden stick into the top of each apple or branches that have been washed and dried, pushing about halfway through; set aside. When mixture reaches temperature, immediately remove from heat. Working quickly, dip apples in sugar mixture bottom first and turn the apple until completely coated. Transfer to prepared baking sheet; allow to cool.
* Remember these are NOT caramel apples; the coating is a sticky hard coating that resembles a hard candy!!! Eat cautiously!
Share your thoughts, leave a comment