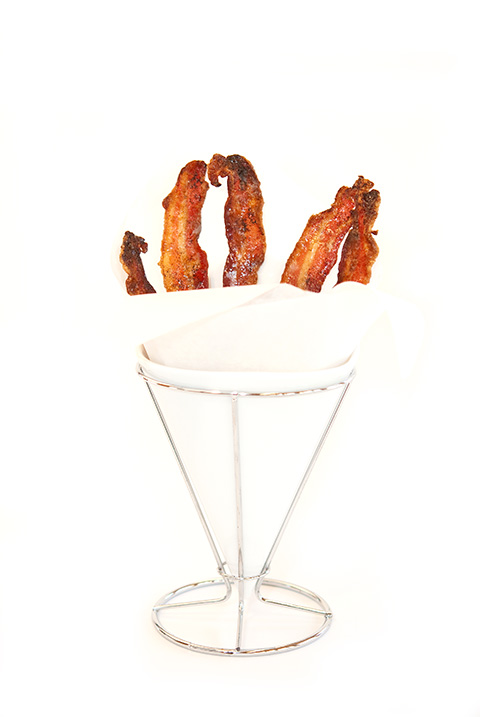 Bacon is one of the most delicious, mouthwatering meats. The smell of cooking bacon in the morning will wake just about anyone from the deepest sleep. But….. bacon isn't just a side accompaniment for your over easy eggs. Bacon has gone mainstream and is now added to not only savory foods but also sweet confections. Bacon caramel corn, bacon vanilla shakes and bacon topped cupcakes are just a few of the creative ideas I have seen floating around the internet. Desserts with bacon combine the sweet and the salty to make the perfect sweet treat.
There is no denying that sweet and savory are a match made in heaven but what truly makes my mouth water is the addition of sweet and salty candied bacon to rich and creamy savory foods. Candied vanilla bacon crumbled on savory curried butternut squash soup is to die for! Candied vanilla bacon crumbled on a fresh green salad sprinkled with tangy gorgonzola cheese and a homemade french vinaigrette is heavenly! Candied vanilla bacon can be easily baked ahead of time, cooled to room temperature and stored in the fridge until you are ready to use it. Simply reheat in the oven or microwave until hot and crispy. 
Candied vanilla bacon would not be vanilla without the addition of vanilla bean caviar. We carry one of the most extensive varieties of high quality vanilla beans, unique varieties such as Tonga, Ugandan and Tahitian are just a few. Organic Indian vanilla beans are very similar to Madagascar vanilla. These gourmet grade vanilla beans are huge and contain a very large abundance of seeds. Many will contest that the sweet woodsy flavor profile of these beans are superior to that of the Bourbon-Madagascar variety. India is fast emerging as a major vanilla producer and vanilla beans cultivated in some parts of India are of the world's best! You will not find such high quality vanilla from India anywhere else. We take great pride in being able to offer such wonderful beans. 
Candied Vanilla Bacon Recipe
Yields 1 pound
Ingredients:
1 1b. thick cut hardwood smoked bacon
½ cup brown sugar
1 vanilla bean

(split and scraped)
Directions:
Combine the vanilla bean scrapings and the brown sugar together in a small bowl. Using your fingers lightly rub the vanilla into the brown sugar.
Place the bacon in a single row on a metal cooling rack. Place the rack onto a baking sheet covered with a silpat. Spread the brown sugar onto the bacon slices. Bake at 375 degrees until browned and crispy approximately 25 minutes. Cool.
Share your thoughts, leave a comment