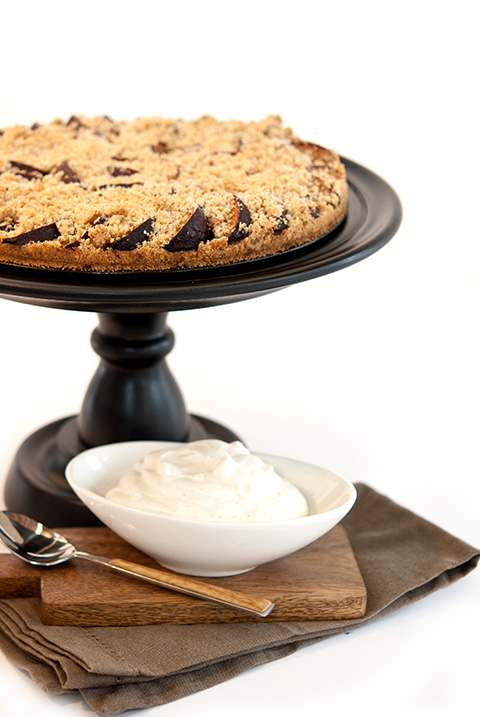 If you live in any of the cold weather states, you have probably noticed the absence of good quality, seasonal fruits. There are your standard apples, oranges, strawberries and blueberries. Even these selections are shipped in from distant lands, beautifully ripened but void of any flavor. I did run into a small selection of what, I am guessing, is a leftover stock of stored plums at my local grocery store. After picking through a group of obviously-stored-too-long specimens, I found a few pounds of nice looking fruit that would be lovely in a fruit tart. Once baked in a buttery pecan crumb crust, the fruit could once again shine. And shine it did! 
The plum is an often overlooked fruit, often overshadowed by the peach and the nectarine. The tart skin is complimented by a sweet and juicy interior. There are four basic varieties of plums; purple, green, yellow and red. The most common seen in stores are the damson and Victoria plums. When dried, the fruit is often referred to as a prune. However, in recent years the stigma attached to the prune has forced many companies to rename the product to dried plums, hopefully encouraging younger consumers to reconsider prunes or dried plums.
If you happen to find a few stray plums at your local grocers, I encourage you to not pass them by….. Grab a few, slice them up, bake them to roasted perfection and, of course, add a bit of Madagascar vanilla bean caviar to kick up the flavor!
Madagascar vanilla beans may be one of the most common varieties available, but our Madagascar Bourbon Vanilla Beans are superior, with flavor and aromatic qualities that make these beans the most popular and sought after vanilla variety. The flavor is rich, dark and creamy with an overwhelming sweet, buttery aroma. These are well suited for many baking recipes, drinks and desserts. If you are trying to decide where to buy vanilla beans then look no further! We know you will agree that our Bourbon Vanilla Beans from Madagascar are the best in the world!
Vanilla Bean Plum Tart
Adapted from Barefoot Contessa
Yields one 11 inch tart
Ingredients:
2 cups

all-purpose flour

¾ cups

candied pecans (finely chopped)

2/3

cup brown sugar

1 ½

sticks butter (diced)

1

egg yolk

1

Madagascar vanilla bean (split and scraped)

2 lb.

plums (pitted and quartered)
Directions:
In a large bowl, combine the flour, chopped pecans and brown sugar. Mix to combine. Add the butter, egg yolk and vanilla bean scrapings. Using your hands or a pastry cutter, work the butter and flour mixture together until it forms a crumble. 
Add 2/3 of the crust mixture to the bottom of a 11inch spring form pan. Press the crumbs into a layer in the pan. Arrange the plum quarters in a circular pattern, starting with the outside of the pan first and working inward. Sprinkle the remaining crumble on top of the plums.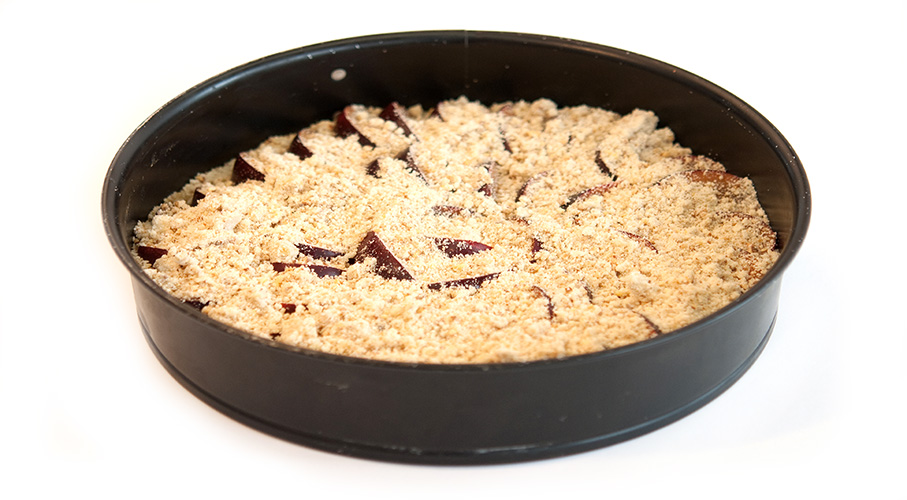 Bake at 350 degrees for 30-40 minutes until the crust is golden brown and the fruit is soft. Cool and serve with fresh whipped cream.
Share your thoughts, leave a comment