Posted in Baking Recipes, Pastries & Tarts, Puddings, Custards & Creams by Sarah
Raspberry Cream Tart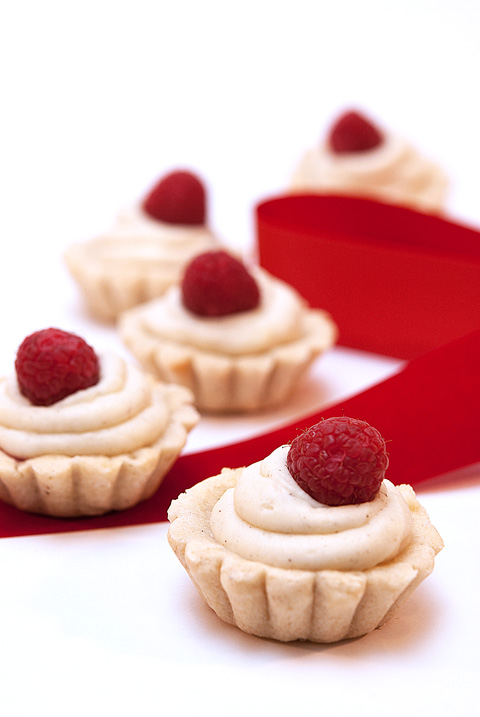 When I think of raspberries, I think of my in-laws. In the early to late fall, there is a beautiful "u-pick" raspberry farm close to their home that has the most delectable raspberries known to man. My mother-in-law introduced me to them a few years ago on one of our visits back home.
Picture a long winding drive, a couple of dogs greeting you with excited barks and a middle-aged woman smiling as she tends to her stand. The stand is stocked full of treasures such as homemade breads, jams and the most exquisite raspberry flower honey I have ever tasted. She greets you with a smile and a basket to collect the berries, points you in the direction of the most plentiful bushes and sends you on your way. Once you arrive at the raspberry bushes, you notice how peaceful it is and you begin to collect the sweet red berries. Most of the berries make it into the basket, but a few are so beautiful and ripe, they beg to be eaten right then!
Before you know it an hour has passed and you have an entire basket of ripe red raspberries. Upon paying for the berries, and acquiring a quart of honey, I head home dreaming of all the beautiful things I can create with them.
Raspberry cream tarts are on my list of go-to items for entertaining. They have a flaky shortbread crust dotted with Tahitian vanilla beans, red raspberry jam and a sweet whipped cream, enhanced with pure raspberry extract. In the summer months, I will occasionally add a layer of lemon curd, but during the busy holiday season raspberries are all you need to make these perfect!
Raspberry Cream Tart Recipe
Share your thoughts, leave a comment!
← Previous Post
Next Post →