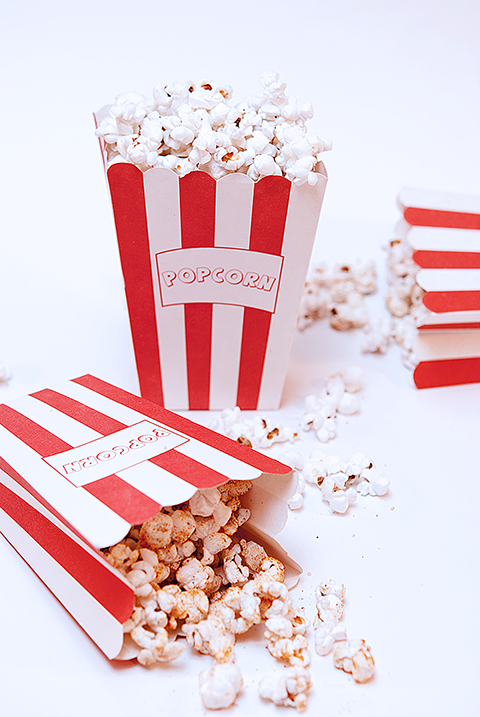 Some days there is nothing quite as nice as cuddling up with a warm blanket, a good movie and a big bowl of freshly made popcorn! I'm not talking about the kind you pop in the microwave with the fake butter substance, no. But, I am talking about good old fashioned cook-on-the-stovetop popcorn. The kind that pops up light and fluffy, begging for a drizzle of real melted butter and perhaps a sprinkle of vanilla fleur de sel.
Vanilla fleur de sel??? I know you're wondering what I'm talking about. Beanilla carries a beautiful salt gathered from the sea shores of France and infused with vanilla beans. The briny flavor of the fleur de sel and the sweet vanilla are a perfect match of savory and sweet.
But, why stop at just one flavor when you can have three? I also created two additional flavors to tempt your taste buds. Vanilla sugar kettle corn with chile powder and smoky vanilla adobo popcorn. Each creation is simple but complex in their flavor profiles, bringing a bowl of buttered popcorn to a whole new level.
Popcorn Three WaysYields 6-8 cups
Ingredients:
2 cups popcorn kernels
2 tbsp. canola oil
1/2 cup melted butter
Directions:
Drizzle the canola oil into a small stock pot, place on heat and add a layer of the popcorn kernels. Place lid on top and heat over medium flame. Once the first kernel begins to pop, slightly shake the pan. Shake every one to two minutes until popping has slowed considerably. Remove from heat and separate into 3 bowls. Drizzle melted butter over the three bowls evenly. Toss to coat the popcorn.
Vanilla Adobo Seasoning
Ingredients:
2 tbsp. adobo seasoning
1 Indian vanilla bean scraped
Directions:
Mix together the vanilla bean scrapings and the adobo until combined, sprinkle over popcorn and toss to coat.
Vanilla Fleur de sel Seasoning
Ingredients:
2 tsp. vanilla fleur de sel
Directions:
Toss buttered popcorn with vanilla fleur de sel until coated
Chile Vanilla Sugar Kettle Corn
Ingredients:
1 tbsp. vanilla bean sugar
1 tsp. chile powder
1 tsp. salt
Directions:
Combine the three ingredients together, sprinkle over buttered popcorn, and toss to coat the popcorn.
Share your thoughts, leave a comment