Posted in Baking Recipes, Cookies, Cakes by Sarah
Celebration Cookie Cake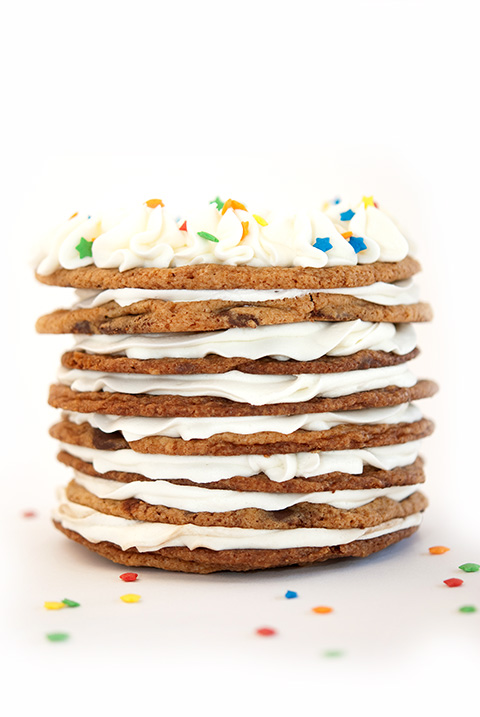 Cake, the traditional offering at nearly every birthday, graduation and anniversary celebration. While I have never been known to turn down a piece of cake, I think that you may agree that after a while cake just becomes, well..... boring! Chocolate chip cookies are a classic treat that just about everyone has had at one time or another. Why not bring two classics together into one delicious dessert?! A celebration dessert, worthy of anyone's big day. These cookie cakes can be customized to just about any size you need, one of two large cookie cakes for an intimate family gathering or many tiny individual cookie cakes for a large celebration.
The celebration cookie cake utilizes two of my personal favorite products from Beanilla: Vanilla fleur de sel and Beanilla vanilla bean paste.
Vanilla fleur de sel brings a depth of flavor to sweet treats. Fleur de Sel ("Flower of Salt" in French) is hand-harvested sea salt that is formed at the surface of salt beds and collected by workers who scrape only the top layer of salt. Rich in minerals with superior flavor qualities, Fleur de Sel is one of the most expensive salts in the world. Our Fleur de Sel is collected off the coast of Brittany (France) and is combined with premium ground vanilla beans of Tahiti and Papua New Guinea. Vanilla Fleur de Sel is exquisite with seafood and poultry and is naturally harmonious with sweet and sour dishes.
My second favorite product is Beanilla vanilla bean paste. I love this product!! Beanilla Vanilla Paste is our in-house proprietary blend of select Bourbon and Tahitian vanillas used to create an equal balance of flavor and aroma. The floral, fruity, cherry like notes of the Tahitensis variety blend wonderfully with the nutty-chocolate character of the Planifolia type in the rich and wonderful 2-Fold Paste.
Both products will take the flavor of your pastries and desserts to a level of delicious that is unparalleled.
Share your thoughts, leave a comment!
← Previous Post
Next Post →