Posted in Baking Recipes, Chocolate, Cakes, Mini Desserts by Sarah
Mini Chocolate Strawberry Layer Cake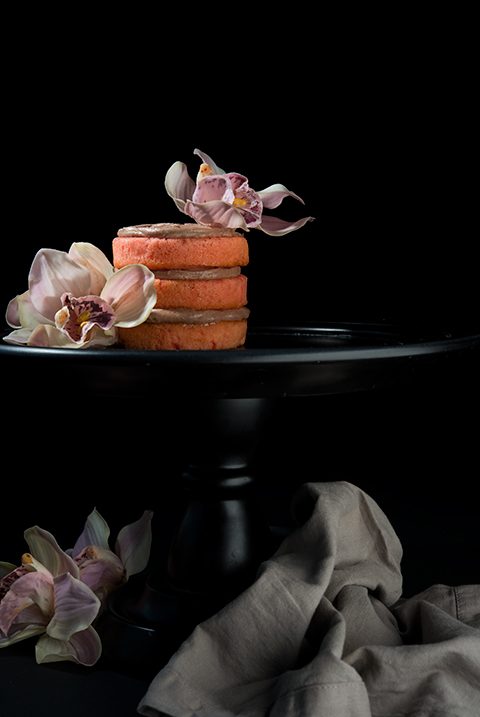 Strawberry and chocolate is often associated with the very simple dessert known as a chocolate covered strawberry. Pure and simple, this combination of flavors is often associated with love and decadence. I have definitely fallen in love with our strawberry chocolate mini layer cakes. Miniature cakes are the perfect way to serve guests a personal serving at any event or dinner party. Perfectly suited for weddings, baby showers or even engagement parties. There is no need for cake cutting or even running out of cake to serve your guests. Typically I will create cakes from scratch but this cake is moist, delicious and super easy to make when you are lacking in time and energy.
Cake has a very long and rich history. The modern cakes we are familiar with today were drastically different than the original recipes. During the 13th century, cakes that were being produced were bread-like in texture and often sweetened with honey and dried fruits. Modern cakes did not appear until the 17th century. Even then, these cakes were created using round molds of wood, metal or paper. These molds resembled the modern day equivalent of a ring mold.
Today in modern commercial pastry kitchens ring molds and pan extenders are still utilized to create a taller cake or soufflé. Traditional metal cake pans around the first part of the 19th century replaced ring molds. The modern idea of cake began to prevail as the availability of refined sugar and flour increased. Antonin Careme, was the premier cake creator of the 18th century and is often credited with the concept of the modern day cake.
Strawberries and chocolate may seem like the perfect combination of flavors but the addition of Tahitian (Indonesia) vanilla bean caviar enhances the subtle flavors of both the chocolate and the strawberry. Tahitian (Indonesia) Vanilla comes from the fruit of an orchid variety called Vanilla Tahitensis which is a completely different species than the Bourbon (Planifolia) varieties from Madagascar. Tahitian (Indonesian) beans are more delicate than Bourbon beans with completely different flavor profile - they are flowery, fruity and anisic with a smooth flavor. Gourmet pastry chefs and home cooks alike love to work with the Tahitian variety because of their sweet floral flavor.
Share your thoughts, leave a comment!
← Previous Post
Next Post →