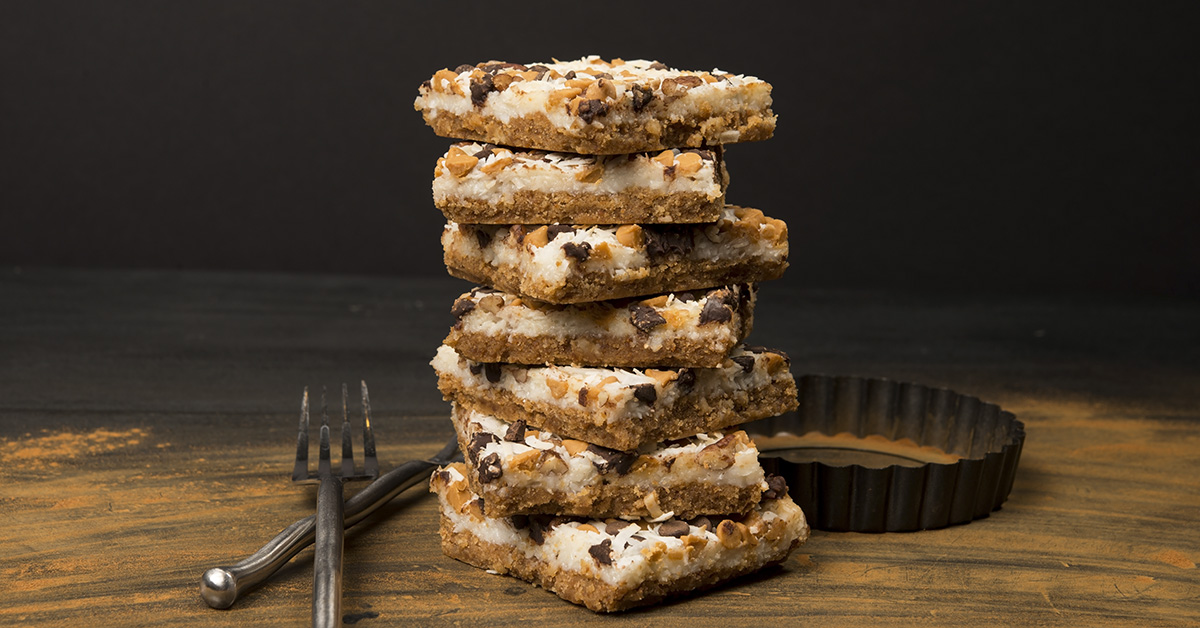 Five-layer cookie bars bring me back to my childhood. Memories of our tiny kitchen, cornflower blue cabinets, and butcher block counter tops perfect for rolling out homemade pie dough. One lone electrical appliance - a kitchen aid mixer - graced the corner of the counter. Plug-in kitchen appliances were not a part of our kitchen. "Hands and hand-tools are a cook's best friend," I distinctly remember my mother saying.
Although she was an excellent cook, my mother's skills really shown when she baked. Homemade apple pie, snickerdoodles, intricately designed birthday cakes painstakingly piped by hand. Due to her insatiable love of sweets, we always had them at our disposal... Which could explain my love of anything sugary to this day.
These five-layer cookie bars were always my go-to dessert when I baked in our kitchen! A simple bar with layers of melted chocolate, crunchy nuts, and sweet coconut... All drizzled with sweetened condensed milk, then baked into a gooey cookie bar. The perfect fix for any sweet tooth!
Five-Layer Cookie Bar Recipe
Yields 9 bars
Ingredients:
½ cup

chopped pecans, walnuts, or almonds

1 cup

butterscotch chips

¾ cup

sweetened shredded coconut

1 cup

semisweet chocolate chips

1½ cups

graham cracker crumbs

½ cup

butter, melted

1 Tablespoon

vanilla extract

1 (14-oz)

can sweetened condensed milk
Directions:
Mix together the graham cracker crumbs, melted butter, and vanilla extract in a small bowl. Add to a 9x9 baking pan and spread out, pressing gently into the pan to make an even layer. Layer with coconut, chocolate, butterscotch chips, and your nut of choice. Drizzle the entire bar with sweetened condensed milk. Bake for 25-30 minutes at 350°F until light golden brown and gooey. Let cool, and cut into squares. Enjoy!
Share your thoughts, leave a comment