Posted in Baking Recipes, Chocolate, Brownies & Bars by Sarah
Chocolate Peanut Butter Bars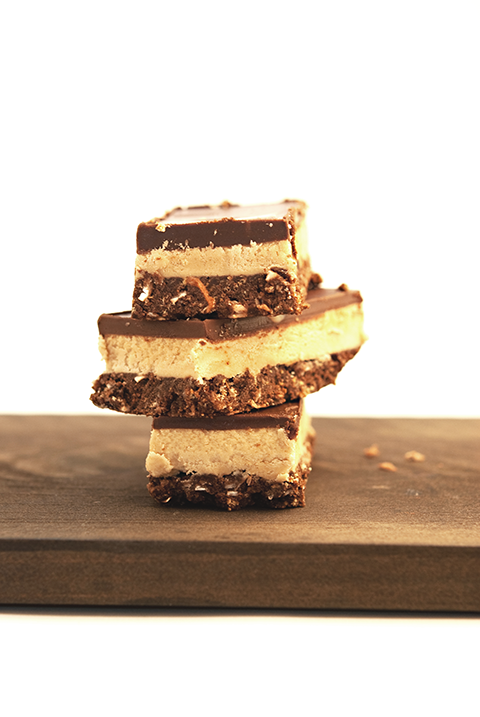 One of my very first jobs was working as a barista for a small coffee company. I really enjoyed working with the coffee and the customers, and the aroma of the shop was delicious. The only drawback of working with coffee was the fact that I did not drink coffee. I had no idea what it tasted like, nor could I tell the customers the difference between a dark espresso roast and a Sumatra (I can't imagine surviving the mornings without at least one cup nowadays!) I was able, however, to trade the leftover coffee at night for pastries at the bakery next door. One of the most decadent trades was their peanut butter dream bar.
Peanut butter and chocolate are a classic combination. The sweet, rich flavor of the dark chocolate entwines with the creamy and salty profiles of the peanut butter. Add in a layer of crunch with the chocolate wafer crust, and you end up with a dessert bar that tastes like a little slice of heaven.
As you may or may not already know, we carry a number of high quality vanilla extracts. In addition to extracts, we also carry a line of vanilla bean paste, which is one of my favorite products to work with. Even before I began working with Beanilla products, I would make a special trip to one of the big organic food stores and purchase vanilla bean paste. The first time I opened a jar of Beanilla Madagascar vanilla bean paste I compared it to the other paste I had purchased, and I immediately noticed a huge difference in the consistency, the color and the concentration of beans between the two. Beanilla's vanilla bean paste is a rich dark brown, chockfull of bean caviar, and is much thicker in consistency. The aroma is considerably different, and the rich smell of vanilla greets you upon opening the jar. I love working with this product! It adds a deep vanilla flavor and dots your pastries with a beautiful vanilla bean caviar.
Share your thoughts, leave a comment!
← Previous Post
Next Post →