Chocolate Peanut Butter Bars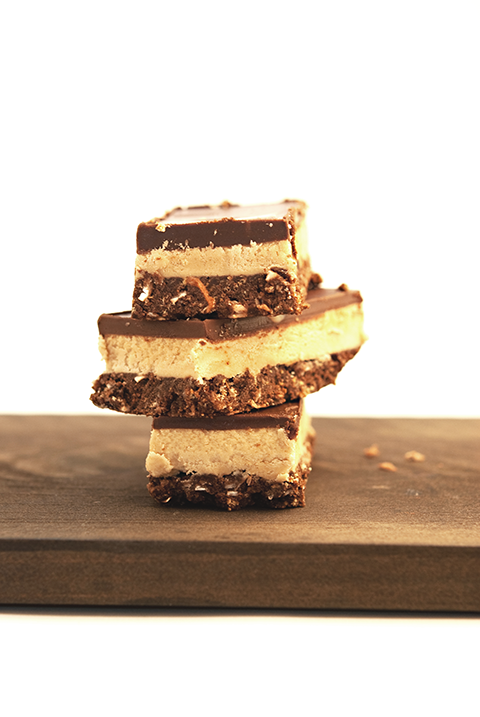 One of my very first jobs was working as a barista for a small coffee company. I really enjoyed working with the coffee and the customers, and the aroma of the shop was delicious. The only drawback of working with coffee was the fact that I did not drink coffee. I had no idea what it tasted like, nor could I tell the customers the difference between a dark espresso roast and a Sumatra (I can't imagine surviving the mornings without at least one cup nowadays!) I was able, however, to trade the leftover coffee at night for pastries at the bakery next door. One of the most decadent trades was their chocolate peanut butter fudge bar.
Peanut butter and chocolate are a classic combination. The sweet, rich flavor of the dark chocolate entwines with the creamy and salty profiles of the peanut butter. Add in a layer of crunch with the chocolate wafer crust, and you end up with a dessert bar recipe that tastes like a little slice of heaven.
As you may or may not already know, we carry a number of high quality vanilla extracts. In addition to extracts, we also carry a line of vanilla bean paste, which is one of my favorite products to work with. Even before I began working with Beanilla products, I would make a special trip to one of the big organic food stores and purchase vanilla bean paste. The first time I opened a jar of Beanilla Madagascar vanilla bean paste I compared it to the other paste I had purchased, and I immediately noticed a huge difference in the consistency, the color and the concentration of beans between the two. Beanilla's vanilla bean paste is a rich dark brown, chockfull of bean caviar, and is much thicker in consistency. The aroma is considerably different, and the rich smell of vanilla greets you upon opening the jar. I love working with this product! It adds a deep vanilla flavor and dots your pastries with a beautiful vanilla bean caviar.
Chocolate Peanut Butter Bars
Yields 12 bars
Peanut butter filling
Ingredients:
2 cups creamy peanut butter
1/4 cup unsalted butter, room temperature
1/4 teaspoon sea salt
1/2 teaspoon

Madagascar vanilla bean paste

2 cups powdered sugar
Directions:
Combine peanut butter, butter, sea salt and vanilla in a mixer bowl with whisk attachment. Beat on medium speed until smooth and creamy, reduce speed to low and slowly add the powdered sugar. When the powdered sugar is incorporated, increase speed to medium and beat until creamy. Set aside.
Chocolate ganache
Ingredients:
12 ounces dark chocolate
1 cup heavy cream
Directions:
Place chopped chocolate in a medium sized heat safe bowl. Heat heavy cream in a small saucepan to a low simmer. Remove cream from heat and pour over the chopped chocolate, let sit for 2-3 minutes. Whisk together the cream and chocolate until smooth and glossy. Set aside.
Chocolate coconut crust
Ingredients:
1 ½ cups chocolate wafer cookies
6 tbsp. melted butter
1/3 cup shredded coconut
Directions:
Place cookies and coconut into a food processor, pulse until cookies and coconut are medium-fine crumbs. Place crumbs in medium size bowl, add melted butter and stir to combine. Set aside.
Assembly
Press the chocolate coconut crust into the bottom of a parchment lined 8x8 brownie pan. Spoon in the peanut butter filling and press down into the pan in an even layer. Pour the chocolate ganache over the top of the peanut butter filling and use a spatula to smooth. Refrigerate the bars overnight until the ganache is set. Slice bars in rectangles and enjoy!
Share your thoughts, leave a comment