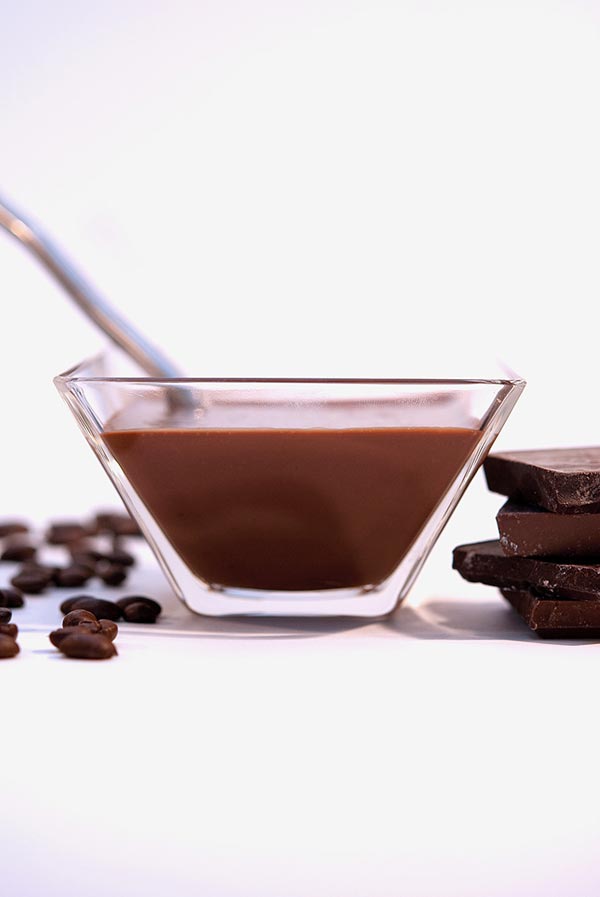 As a chef, I am often reminded that what I think is easy and uncomplicated, is not necessarily. Chocolate coffee ganache is often thought of as fussy and complicated, and I want to tell you it as simple as 1...2...3. Chocolate ganache originated in France. Ganache is a French term referring to a smooth and velvety mixture of chocolate and cream. Its origin is a little unclear, but it is believed to have been invented around 1850. Some say it originated in Switzerland where it was used as a base for truffles. Others say it was invented in Paris at the Patisserie Siravdin.
Ganache is a simple mixture of hot cream and good quality chocolate. As much as we all love Hershey's, this is not the place for it. I recommend Callebaut, Valhrona or any other high-quality dark chocolate. Look for chocolate that contains cocoa butter as the primary ingredient. The higher the quality of chocolate used, the better the flavor and texture your ganache will have in the end.
Coffee and coffee extract enhances the flavor of chocolate. It enhances the chocolate, and brings out the flavors in the chocolate while adding richness to the taste. I love to add coffee to all of my chocolate pastry items. I really love Beanilla's coffee extract. It adds coffee flavor to any of your baked goods, or can be used to enhance chocolate desserts. Ganache can be used in a variety of applications. It can be utilized as a sauce, used in place of frosting on cakes, and if you reduce the amount of cream you make ganache into chocolate truffles.
Chocolate Coffee Ganache Recipe
Yields 1 ½ cups
Ingredients:
8 ounces (227 grams)

semisweet or bittersweet chocolate, cut into small pieces

3/4 cup (180 ml)

heavy whipping cream

2 tablespoons (28 grams)

unsalted butter

1 tsp.

coffee extract

1 tablespoons

cognac or brandy (optional)
Directions:
Ganache: Place the chopped chocolate in a medium-sized heatproof bowl. Set aside. Heat the cream and butter in a small saucepan over medium heat. (Can also heat the cream and butter in the microwave.) Bring just to a boil. Immediately pour the boiling cream over the chocolate and allow to stand, without stirring, for a few minutes. Stir gently (as you do not want to incorporate air into the ganache) with a spoon or whisk until smooth. If desired, add the liqueur.
Share your thoughts, leave a comment