Posted in Baking Recipes, Vanilla Bean Recipes, Breakfast & Brunch, Pastries & Tarts by Sarah
Maple Pecan Vanilla Bean Scones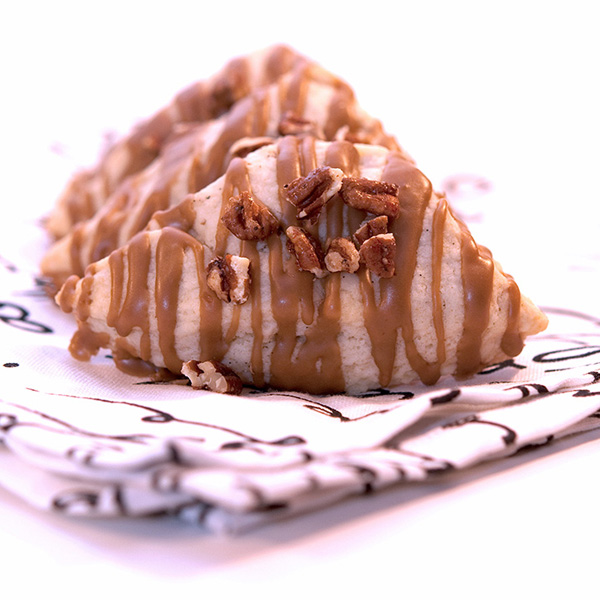 The original scone was round and flat, usually the size of a medium size plate. It was made with unleavened oats and baked on a griddle, then cut into triangle-like quadrants for serving.
Scones sold commercially are usually round in shape, although some brands are hexagonal as this shape may be tessellated for space-efficiency. When prepared at home, they take various shapes including triangles, rounds and squares. The baking of scones at home is often closely tied to heritage baking. They tend to be made from family recipes rather than recipe books, since it is often a family member who holds the "best" and most-treasured recipe.

(www.wikipedia.com)
Scones in the United States tend to be triangular in shape and most likely are glazed or drizzled with a frosting in various flavors. They closely resemble a biscuit but have a light a flaky texture that comes from the butter used in the product. There are two places in the morning that I love to grab a scone in the morning as a treat. One is orange flavored and the other is vanilla bean, however both establishments charge nearly $3.00 per scone. I love to support businesses that I think have a quality product, but I recently discovered a recipe that rivals both these places. Plus, I save nearly $2.00 each morning by making them myself! When I tested the recipe I used both vanilla extract and whole vanilla beans from Beanilla. What I discovered is that while the vanilla gave it a great taste, the whole vanilla bean from Madagascar gave the scone a great flavor and appearance!
This recipe can be easily adapted to fit any glaze flavors and also can be baked and frozen for easy preparation in the morning. We all need a little help in the morning getting out the door, don't you agree!
Share your thoughts, leave a comment!
← Previous Post
Next Post →